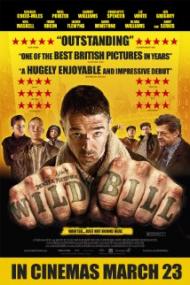 United Kingdom Release Date: 03-23-2012
Directed by: Dexter Fletcher
Starring
▸
▾
Charlie Creed-Miles

,

as

Wild Bill
Will Poulter

,

as

Dean
Sammy Williams

,

as

Jimmy
Iwan Rheon

,

as

Pill
Charlotte Spencer

,

as

Steph
Rain Ryan

,

as

Baby George
Marc Warren

,

as

Adam
Peter McCabe

,

as

Roland
Morgan Watkins

,

as

Viktoras
Radoslaw Kaim

,

as

Jonas
Aaron Ishmael

,

as

Boz
Liz White

,

as

Roxy
Hardeep Singh Kohli

,

as

Raj
Neil Maskell

,

as

Dickie
Leo Gregory

,

as

Terry
Andy Serkis

,

as

Glen
Sean Pertwee

as

Jack

Reviewed on:
November 10th, 2013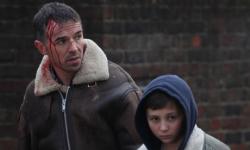 Charlie Creed-Miles and Sammy Williams in Wild Bill
Wild Bill is a very contemporary British film. It stars one of its most recent promising young actors, Will Poulter. It is a great father/son film but it helps to have some general understanding of the English. In one scene, a criminal getting a gun is treated in a dramatic way as they are not nearly as common in British movies as they are in American drug films.
Poulter plays Dean, a teenager who is taking care of his younger brother Jimmy after his father went to prison eight years prior and their mother abandoned them. Dean has a job working on a construction site while unknown to Dean, Jimmy has started selling drugs for a local dealer. Early on, Dean asks Jimmy if he "nicked some fags." It translates into American as, "stole some cigarettes."
Their dad, Bill, gets paroled and shows up at their apartment. Dean wants nothing to do with his father while Jimmy has no memory of him. With Bill's return, also come social services, which were not aware that Dean and Jimmy were living without adult supervision. Bill has no desire to stay on but the situation dictates they all live together.
Bill at first has no clue how to be a father but he soon starts to make an effort. He gets a job holding a sign for a shoe store. He offers the local crack whore to Dean as a present for his 16th birthday. Dean gets upset when he finds her naked in his mother's bed. Dean meanwhile has a girlfriend, whom Jimmy steals money from to help pay back a dealer for some crack he dumped when scared by the police.
Here, Bill finally finds his place in his boy's life. Having worked and lived within the criminal element for years, he knows just what to do. He talks to Jimmy like an adult, telling him about prison and where he is headed selling drugs. He then tells Jimmy that he will help him if he promises to never do it again. Bill confronts the drug dealers and lives up to the film's title.
Through these events, Bill discovers what a family is and that he has a role to play in his sons' lives. He risks going back to jail to help his son out. Sacrifice is the very definition of being a parent and Bill decides to step up. This is a dysfunctional family that learns to function.
Poulter shows that he has good acting range, but this film belongs to Charlie Creed-Miles. He portrays a realistic father in over his head. He surprises everyone, including himself, about the kind of father he becomes. He learns that being a decent father is not about what you give your children but what you do for them. His final scene with a grin on his face made me smile along with him.
Photos © Copyright 20ten Media (2012)
Related Review