Movie Review
Wild at Heart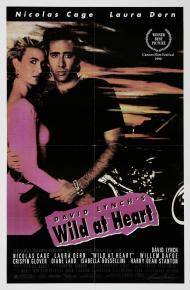 US Release Date: 08-17-1990
Directed by: David Lynch
Starring
▸
▾
Nicolas Cage

,

as

Sailor Ripley
Laura Dern

,

as

Lula Fortune
Willem Dafoe

,

as

Bobby Peru
J.E. Freeman

,

as

Marcelles Santos
Crispin Glover

,

as

Dell
Diane Ladd

,

as

Marietta Fortune
Calvin Lockhart

,

as

Reggie
Isabella Rossellini

,

as

Perdita Durango
Harry Dean Stanton

,

as

Johnnie Farragut
Grace Zabriskie

,

as

Juana Durango
Sherilyn Fenn

,

as

Girl in Accident
Marvin Kaplan

,

as

Uncle Pooch
William Morgan Sheppard

,

as

Mr. Reindeer
David Patrick Kelly

,

as

Dropshadow
Sheryl Lee

,

as

The Good Witch
Brent David Fraser

,

as

Idiot Punk
Frances Bay

as

Madam
Reviewed on:
September 12th, 2013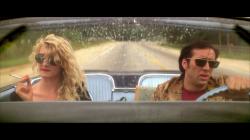 Laura Dern and Nicolas Cage are Wild at Heart.
Wild at Heart is a crime thriller by David Lynch. It was based on the novel of the same name by Barry Gifford. Like much of Lynch's work this movie polarized audiences. During early test screenings dozens of audience members walked out and yet it won the prestigious Palme d'Or at the 1990 Cannes Film Festival. I guess you either love it or hate it. The manner in which Lynch gleefully revels in graphic violence clearly influenced later movies such as Oliver Stone's Natural Born Killers and Quentin Tarantino's Pulp Fiction (both 1994). Wild at Heart also pays twisted homage to both Elvis Presley and the 1939 MGM classic, The Wizard of Oz.
Nicolas Cage and Laura Dern star as Sailor and Lula, a pair of lovers on the run from Cape Fear, North Carolina, with both a private detective and the mob in pursuit (both sent by Lula's crazy, domineering mother (played by Dern's real life mother Diane Ladd)). Willem Dafoe plays Bobby Peru, a psychotic criminal hired by Lula's mother to kill Sailor. In the movie's most infamous scene he sexually abuses Lula in a motel room while Sailor is out. Dafoe is superb as this disgusting villain who talks dirty to Lula while fingering her. His comeuppance at the end of the movie is well deserved.
Cage and Dern are both excellent as these two free-spirited, but less than emotionally stable, star crossed lovers. Cage wears a snakeskin jacket and tells anyone that will listen, "This is a snakeskin jacket! And for me it's a symbol of my individuality, and my belief in personal freedom." Dern gets to utter the title line when she cryptically proclaims, "This whole world's wild at heart and weird on top."
This neo-noir thriller is stylishly filmed and peopled with typical Lynch weirdos. There's Mr. Reindeer, an enigmatic crime boss pulling strings from a distance, and Crispin Glover plays Lula's mentally disturbed cousin who has a habit of putting cockroaches in his underwear (just to name two). Throw in several scenes where Cage sings Elvis songs and several hallucinations involving both the Wicked Witch and Glinda the Good Witch and you have a truly unusual motion picture that is equal parts whimsy and sadism as only David Lynch could imagine.
Photos © Copyright PolyGram Filmed EntertainmentPropaganda Films (1990)
Related Reviews