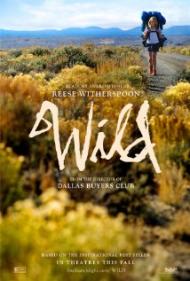 US Release Date: 12-05-2014
Directed by: Jean-Marc Vallee
Starring
▸
▾
Reese Witherspoon

,

as

Cheryl Strayed
Laura Dern

,

as

Bobbi
Gaby Hoffmann

,

as

Aimee
Michiel Huisman

,

as

Jonathan
Thomas Sadoski

,

as

Paul
Kevin Rankin

,

as

Greg
Charles Baker

,

as

Tj
Brian Van Holt

,

as

Ranger
W. Earl Brown

,

as

Frank
Nick Eversman

,

as

Richie
Mo McRae

,

as

Jimmy Carter
J.D. Evermore

,

as

Clint
Cliff De Young

,

as

Ed
Cheryl Strayed

as

Woman in Truck

Reviewed on:
December 7th, 2014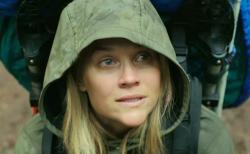 Reese Witherspoon in Wild.
Wild is based on the 2012 best selling memoir by Cheryl Strayed, it was produced by and stars Oscar winner Reese Witherspoon. The screenplay has been adapted by Oscar nominated novelist Nick Hornby and was directed by Jean-Marc Vallee, who directed Matthew Mcconaughey to an Oscar in 2013's The Dallas Buyer's Club. With such a pedigree it shouldn't be surprising that it enters theaters with award expectations. Happily, it not only meets those expectations, but exceeds them.
Witherspoon stars as the fictionalized version of author Cheryl Strayed. She delivers a tour de force performance that must surely put her at the top of the Best Actress list. There are other actors in the film, but this is really a one woman show. Cheryl is a woman who isn't always easy to like and Witherspoon shows us all sides of her character, warts and all. In her past she made many poor, selfish, and self destructive decisions, hurting those who were closest to her. Even at her worst however, she always remains relatable and human. It's a raw performance, done for the most part without makeup or glamour, naked both literally and figuratively.
The film begins with Cheryl at the beginning of a solitary, 1,000 mile hike up the Pacific Crest Trail, from the Mojave desert to the Oregon/Washington border. As she progresses, we learn through flashbacks what drove her to this arduous task. As she walks, she contemplates her past, both recent and years past. We learn of her close relationship with her mother, played by Laura Dern who also deserves award consideration, and the devastating effect her death had on Cheryl. We also see her disastrous first marriage, which was destroyed by Cheryl spiraling out of control through drug use and promiscuity. The wilderness trek, with its physical difficulties is interwoven deftly with the emotional wilderness of the past.
In one of the film's very first scenes, Cheryl struggles to lift her overweighted backpack, at one point becoming literally flattened by its weight. Eventually she is able to rise and stagger on her way. The message is clear, this is is a woman with a lot of baggage, both literal and symbolic and if she doesn't keep moving she will be crushed by it. On her physical and emotional journey, she learns to lighten her load, even as she is continually bruised by it.
Although the title and the idea of someone going back to nature might remind audiences of 2007's Into the Wild, the two stories could not be more different thematically. That earlier film was the adolescent fantasy of a young man fleeing from life and responsibilities, but Cheryl Strayed's story is about accepting your mistakes and taking ownership of your own life. She doesn't walk 1,000 miles to escape from life, she walks it to reenter life. She's looking to put her past behind her one step at a time.
It's difficult to make an uplifting film that feels genuine. Too often they feel forced or overly sentimental. That isn't the case here. Thanks to a combination of smart direction and a career highlight performance by Reese Witherspoon, Wild is able to generate sincere emotion that should see it amply rewarded this award's season.
Reviewed on:
December 9th, 2014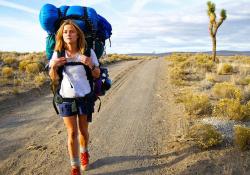 Reese Witherspoon in Wild.
Reese Witherspoon is wonderful as Cheryl Strayed. She gives a gutsy performance that lays bare her soul without being obviously showy or overly dramatic. This is the type of role that Oscar voters seem to love and Witherspoon tackles the part with relish. Scott mentioned the setup being reminiscent of Into the Wild (although I agree with my brother about the differences between them). In structure it also reminded me of 127 Hours. In both movies we accompany the protagonist on a solitary journey into the wild and get flashbacks of their previous life to fill in their back story.
The pureness and simplicity of the symbolism as Cheryl staggers under the weight of her baggage is quite emotionally powerful. At first you can't imagine that she will be able to lift her backpack, let alone carry it a thousand miles over rough terrain. But this is her self-imposed penance and she goes about it with a steely reserve. She does it for her mother's memory, for all the pain she brought to her ex-husband, and most of all for herself.
The script mixes in just the right amount of humor. Although this is certainly a drama, it has moments that will bring a smile to your face or make you chuckle. Cheryl, being a rare solo woman trekking the PCT, faces challenges others don't (like the fear of being raped), but she also gets preferential treatment that is comically exploited in several scenes.
Laura Dern is deserving of a Supporting Oscar nomination. She's such a terrific actress capable of playing a wide range of roles. As Scott wrote, she plays Cheryl's mother, a pure soul lacking in education and good judgment about men. Although they look more like sisters, both actresses manage to create the feel of a mother/daughter dynamic and bond.
Wild tells a simple story of one woman's courageous journey towards self-discovery. Despite how pretentious that sounds, my brother is right. Wild generates sincere emotion that never seems forced or contrived and Reese Witherspoon gives the performance of her career.

Reviewed on:
February 16th, 2015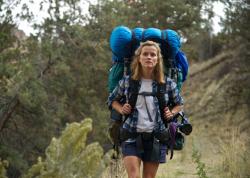 Reese Witherspoon in Wild.
My brothers referred to Into the Wild and what I found interesting is that both Cheryl Strayed and Christopher McCandless were not only running away from personal demons but motivated by family problems. McCandless seemed to wander aimlessly, hoping that something around the next corner would solve whatever problems lay in his mind. Cheryl had a goal both physically and spiritually. She chose to get off the destructive figurative path she was on and follow a literal one.
For Cheryl, the Pacific Crest Trail was detox from her destructive life. It is her therapy, only instead of a counselor asking about her childhood; Cheryl is reminded of how she ended up where she did by music and things she sees. Her parents left her with emotional scars while her own irresponsible actions caused her physical ones. Her time alone forces her to ponder her life's mistakes and hardships. We know she will come out of this hike a stronger person. Like a therapy session, Cheryl has her moment where she lets loose a primal scream. Only in solitude do we realize what matters most.
The role of Cheryl Strayed is a juicy one. To be Cheryl, Witherspoon had to be physical, sexual, emotional and sometimes funny. She is often without makeup and does some nude scenes. She clearly put all she had into this part and is deserving of any and all awards.
Laura Dern's part is small but she is brilliant. She is in the role of Cheryl's conscience. Cheryl sees her ghost when having sex with a stranger or hiking through woods. Cheryl describes her mother as, "She was the love of my life." When asked by a therapist if she matters, Cheryl responds, "I know I mattered." Note the past tense as it was only when her mother was alive that she felt that way.
The one aspect of the film that I felt was missing was a better explanation of her relationship with her husband. Sure, she is damaged goods because of her history, but her husband is shown as loving her throughout her affairs and drug use. He sends her notes in his care packages that express affection for her even though they are no longer together. Why did she leave a forgiving man who loved her dearly?
Into the Wild was a story of a lost soul who never knew what he wanted. Wild, on the other hand, is the story of a woman who, after using her past as an excuse to act out, finally decides to take control of her destiny and responsibility for her own life, enabling her to reenter the real world. It is a truly simple, yet beautiful, lesson that Christopher McCandless, unfortunately, died before learning.
Photos © Copyright Fox Searchlight Pictures (2014)
Related Reviews