Movie Review
White Chicks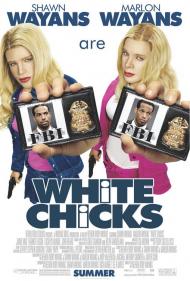 US Release Date: 06-23-2004
Directed by: Keenen Ivory Wayans
Starring
▸
▾
Shawn Wayans

,

as

Kevin Copeland
Marlon Wayans

,

as

Marcus Copeland
Jaime King

,

as

Heather Vandergeld
Frankie Faison

,

as

Chief Elliott Gordon
Lochlyn Munro

,

as

Agent Jake Harper
John Heard

,

as

Warren Vandergeld
Busy Philipps

,

as

Karen
Terry Crews

,

as

Latrell Spencer
Brittany Daniel

,

as

Megan Vandergeld
Eddie Velez

,

as

Agent Vincent Gomez
Jessica Cauffiel

,

as

Tori
Maitland Ward

,

as

Brittany Wilson
Anne Dudek

,

as

Tiffany Wilson
Rochelle Aytes

,

as

Denise Porter
Jennifer Carpenter

,

as

Lisa
Faune A. Chambers

as

Gina Copeland

Reviewed on:
September 3rd, 2011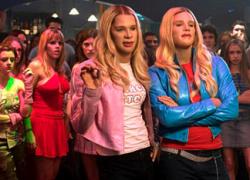 I am fooled.
Marlon Wayans has been quoted as saying, "Look, I want to be able to make the stupidest movies ever, because they make people laugh and they make money. But that's not all I want to do." With White Chicks he has certainly fulfilled his stupid quota.
Marlon and his brother Shawn play Two FBI agents, Kevin and Marcus Copeland. After pissing off their boss, they are assigned to protect heiresses Brittany and Tiffany Wilson from a kidnapping plot. Think the Hilton sisters. To get back in good graces with their boss they decide to find and arrest the Wilson sisters would be kidnappers as the girls will be attending a charity event and a White party in the Hamptons.
After getting minor facial cuts in a car accident, the vain sisters refuse to leave their hotel and make any appearances. Without the girls going into public, Kevin and Marcus will not be able to flush out the kidnappers, so they do what any African American FBI agent would do. They call in expert makeup artists and have themselves transformed into white chicks.
The setup is as dumb as it sounds. The brothers disguises are obviously fake. One look at them and you know their faces are not real. However, everyone in the film is a complete moron. They even run into three friends of Brittany and Tiffany who only pause for a moment to ask if they have gotten taller. But they quickly accept it once the brothers state they had a procedure.
If this film was made with two white guys pretending to be two stupid black chicks and every other black girl in the film was a complete idiot, it would be considered racist. Thank God white people have a sense of humor about such things. The worst moment comes when the two brothers have to get a room in a hotel and they have no means to pay up front. They act indignant with one brother pretending to write a letter out loud, "I am a white woman in America..." as if that alone excuses any and all bad behavior and demands special treatment.
According to the Wayans, women are all catty, bitchy and very insecure. "Look who just flew in from the slums of Beverly Hills." "It's the Beverly Ho-Billies." "Squeeze me?" "Oh no, you didn't?" "I can't even wear a short skirt and a top without looking like a fat pig." Marcus's African American wife also comes off as shrill and annoying. If you can get past the far fetched plot and misogyny, you may find some juvenile humor to enjoy.
The funniest character in the entire film is played by Terry Crews, as a famous athlete who only dates white women, or as he orders at a restaurant, "White meat only." He falls for Marcus in drag. My favorite line is when he stands over her/him laying in the sun. "Easy white chocolate, I wouldn't want you to melt."
Marcus looks up at him and says in his girlie voice, "Yeah, hasta la vista Schwarzenegro. Okay, bye." When he finds out that his white girlfriend is a black guy he acts disgusted. "Negro please. Didn't any one tell you that this was an all white party, huh? Someone get this jiggaboo away from me."
White Chicks can be offensive, but if you can bring yourself to enjoy some (very) lowbrow humor, you may find yourself occasionally laughing, and after all, is that not what a comedy is supposed to do?
Photos © Copyright Columbia Pictures (2004)