Movie Review
While We're Young
Life never gets old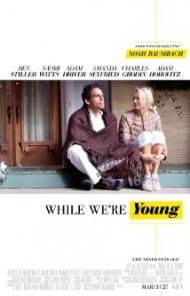 US Release Date: 03-27-2015
Directed by: Noah Baumbach
Starring
▸
▾
Ben Stiller

,

as

Josh
Naomi Watts

,

as

Cornelia
Adam Driver

,

as

Jamie
Amanda Seyfried

,

as

Darby
Charles Grodin

,

as

Leslie Breitbart
Brady Corbet

,

as

Kent
Ryan Serhant

,

as

Hedge Fund Dave
Maria Dizzia

,

as

Marina
Adam Horovitz

,

as

Fletcher
Dean Wareham

,

as

Shaman
James Saito

,

as

Dr. Nagato
Peter Bogdanovich

as

Speaker
Reviewed on:
March 31st, 2015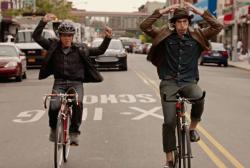 Ben Stiller and Adam Driver in While We're Young.
While We're Young, filmmaker Noah Baumbach's latest work, is a Woody Allen-esque comedy concerning a middle-aged couple's mid-life crisis. Josh (Stiller) and Cornelia (Watts) are a fortysomething New York City couple stuck in something of a rut in their lives. They are also childless at a time when all of their friends either already have, or are expecting, babies. Feeling excluded from their normal social circle they strike up a friendship with a much younger hipster couple from Brooklyn.
Jamie (Driver) and Darbie (Seyfried) are married and live in a loft in Bushwick with a female roommate and a chicken. Darbie makes artisanal ice cream and Jamie is an aspiring documentary filmmaker. Which is also what Josh happens to be. In fact Josh has been working on the same film for the past ten years. And guess what? Cornelia's father (Grodin) happens to be a legendary documentarian. So the question becomes, was it mere coincidence that brought these couples together or was there a master plan behind it? And when does ambition cross the line of integrity?
At first the friendship between these two couples from different generations is positive for all involved, but especially for Josh. Jamie makes Josh feel young again. Many pop cultural artifacts from Josh's childhood have become kitschy souvenirs to the younger generation. Jamie and Darbie collect vinyl records and VHS tapes. Josh begins to openly emulate the younger man, even buying a ridiculous looking fedora like the one Jamie wears. He also provides advise and assistance on a film idea Jamie has. Which eventually causes friction between them and leads to the climactic confrontation scene.
Cornelia and Darbie hit it off too. Darbie takes the older woman to a hip hop dance class that's worth a few laughs. Before you know it the two couples are attending some sort of mystic ritual together that includes drinking a strong hallucinogenic liquid made from some exotic root and having a shaman shake feathers at them while chanting. It's quite a funny scene that represents the turning point in their relationship.
Baumbach's script shows his hand fairly early on. The story is told from the older couple's perspective and it paints a fairly stereotypical portrait of hipsters, and a view of the younger generation as lazy, deceitful and entitled. Near the end, after Jamie finishes his documentary, he is asked by a reporter if he's a hipster. He replies with a reminder about judging books by their covers. "Well, I'm of a certain age and I wear tight pants."
The acting is first rate. Ben Stiller tones it down and plays a real person rather than a series of nervous ticks. Naomi Watts is funnier than I realized. Her hip hop dance moves are pretty amusing. Adam Driver continues to impress. He strikes me as one of the more intelligent young actors working today. Amanda Seyfried brings her wide-eyed gamin look and a slightly spaced-out personality to Darbie. Charles Grodin has a few good scenes as Cornelia's father, and Adam Horovitz of the Beastie Boys has a small role as Fletcher, a husband and father, and a friend of Josh and Cornelia. His physical appearance comes as quite a shock (I didn't even recognize him) and proves beyond a shadow of a doubt just how long ago the 1980s were.
This isn't the first time Noah Baumbach has been compared to Woody Allen. Both are quintessential New York City filmmakers who make comedies about human relationships between affluent white people in the Big Apple. Take the scene where Josh goes to the doctor. When he's told he has arthritis in his knees, Josh assumes it can't be the "traditional" kind of arthritis. His doctor says, "I don't know what you mean by traditional arthritis, but what you have is definitely arthritis." Those lines could have been written by Allen. As a matter of fact, While We're Young is the most Woody Allen-like of all of Noah Baumbach's movies to date. And I mean that as a compliment.
Photos © Copyright A24 (2015)