Movie Review
When Harry Met Sally
Can men and women really be friends, or does sex always get in the way?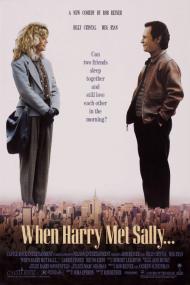 US Release Date: 07-12-1989
Directed by: Rob Reiner
Starring
▸
▾
Billy Crystal

,

as

Harry Burns
Meg Ryan

,

as

Sally Albright
Carrie Fisher

,

as

Marie
Bruno Kirby

,

as

Jess
Steven Ford

,

as

Joe
Lisa Jane Persky

,

as

Alice
Michelle Nicastro

,

as

Amanda Reese
Helen Helson

,

as

Harley Jane Kozak
Estelle Reiner

,

as

Older Woman Customer
Connie Sawyer

,

as

Documentary Couple
Bernie Hern

as

Documentary Couple


Reviewed on:
July 12th, 2001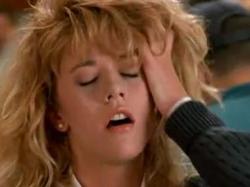 Meg Ryan in When Harry Met Sally.
I will bet that the first thing you remember about When Harry Met Sally is the fake orgasm part? Granted, it is a now classic scene. Meg Ryan pounding the diner table and moaning in ecstasy to prove a point to Billy Crystal is great, but the movie is so much more.
The movie tells the story of two people who take 12 years, many failed relationships, and a whole lot of disagreements to discover how much they truly love each other. Harry is a baseball loving chauvinist and Sally is a high maintenance prude. They are made for each other.
Billy Crystal does not have the looks of a leading man, but here he has so much charm and wit that you honestly believe someone as beautiful as Meg Ryan could actually fall for him. This was the movie that made Meg Ryan a major star, and deservedly so. She is delightfully sweet and sexy in this movie.
This is a love story and all of the ingredients are in the mix. Rob Reiner stages scenes in romantic spots around New York. The fall scene with all the colorful leaves or the drop off in Battery Park. He also takes full advantage of holidays as romantic settings, especially New Years Eve. The soundtrack is wonderfully romantic as well. When Harry Met Sally was one of the first films to use old pop standards throughout a movie. I Could Write A Book (my favorite song in the movie) sums up Harry's and Sally's relationship. Frank Sinatra's It Had To Be You adds much emotional depth to the final scene.
I think, however, that the best part of this movie is the dialogue. 'So your saying that a man could be friends with a woman he doesn't find attractive/' 'No, you pretty much want to nail them too.' "And then you would spend your whole life knowing that someone else is married to your husband.' and of course 'I'll have what she's having.'
A great study in the often observed notion known as courting.
Reviewed on:
July 12th, 2002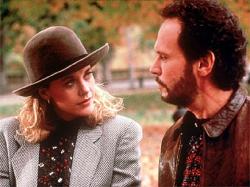 Meg Ryan and Billy Crystal in When Harry Met Sally.
This is a great movie, it has romance, humor, chemistry between the leads, cool music, a winning script and, thanks to some fine directing, is paced superbly. All things which Eric has already mentioned; however, I must point out that it is Washington Square and not Battery park where Sally drops Harry at the beginning of the film.
Billy Crystal and Meg Ryan make Harry and Sally real people, complete with neuroses and fragile egos. Over the course of the movie we watch them mature, individually as well as together. Bruno Kirby and Carrie Fisher play Jess and Marie. Jess is Harry's best friend and Marie is Sally's; while on blind dates with Harry and Sally, they fall for each other. My favorite scene is the morning after Harry and Sally first sleep together. Naturally they each call their closest friend to discuss the situation. This leads to the well-edited and hilarious scene where Harry is on the phone with Jess who is in bed with Marie who is on the phone with Sally.
The short scenes of elderly couples telling us how they met are charming and they are a perfect lead up to the inevitable final scene. When, of course, it is Harry and Sally sitting on the couch telling us how they fell in love. A classic ending. I love listing things, and I consider When Harry Met Sally to be the best romantic comedy to come out of the eighties, and one of the best ever at mixing laugh-out-loud comedy with real human emotion.
Reviewed on:
July 12th, 2003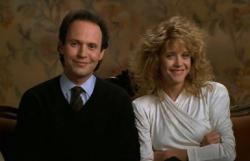 Billy Crystal and Meg Ryan in When Harry Met Sally.
Just as The Breakfast Club should be required viewing before the first day of high school, so When Harry Met Sally should be shown to everyone before they begin their first serious relationship. The reason for this is, besides being an incredibly funny, poignant film, it is text book perfect in it's summation of the relationship between men and women. Harry's philosophy is as true to life as it is absurd. Can anyone who has ever been in a relationship, not relate to some aspect of this movie?
Eric hit the greatest part of this movie squarely on the head when he said that it was the dialogue that makes this a classic, romantic comedy. Nora Ephron, aided by Rob Reiner's direction and spot on performances by the leads, created a script that is full of sharp, witty, and romantic dialogue which never goes over the edge into sappiness even at it's most emotional moments.
Meg Ryan is perfect in this movie. She has made other movies where she has shown greater range, Joe vs. the Volcano for one, but this is the movie that defined her as an actress and made her the leading romantic comedy actress of the 1990's.
Billy Crystal is also great in what, a few years later, would surely have been a Tom Hanks role. As Eric mentioned, he is hardly leading man material, but he shows great wit and eventual charm, and you really feel that by the end of the movie he has grown as a character and truly earned Sally's love.
I cannot over-emphasize how truly great this movie is. It has something for everyone. A great story, terrific acting, moments of hilarity, and a fantastic love story at its heart. It's the kind of movie that makes you feel good when it's all over. It is a combination of talents all working at the peak of their abilities. Too many movies have been called masterpieces. When Harry Met Sally really is one.
Photos © Copyright Castle Rock Entertainment (1989)