Movie Review
What's Your Number?
Ally's looking for the best ex of her life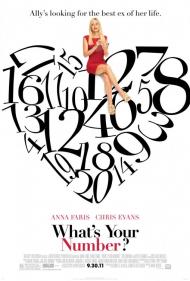 US Release Date: 09-30-2011
Directed by: Mark Mylod
Starring
▸
▾
Anna Faris

,

as

Ally Darling
Chris Evans

,

as

Colin Shea
Ari Graynor

,

as

Daisy Darling
Blythe Danner

,

as

Ava Darling
Ed Begley Jr.

,

as

Mr. Darling
Oliver Jackson-Cohen

,

as

Eddie Vogel
Heather Burns

,

as

Eileen
Eliza Coupe

,

as

Sheila
Kate Simses

,

as

Katie
Tika Sumpter

,

as

Jamie
Joel McHale

,

as

Roger
Chris Pratt

,

as

Disgusting Donald
Zachary Quinto

,

as

Rick
Martin Freeman

,

as

Simon
Andy Samberg

,

as

Gerry Perry
Dave Annable

,

as

Jake Adams
Anthony Mackie

,

as

Tom Piper
Mike Vogel

,

as

Dave Hansen
Aziz Ansari

as

Jay (voice)

Reviewed on:
October 2nd, 2011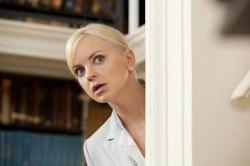 Anna Faris in What's Your Number?
Anna Faris is one of the funniest actresses working today. She's got that cute and quirky thing working for her and she's not afraid to make herself look stupid if it will get a laugh. What there is to enjoy about What's Your Number? is all because of her. Apart from her comic talents the rest of the movie is predictable and the retread of dozens of movies we've seen before.
The movie starts by posing the title question in the form of a magazine article that says the average American woman has 10.5 sexual partners and goes on to say that women who have more than 20 partners have a much harder time finding lasting love. Ally (Faris) is troubled by the article since she has slept with 19 men already and very shortly into the movie sleeps with number 20. After running into a much improved ex-lover, she hits upon an idea of how she can find true love without going over the number 20. She'll look up all of her ex-lovers and see if there's a spark left between her and any of them.
Her meet ups with her exes are a series of gags that have been highlighted in the previews. One of her exes is a gynecologist who only recognizes her when he sees her feet up in the stirrups. Another is English and she had pretended to be English when dating, but can't keep up the accent any longer. Yet another is now gay. Oddly, her reunion with Andy Samberg's puppeteer which is shown in the previews, is cut from the final film. He still appears in a brief flashback, but we never get to see Ally meet him again.
While those moments provide some of the biggest laughs, the real love story is between Ally and her next door neighbor Colin, played by Chris Evans in still very buff form following his turn as Captain America. Of course during most of the movie they deny that they have feelings for each other, but it's incredibly obvious to anyone who has ever seen a movie before that these two are going to end up together.
Like seemingly every other comedy released in 2011, this one is rated R, but it's almost difficult to see why. Where Bad Teacher and Bridesmaids took full advantage of the higher rating, this one seems to have been given it for a few very, very brief flashes of nudity. Don't get too excited though, the longest nude scene belongs to Joel McHale and his not exactly toned ass.
This isn't a completely horrible film and there are a few moments worthy of a chuckle or two. It's just rather uneven and drags on for too long when the ending is inevitable and quite visible to the audience. Hopefully Faris will someday find a vehicle that takes advantage of her comic ability, but this one certainly isn't that movie.

Reviewed on:
February 16th, 2012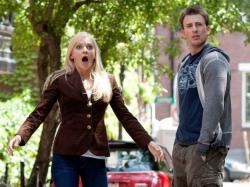 Anna Faris and Chris Evans in What's Your Number?
Having just watched Tinker Tailor Soldier Spy and several other dramatic Oscar nominated films, I was in desperate need for a mindless comedy that barely require I invest the slightest amount of thought. I found that in spades in the spoon fed plot of What's Your Number?
This is one of those romantic comedies in which you can figure out the entire plot and outcome from the previews. A single girl goes through her past lovers looking for love. She is assisted by the hunky single neighbor, Colin, who understands and appreciates her for who she is. Yeah, it is that obvious.
Most of the jokes are sex related. When Ally invites her most recent boyfriend to be her date to her sister's wedding, he says, "I don't know. It just feels a little serious." She responds, "It felt kind of serious last night when you were doing me from behind." When drunk, she walks by a girl talking to one of her past lovers and says to her, "Careful, he can be a little rough on the nipples." One recurring subject involves discussing how far a penis must go in a vagina before it is considered sex. And this was all in the first 15 minutes.
What's Your Number? presents the archaic question of how many sex partners does it take before a woman is no longer considered a lady? In 2011, is that question even relevant? Marilyn Monroe already dealt with this in Bus Stop (1956), when the innocent Bo tells the experienced Cherie, "Well, I've been thinkin' about them other fellas, Cherry. And well, what I mean is, I like you the way you are, so what do I care how you got that way?"
This is the point of What's Your Number? As we see in flashbacks, Ally became whatever she thought the guy she was with wanted her to be. She became Goth for the magician. She gained weight for Disgusting Donald. She put on an accent for Simon. Did I mention that she does not put up a front for Colin?
One of the men at first seems like Mr Perfect. He then becomes a bit of a prude, but he does set up Anna Faris for the film's darkest joke. When he finds out she lost her virginity to someone else, he says, "Well if I wasn't your first, at least I can be your last." To which Ally responds, "Why? Are you going to rape and kill me later?"
To be sexually fair, Colin is a male slut. He has countless one night stands with a string of easy women. After being friends for a period of time, Colin makes his move on Ally but she turns him down. At one point he complains to her that, "Women are always stealing my shirts." She clarifies that issue with, "Women aren't always stealing your shirts. They're borrowing them, fully intending to give them back, but you never call." Did I mention that she chooses not to have sex with Colin?
The question about the expiration of love after a certain amount of lovers is a teenage notion to even ponder. What's Your Number? makes the nice little point that love is not just about sex, but finding that person who wants you for who you are and not who they want you to be. It is not deep, but I laughed and smiled. Most importantly, I did not have to think very hard about any of it.
Photos © Copyright Twentieth Century Fox (2011)