Movie Review
What's Up Doc?
A Screwball Comedy. Remember Them?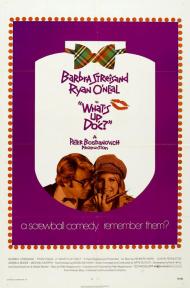 US Release Date: 03-10-1972
Directed by: Peter Bogdanovich
Starring
▸
▾
Barbra Streisand

,

as

Judy Maxwell
Ryan O'Neal

,

as

Howard Bannister
Madeline Kahn

,

as

Eunice Burns
Kenneth Mars

,

as

Hugh Simon
Austin Pendleton

,

as

Frederick Larrabee
Michael Murphy

,

as

Mr. Smith
Philip Roth

,

as

Mr. Jones
Randy Quaid

,

as

Professor Hosquith
Mabel Albertson

,

as

Mrs. Van Hoskins
Liam Dunn

,

as

Judge Maxwell
John Hillerman

as

Hotel Manager

Reviewed on:
March 10th, 2001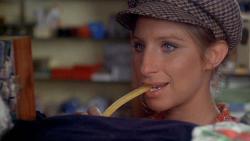 Barbra Streisand in What's Up Doc?.
In the early seventies, up and coming young director Peter Bogdanovich, having recently completed the critically acclaimed The Last Picture Show, decided to make an updated version of a classic thirties screwball comedy. He also very much wanted to work with Barbra Streisand, who was then the biggest female movie star in the world. For inspiration he chose the magnificent Bringing Up Baby, which starred the incomparable team of Cary Grant and Katharine Hepburn. With Ryan O'Neal, fresh from Love Story; and Madeline Kahn, in her first film role, added to the equation, is it any wonder that this is one of the funniest films ever?
The plot, which borrows liberally from Bringing Up Baby, concerns a rather confused musicologist from Iowa, named Howard Bannister (O'Neal) who arrives, with fiancée Eunice Burns (Kahn) in tow, in San Francisco to attend a convention. Here he crosses paths with the hyper-kinetic walking disaster area known as Judy Maxwell (Streisand). The antics, for the most part, take place in an ultra-modern (for the times) high-rise hotel. Involving four identical, plaid, overnight bags; one containing Howard's rocks, one Judy's lingerie, another full of valuable gems and the final one carrying top-secret documents. The culminating chase scene is a clever homage to classic sight gags of the silent era. Believe me, this movie is as funny as it sounds.
Barbra Streisand has never been sexier than she is in this movie. To me, the peak moment of her screen career takes place in the scene where Ryan O'Neal's character discovers her lying atop a piano on an unfinished floor near the top of the hotel. She imitates Bogie, then sings an absolutely exquisite version of As Time Goes By, all the while seducing the befuddled Mr. Bannister. Then in true Streisand fashion, she cuts the song, and the scene, short, with a gag. The piano bench breaks and they tumble to the floor.
The supporting members of the ensemble cast are all wonderful. Austin Pendleton and Mabel Albertson, as well as the always-hilarious Madeline Kahn, are particular standouts. From the glorious rendition of Cole Porter's, You're The Top over the opening credits, to the final 'That's all folks', this is a non-stop celebration of silliness. A timeless comedy classic that can be watched over and over again, and believe me I speak from experience.

Reviewed on:
March 10th, 2002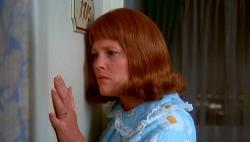 Madeline Kahn in What's Up Doc?.
What's Up Doc is a great, funny film as Patrick has pointed out. The pace is quick. The jokes keep coming. The lines are unforgettable. "..but Eunice and I, we call it lust.' 'Don't you know the meaning of propriety?' 'How dare you harm that dangerously unbalanced woman!'
The physical humor was funny when I was a kid but now it's just quaint. I find myself now fast forwarding through most of the chases. However, if you have not seen the movie several times you will enjoy them.
Patrick mentioned that What's up Doc is based loosely on Bringing Up Baby. Its not so much based on it as it is copied. Several scenes and ideas are lifted directly from it. Both movies contain almost the exact same coat ripping scene. Both have a female lead who drives the male lead to distraction by acting like a nut. In Bringing Up Baby they confuse leopards. In What's Up Doc it's the suitcases. In both films the entire cast end up arrested. In both films a scientist is attempting to get a grant. I would like very much to slam the writers of What's Up Doc for being unoriginal, but I can not due to the fact of the incredible dialogue.
Barbra Streisand does her motor mouth best, and she does look fairly good. Ryan O'Neal imitates Cary Grant and plays a decent straight man. Madeline Kahn, however, steals the entire movie. Her every line and movement is humorous. 'I am not a Eunice Burns. I am the Eunice Burns.' 'Who is this person?' 'I'm coming in!' She was an actress who knew how to deliver a line.
Unoriginal in plot but loaded with great lines and performances.
Reviewed on:
March 10th, 2003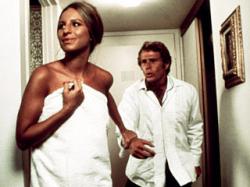 Barbra Streisand and Ryan O'Neal in What's Up Doc?.
What's Up Doc? is hands down, Barbra Streisand's funniest movie, and one of the few that even non-Barbra Streisand fans (if there are any), can enjoy.
I agree with Patrick that Barbra looks her best in this film. This is the one and only film she appears in where the words Barbra Streisand and sexy can appear in the same sentence without the word 'not' being placed somewhere in between.
I also agree with Eric that, although the banter between Streisand and O'Neal is entertaining and funny, Madeline Kahn steals the movie. Something she would do in many other films she would appear in throughout her career. Her untimely death was a great loss to the world.
There is one scene in this movie that struck me as odd the last time I watched it and it's a scene that Patrick mentioned. The scene where Ryan O'Neal's character discovers Barbra lying atop a piano on an unfinished floor at the top of the hotel. What the hell is a grand piano doing in the middle of a construction area in the hotel? Obviously it's there so Barbra can sing, but in the movie, why is it there?
Here's a tip, if you find yourself watching this movie for the first time, try to keep track of who has which bag. If you manage to do it, with all the hilarity and confusion going on, you're probably not enjoying this comedy classic as much as you should be.
Photos © Copyright Warner Bros. (1972)
Related Review