Movie Review
What Price Hollywood?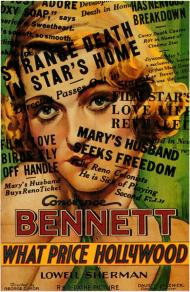 US Release Date: 06-24-1932
Directed by: George Cukor
Starring
▸
▾
Constance Bennett

,

as

Mary Evans
Lowell Sherman

,

as

Max Carey
Neil Hamilton

,

as

Lonny Borden
Gregory Ratoff

,

as

Julius Saxe
Brooks Benedict

,

as

Muto
Louise Beavers

,

as

The Maid
Eddie (Rochester) Anderson

as

James - Max's Butler

Reviewed on:
April 10th, 2014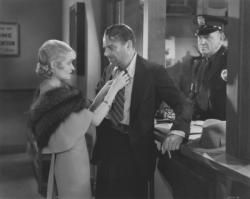 Constance Bennett and Lowell Sherman in What Price Hollywood?.
To date there have been three official versions of A Star is Born, with the original being released in 1937. However, all three versions owe a debt to 1932's What Price Hollywood?. It doesn't follow exactly the same plotline as the later stories, but you can definitely see it as a rough draft. Beyond the plot similarities, the behind the scenes crew also have a connection. David O. Selznick, who produced this movie, also produced the 1937 A Star is Born, and George Cukor, who directed this movie, also directed the 1954 A Star is Born. RKO, the studio behind this movie, actually considered suing Selznick when he made A Star is Born, because of the obvious similarities, but eventually opted not to pursue legal action.
If you're familiar with A Star is Born, this plot is going to sound awfully familiar. Mary Evans (Constance Bennett) is a waitress at the Brown Derby in Hollywood, but she longs to be in pictures. A chance meeting with successful film director Max Carey (Lowell Sherman), sparks her shot at stardom. Smitten with her charm, Carey gives her a small part in a film, which leads to a career as a star. However, as her career rises, his falls, due to his heavy drinking. The ending, if you are familiar with the later versions, is exactly what you'd expect. Where this story differs from the various A Star is Borns is that Mary and Max are never romantically linked. Mary ends up marrying a polo playing millionaire (a young Neil Hamilton who is perhaps best remembered for playing Commissioner Gordon on the 1960's Batman series). Her marriage is a rocky one though as her husband feels pressured by her stardom.
Having these two men in Mary's life is the film's biggest weakness and it's easy to see why one was removed in the later films. The film's strongest relationship is between Mary and Max. They share a playful chemistry and if he wasn't so much in love with the bottle, you could see the two of them living happily ever after together. Lonny, the polo player, never seems right for her and her scenes with him detract from the main plot.
The film's other problem is the way it moves from comedy to drama. It begins with a very light and playful tone with some comic bantering between Mary and Max. Julius Saxe, the studio head who hires Mary, is played for laughs as the stereotypical executive. As the story moves along however, scenes of drama become more frequent and the script never finds the proper balance. The change from laughs to tears feels jarring at times.
Selznick originally developed the film with former silent film star Clara Bow in mind for the lead role. Reasons for her not accepting vary according to what you read. Some reports say that the studio thought she'd gained too much weight and was too old for the part, while others say that she simply didn't want to come out of retirement. Whatever the reason, Constance Bennett would reap the rewards of Bow not getting the part and is quite good, playing the comedy and the melodrama equally well.
Lowell Sherman, who plays Carey, isn't well known today, but he had been working in Hollywood since 1914 as both an actor and a director. Reportedly he based Carey on his brother-in-law John Barrymore. Others have said that his performance wasn't too far from his own lifestyle. There might be some truth to this as Sherman would die in his late 40s, just 2 years after this film was released. In any case, he's a scene stealer as Carey and his absence is felt in the last half of the film.
Even if you haven't seen any of the A Star is Borns, you'll still find plenty to enjoy in this film. It's a classic story and it's easy to see why it's been returned to so many times.
Reviewed on:
April 16th, 2014
Lowell Sherman and Constance Bennett in What Price Hollywood?.
Constance Bennett gives a wonderful performance as Mary Evans, the Brown Derby waitress who becomes a sensation in pictures as "America's Pal". As Scott wrote, she handles the comedic and dramatic moments equally well. Watch the scene where she rehearses by herself on the stairs. She gives several bad readings of a simple line before giving it just the right touch. A star is born right before our eyes.
It's interesting to note just how quickly Hollywood evolved. By 1932 when this movie was made, the motion picture business had been on the West Coast for only 20 years but already it was a place of legend. The story of a rising star and a quickly fading one passing each other on their respective paths would soon become a cliché, but Adela Rodgers St. Johns was the first to sit down and write the story upon which this movie (and all three A Star is Borns, plus many other movies) would be based. Rarely has it been done better.
Much of the success for this movie belongs to George Cukor. He directs with flare and keeps the story moving. He packs in plenty of plot in less than 90 minutes. There are two scenes that really stand out. One is where Mary has dinner for the first time with her soon to be husband. When she fails to show up at the restaurant, he breaks into her house and physically drags her out of bed. Then when she refuses to eat, he literally force feeds her a spoonful of caviar. This scene certainly crosses the line of domestic violence but is played as romantic in the movie. Mary gives in and falls in love by the end of the night.
SPOILER ALERT: The other truly memorable scene is the one where Max kills himself. It is filmed in a much more powerful way than any of the suicides from any of the A Star is Born movies. It is wonderfully acted by Lowell Sherman and it's a great cinematic moment.
On a trivia note, this movie marked the screen debut of Eddie Anderson who would go on to a long career as Jack Benny's sidekick lovingly called Rochester. Louise Beavers, in one of her many maid roles, has one particularly funny scene where she sings to Max, herself hoping for a shot in the movies. Both she and Max wind up in Mary's swimming pool. Gregory Ratoff would play a similar role to the one he plays here in the classic backstage melodrama All About Eve 18 years later.
What Price Hollywood? is a question that many still ask today. For some the price of stardom is too steep and for others it comes cheap. This movie tells its iconic, timeless tale with wit and drama to spare. The cast sparkles and it's easy to see why it has been copied so often over the decades.

Reviewed on:
July 9th, 2014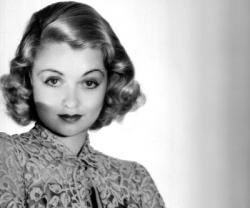 Constance Bennett
This is a timeless Hollywood tale and I wonder why it has not been remade this century. No Patrick, I do not count Glitter (2001). The story of a rising star having a relationship with a doomed one belongs in any time period and generation since the start of the last century. A modern telling could definitely work if a director had the balls to show the dark side of contemporary Hollywood. With such actors as Heath Ledger, Cory Monteith and Philip Seymour Hoffman dying of drug overdoses in the past few years, the writers could simply change the problem of alcoholism to drug addiction.
Other than Topper (1937), I was none too familiar with Constance Bennett but I agree completely with my brothers that she carries this film, proving proficient in both the dramatic and comedic scenes. I also agree with the many characters in this film that state several times just how very attractive she is. Her figure is all woman and her hair style would not be seen again for some 20 years when Marilyn Monroe would make a career out of it.
All of the women who have taken on this part have proven to be extraordinarily talented. Janet Gaynor, Judy Garland and Barbra Streisand all dominated their versions, leaving the male lead as, at best, a mere audience after thought. Bennett certainly does the job here, demonstrating real movie star presence. She even sings one song in French. With the exception of Lowell Sherman's drunken scenes, you rarely notice anyone else on the screen. This is why I do not even consider the poorly conceived Glitter in the same category, as Mariah Carey was by no means up to the challenge of playing the demanding role.
The scene where Hamilton carries Bennett out of bed certainly crosses the line of domestic violence, especially to modern morality, but as Patrick wrote, it is played as both romantic and humorous. Mary yells, "You wouldn't do this to me if I were a man." And Lonny responds, "I wouldn't want to."
One interesting aspect of this story is that although it is timeless, each incarnation is also a time capsule of when it was made. Here we get a glimpse of the legendary Brown Derby restaurant and an early look at Grauman's Chinese Theater. When Lonny divorces Mary, he telegrams her that she is now, "Free, white and 21." No matter how offensive, it was a common expression at the time. When this movie was made, Clark Gable was still being billed second to his leading ladies, and worked at MGM, yet this film gives him kudos when Mary holds up a magazine with Gables picture and pretends to do a love scene with him, "Daaahling, how I love you my daaahling, I love you I do." A few years later, Bennett and Gable would co-star in After Office Hours (1935).
I was taken back by Mary's attitude toward child custody. She refusing to let Lonny see his own son on the grounds that he divorced her before the child was born is typical selfish, vindictive logic. She is willing to hurt her own child so as to get back at the man who broke her heart.
Although Scott felt there was too much going on by having two men in Mary's life, it does allow for a happier ending than the other versions. It also makes for too simple of a "Hollywood" ending if you will. I prefer the other versions endings as they stay far truer to all that has come before and emphasize that success in Hollywood does indeed come with a price.
Photos © Copyright RKO Pathe Pictures (1932)
Related Reviews