Movie Review
What Price Glory
Cagney and Dailey are comrades-in-arms and rivals for love in World War I France.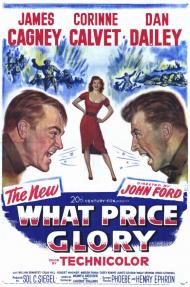 US Release Date: 08-22-1952
Directed by: John Ford
Starring
▸
▾
James Cagney

,

as

Capt. Flagg
Dan Dailey

,

as

1st Sgt. Quirt
Corinne Calvet

,

as

Charmaine
Robert Wagner

,

as

Pvt. Lewisohn
William Demarest

,

as

Cpl. Kiper
Craig Hill

,

as

Lt. Aldrich
James Gleason

as

Gen. Cokely
Reviewed on:
October 20th, 2003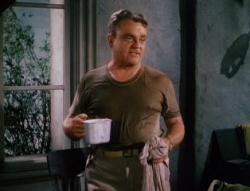 James Cagney in What Price Glory.
In 1952, at the age of 53, James Cagney was still hard at work making movies. His 50th movie, What Price Glory, is a remake of the silent 1926 version. It was directed by the legendary John Ford and co-stars Dan Dailey and a young Robert Wagner. Set in France in 1918 Glory tells the somewhat humorous story of two old war buddies that are rivals for the affections of a local peasant girl. Cagney is Captain Flagg, the commander of a somewhat notorious company of soldiers. His old pal and friendly rival 1st Sergeant Quirt (Dailey) shows up at the small French village where the Captain's men are stationed. Quirt almost immediately begins trying to woo the Captain's girlfriend, which leads to several comical situations as the tension mounts between the two soldiers.
The cast keeps the story moving along, but the main problem with this movie is the fact that it jumps unevenly back and forth between silliness and melodrama. The majority of the time it seems to be going for a lighthearted Bing Crosby style war picture. Then it unexpectedly turns serious when the company is sent on a dangerous mission. It is supposed to be a powerful and touching moment when the wounded Private Lewisohn (Wagner) asks the Captain in an overly dramatic voice, 'What price glory now, Captain Flagg?' Unfortunately, after the hi-jinks of the first half of the movie, this seems out of place and lacking in any real emotional impact.
As uneven as What Price Glory is, it nevertheless is worth watching for the cast alone. Cagney still presents a magnetic screen presence and he and Dailey play off of each other well, both of them are believable as two tough-as-nails old war dogs. Robert Wagner's fresh-faced Private provides a nice contrast with the old veterans that make up the majority of the company. Still, given the cast and director, what should have been a classic World War I movie, is instead a mere curiosity that goes too often for the cheap laugh at the price of any real emotional wallop. A disappointment.
Photos © Copyright 20th Century Fox (1952)