Movie Review
The Whales of August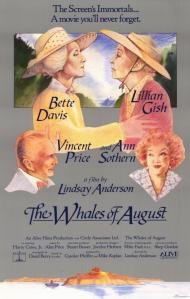 US Release Date: 10-16-1987
Directed by: Lindsay Anderson
Starring
▸
▾
Bette Davis

,

as

Libby Strong
Lillian Gish

,

as

Sarah Webber
Vincent Price

,

as

Mr. Maranov
Ann Sothern

,

as

Tisha Doughty
Harry Carey Jr.

,

as

Joshua Brackett
Frank Grimes

,

as

Mr. Beckwith
Mary Steenburgen

,

as

Young Sarah
Margaret Ladd

,

as

Young Libby
Tisha Sterling

as

Young Tisha
Reviewed on:
August 2nd, 2010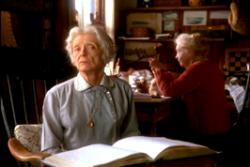 Bette Davis and Lillian Gish with a combined 131 years of movie experience.
It's always interesting to watch a movie again that you haven't seen for many years. Especially if you were young when you last saw it. I was 20 years old when I saw The Whales of August at the local theater in my home town. It was called Le Bijou and it was the only theater in Kalamazoo, Michigan that showed art house movies and foreign films during the 1980's.
I certainly appreciated it more now than I did in 1987. Then I was pretty bored with it and completely disliked Bette Davis' Libby. I thought she ruined her sister Sarah's (Lillian Gish) life and that she took away her last chance at love. At the time I thought that Vincent Price's Mr Maranov was quite a catch for her. Now I saw him for what he was, just an aging gigolo with courtly manners.
This is based on a play and is quite slowly paced, not surprising when you figure the cast consists almost entirely of senior citizens. Lillian Gish was an active and healthy 93 at the time, whereas Bette Davis (78) had recently suffered a major stroke, this plus the fact that her character is blind makes it completely believable for Davis to be playing the older sibling. For the record Gish had made her first movie in 1912 and Davis' movie career dated back to 1931.
As girls these two sisters used to watch always for the whales to return every August off the coast of their Maine home. But that was in the 1880's and '90's. Now it is the late 1940's and our sisters have come near to the end of their long lives and no whales have been spotted in decades, although, Sarah, ever the optimist, continues to watch for them every summer.
There isn't much of a plot just a few days in the lives of these aging sisters. They understand each other and sometimes resent each other but they are family and they are all each of them has and that is that. Gish has a great scene where she toasts her dead husband Philip on their anniversary. "It's been 46 years Philip…" Davis gets the most memorable line though, and proves that in all her infirmity she could still make a good line better with her delivery. She tells her sister, "We're from strong stock, you and I, but we've precious little time left."

The Whales of August was shot on location in Maine and features a good supporting performance by Ann Sothern and a cameo by Mary Steenburgen as the young Sarah. This is a poetic little movie about death, sibling rivalry and the passage of time. Lillian Gish and Bette Davis, at the end of their legendary careers, are more than worth the 90 minutes running-time.

Photos © Copyright MGM Home Entertainment (1987)