Movie Review
Wet Hot American Summer
High Times. Hard Bodies. Soft Rock.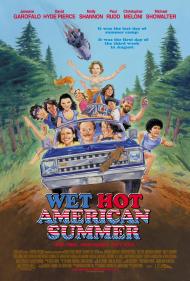 US Release Date: 07-27-2001
Directed by: David Wain
Starring
▸
▾
Janeane Garofalo

,

as

Beth
David Hyde Pierce

,

as

Henry
Paul Rudd

,

as

Andy
Molly Shannon

,

as

Gail
Michael Showalter

,

as

Coop/Alan Shemper
Marguerite Moreau

,

as

Katie
Michael Ian Black

,

as

McKinley
Zak Orth

,

as

J.J.
Amy Poehler

,

as

Susie
Bradley Cooper

,

as

Ben
Christopher Meloni

,

as

Gene
Elizabeth Banks

as

Lindsay

Reviewed on:
July 29th, 2001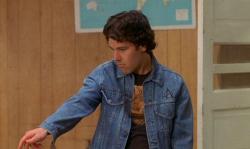 Paul Rudd in Wet Hot American Summer.
A spoof of late 70's, early 80's teen camp movies, may at first seem like an odd choice of movie genre to spoof at this late date. What made the writers of this movie decide on that is surely a mystery. What is not a mystery, is just how funny and accurately this movie turned out to be. Hilariously faithful, while sending up the genre at the same time, this movie is well paced, with an extraordinarily funny script, and a generally well-rounded cast. It certainly stands out in this summer of B-movies. At least this movie knows it is a B-movie, and it revels in its B-ness.
The plot is as simple as the plot of those movies it is spoofing. It's the last day of camp and there's a lot going on as campers and counselors prepare to end their summer. There's the big game against the evil and rich camp; a hilariously cut short competition which is a tribute and a slam against every underdog team wins out movie, from The Bad News Bears to The Mighty Ducks. Summer love between the counselors, including the requisite 'good girl'/'bad boy' relationship, and of course the camp slut. An end of summer rafting trip which nearly ends in 'tragedy'. A trip into town, which is one of the funniest scenes in the movie, which shows the counselors progress from drinking a few beers, to robbing old ladies, to smoking pot, and eventually flopped out in an abandoned house, shooting up. A scene which culminates upon their return to camp, when asked, 'So how was your trip to town?' To which the reply comes back, 'Oh, it's great to get away from camp. Even for just an hour.' And finally the whole thing culminates with a talent show, which is taken very, very seriously by its Producer, and it's Director/Choreographer. Let me not forget to mention that Skylab is also crashing to Earth, targeted directly at the Mess Hall where the talent show is being staged.
This incredibly silly plot escapes from being absurd, by the grace of a very talented cast. Led by Janeane Garofalo and David Hyde-Pierce, and accompanied by mostly unknowns, apart from Paul Rudd as the resident bad boy counselor, and Molly Shannon as the recently divorced woman who finds solace in a 12 year camper with a great future as a counselor, this group makes the most of every joke, with only a few poor performances, which hardly detract from the overall jokes with which this movie inundated.
It helps of course that the cast is all given stock characters to play and spoof. There's the aforementioned bad boy, with the penchant for ditching campers on the side of the road when they see something he's done that they shouldn't have seen. The camp slut, who sleeps with nearly all the counselors (male and female), and even at least one of the campers. The sensitive male counselor who falls in love with the good girl, who naturally, is in love with the bad boy, also makes an appearance. There's the party counselors, the ones who carouse, and sneak behind trees to watch the girl counselors swimming in the lake, in an inspired innocent nod to those teen movies, they get excited watching a scene which would probably garner a PG rating, were it to appear in a movie today. And of course, as all good movies made in the 70's had, this movie has the emotionally scarred, Vietnam Vet.
A cross between Meatballs, Monty Python, and the Airplane! movies, Wet Hot American Summer is easily the funniest film of 2001. And at the reported cost of $1 million, it's easily the best bargain as well.

Reviewed on:
March 29th, 2009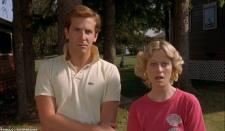 Bradley Cooper and Amy Poehler having a wet hot American summer.
Scott, I highly recommend you watch this movie again. Not only is it worth a second look because of the laughs, but I think you will be surprised by what you called a mostly unknown cast. The secondary roles are almost all played by actors who have since become famous.
One of my favorite lines is by Amy Poehler introducing the talent show, "Before we start, I'd just like to say the campers you're about to see suck dick! But nevertheless, please welcome them." Chris Meloni is the emotionally scarred Vietnam vet who likes to smear mud on his butt, among other things. His training montage scene is the best parody of that movie cliche I have ever seen. Before pretending to enjoy having sex with Seth Rogen in Zack and Miri Make a Porno, Elizabeth Banks enjoyed making out with girl here.
Having gone to highschool in the 80's, I thought this spoof of the films from that decade were priceless. I am not sure how this movie would be viewed by someone who did not. The clothes were hilariously perfect. Why did guys, including myself, wear such gay looking shorts then?
Reviewed on:
February 17th, 2010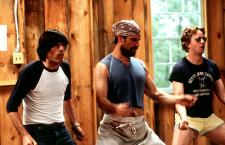 Check out those clothes!
I worked at Pretty Lake Vacation Camp in Michigan every summer from 1984 to 1988. Not only is this a send up of summer camp movies from that era but it also sends up actual camp life from that time. The clothes and the look of the camp itself made me nostalgic. I cracked up when Janeane Garofalo mentioned that some kids were stranded on the ropes course. We took campers up on a ropes course at PLVC. There was always some old hippie counselor trying to coax an emotional response from the kids. And when they started singing "Day by Day" it took me right back to those "Celebration of Life" ceremonies by the shores of Pretty Lake.
The cast is full of now famous people and they are very funny. I didn't find the movie to be consistently funny though. Yes there are some hilarious moments but also some jokes that fall flat. The counselor on the motorcycle chasing the guy running down the road for example, and the kids counseling Molly Shannon on her adult relationships during Arts & Crafts. Like my brothers I loved the counselors going to town, the big game against the evil camp bit and the training montage. If only the entire movie were this creative.
I must confess I was hoping for a slightly more realistic movie with some actual human emotion instead of just a series of gags. Wet Hot American Summer succeeds at what it is trying to be which is a silly over-the-top spoof of camp movies. I would have preferred it with a bit more of the flavor of Meatballs and a bit less of Airplane! like flights of fancy.
Photos © Copyright Paramount Pictures (2001)