Movie Review
The Well Digger's Daughter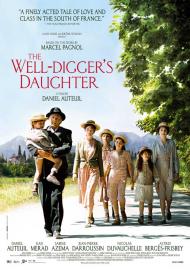 US Release Date: 07-20-2012
Directed by: Daniel Auteuil
Starring
▸
▾
Daniel Auteuil

,

as

Pascal Amoretti
Astrid Berges-Frisbey

,

as

Patricia Amoretti
Kad Merad

,

as

Felipe Rambert
Sabine Azema

,

as

Madame Mazel
Jean-Pierre Darroussin

,

as

Monsieur Mazel
Nicolas Duvauchelle

,

as

Jacques Mazel
Emilie Cazenave

,

as

Amanda
Marie-Anne Chazel

as

Nathalie

Reviewed on:
April 16th, 2013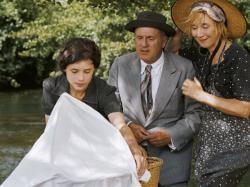 Astrid Berges-Frisbey, Daniel Auteuil and Marie-Anne Chazel in The Well Digger's Daughter.
The Well Digger's Daughter (La Fille du puisatier) is a remake of the 1940 film by Marcel Pagnol. Anyone familiar with his Fanny trilogy of the early 1930s (or the 1961 American remake starring Leslie Caron) will recognize elements of the plot. It deals with a young unmarried girl named Patricia, who gets pregnant by the son of a wealthy shopkeeper in rural France at the dawn of the first world war. Daniel Auteuil adapted the screenplay and makes his directing debut here, he also stars as Pascal Amoretti the titular well digger.
This is a beautifully shot and tenderly told story. It is amusing but also heartbreaking at times. Auteuil shines, in a cast filled with great performances, as the widowed father who wants to do right by his family. When he first learns of Patricia's predicament he takes her to see her lover's parents in hopes of a proposal. They react badly, particularly the mother, looking down their noses and refusing to acknowledge the truth.
Pascal sends Patricia away to live with his sister in order to protect his other young daughters. Once Pascal learns he has a grandson, however, he instantly changes his tune. Despite its going against strong social mores he cannot resist seeing the boy he always wanted. And before you know it he has welcomed his daughter -and grandson- back into the fold. Word comes that Jacques (the baby's father) is missing behind enemy lines and presumed dead.
To make the story more interesting there is another potential suitor for the daughter. His name is Felipe and he is a friend and contemporary of Pascals. Again echoing the storyline from the Fanny trilogy. He is a kind man but is clearly not someone Patricia could ever love. You see Patricia lived in Paris for several years and has more education, culture and refinement than her country siblings. Meanwhile her sister longs for Felipe and waits patiently for him to get over Patricia.
The characters in this film are all fully developed and beautifully acted. The Well Digger's Daughter is a charming tale of love, loss and love reborn. It has a feel-good ending that will leave a smile on your face. I was completely enchanted by it.

Reviewed on:
April 17th, 2013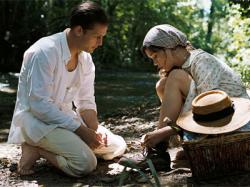 Nicolas Duvauchelle and Astrid Berges-Frisbey in The Well Digger's Daughter
The Well Digger's Daughter is a sweet film set in a time and place where people acted according to moral codes that may not make sense to many of us today. Pascal is a single father of five girls. He relies on his daughter Patricia to do most of the care giving of her four sisters, while he is away working as a well digger, trying to arrange a marriage for her.
Pascal is a hypocrite. Although not happy about it, he is open about his single parent status. However, when Patricia gets pregnant out of wedlock, he sends her away as it would raise eyebrows and set a precedence for her sisters. He loves his daughter but does not show it in ways that we today would see as acceptable. He sends her away with a heavy heart but believes he is doing the right thing. It would be easy to see him as a villain as he does not seem to stand by his daughter.
That is however, the beauty of this movie. At different points in the story, each of the main characters are to blame. The act is not shown but it implies that Jacques somewhat forces himself onto, or at least seduced, the virgin Patricia, who willingly went with Jacques to his room, where even a virgin could tell that Jacques was expecting sex.
Jacques parents, especially his mother, are the most blatantly destructive. As Patrick wrote, "They react badly..." to the news of Patricia's pregnancy. The mother even goes out of her way to impede the relationship between Patricia and Jacques from going any further. It may be difficult to excuse her cruelty but in her heart she felt she was doing what was best for her son, as well as herself. However, when you compare what she does to what Patricia's own father does and her actions seem less heinous.
Like Fanny, this film tells a story of flawed people in an ever evolving world. A place where no one is perfect and a change of heart is just a swallow of pride away. The Well Digger's Daughter celebrates life even as it acknowledges its contradictions.
Photos © Copyright Kino Lorber (2012)
Related Review