Movie Review
A Wedding
More than one Family Secret hides behind A Wedding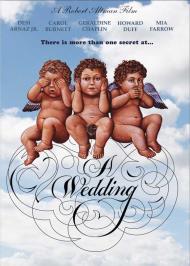 US Release Date: 08-29-1978
Directed by: Robert Altman
Starring
▸
▾
Desi Arnaz Jr.

,

as

Dino Sloan Corelli
Carol Burnett

,

as

Katherine 'Tulip' Brenner
Geraldine Chaplin

,

as

Rita Billingsley
Howard Duff

,

as

Dr. Jules Meecham
Mia Farrow

,

as

Elizabeth 'Buffy' Brenner
Vittorio Gassman

,

as

Luigi Corelli
Lillian Gish

,

as

Nettie Sloan
John Cromwell

,

as

Bishop Martin
Paul Dooley

,

as

Liam 'Snooks' Brenner
Peggy Ann Garner

,

as

Candice Ruteledge
Lauren Hutton

,

as

Florence Farmer
Dina Merrill

,

as

Antoinette 'Toni' Sloan Goddard
John Considine

,

as

Jeff Kuykendall, Head of Security
Cedric Scott

,

as

Randolph the Butler
Gerald Busby

,

as

Reverend David Ruteledge
Pam Dawber

,

as

Tracy Farrell
Mark R. Deming

,

as

Matthew Ruteledge
Amy Stryker

,

as

Margaret 'Muffin' Brenner Corelli
Dennis Franz

,

as

Koons
John Malkovich

,

as

Wedding Guest
Laurie Metcalf

,

as

Maid
George Wendt

as

Caterer
Reviewed on:
November 14th, 2010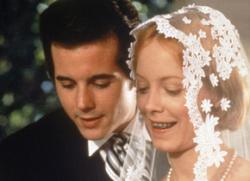 Desi Arnaz jr. and Amy Stryker play the newlyweds.
Robert Altman directed some brilliant movies (MASH, Nashville, The Player, Short Cuts, Gosford Park) and some pretty terrible movies (Popeye, The Company). A Wedding is somewhere in the middle. The movie takes place in one day, as a young bride and groom get married and celebrate their reception at a large family estate.
There are several problems with A Wedding. First the cast is just too large. Having many actors together in one place and/or following numerous story threads, was (along with his technique of layering the dialogue) a trademark for Altman, but this time he overdoes it. Some 48 actors are used and most of them have speaking parts. This does not allow time for any one storyline to be fully explored. The camera roams around the mansion seemingly at random, zooming in here, panning over there, never staying in one place very long.
This is very much Robert Altman's style of filmmaking but it points out one of his most common flaws, namely, the lack of a strong script. His best movies are when his unique style was applied to a decent storyline with memorable dialogue. Here the script seems to meander pointlessly. We get to briefly know these characters, (none of whom are all that likable, several are downright pathetic, and the more interesting ones, like the white daughter and the black butler having a clandestine romance, are barely touched on) but there is no real dramatic arc.
There is one well-done traffic accident scene at the climax. It seems a bit out of place in what is ostensibly a comedy but Altman always did like to keep his audience guessing.
As for the humor, there are laugh-out-loud moments, but they are few and far between. The ancient bishop (played by 90 year old director John Cromwell) trying to remember how to perform the wedding ceremony at the beginning will have you cracking up. I wish his part were bigger. Later when Mia Farrow's character tries to come up with the number of her sexual partners she runs out of fingers to count on and begins using her aunt's fingers. Those were the only times I laughed during the entire 2 hour movie.
The huge cast includes everyone from Lillian Gish (who spends most of the movie as a corpse) to Carol Burnett and Desi Arnaz jr. A Wedding is a missed opportunity. With this cast and a situation ripe for jokes this should have been a zany, hilarious laugh fest. Instead the end result is more of a curiosity.

Photos © Copyright Twentieth Century Fox Film Corporation (1978)