Movie Review
The Wedding Ringer
He's the best man... money can buy.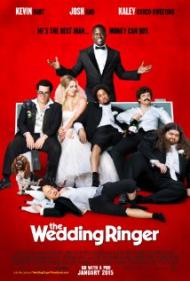 US Release Date: 01-16-2015
Directed by: Jeremy Garelick
Starring
▸
▾
Kevin Hart

,

as

Jimmy Callahan / Bic Mitchum
Josh Gad

,

as

Doug Harris
Affion Crockett

,

as

Reggie / Drysdale
Kaley Cuoco-Sweeting

,

as

Gretchen Palmer
Jorge Garcia

,

as

Lurch / Garvey
Dan Gill

,

as

Bronstein / Dickerson
Corey Holcomb

,

as

Otis / Alzado
Ken Howard

,

as

Ed Palmer
Colin Kane

,

as

Fitzgibbons / Plunkett
Cloris Leachman

,

as

Grandma Palmer
Jenifer Lewis

,

as

Doris Jenkins
Alan Ritchson

,

as

Kip / Carew
Mimi Rogers

,

as

Lois Palmer
Aaron Takahashi

,

as

Endo / Rambis
Olivia Thirlby

,

as

Alison Palmer
Nicky Whelan

,

as

Nadia
Josh Peck

,

as

Bad Best Man
Joe Namath

,

as

Himself
John Riggins

,

as

Himself
Ed 'Too Tall' Jones

as

Himself

Reviewed on:
January 23rd, 2015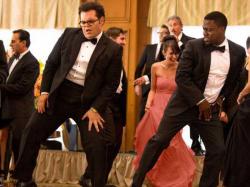 Josh Gad and Kevin Hart in The Wedding Ringer
Since I just watched Selma, I found an early scene offensive where Kevin Hart, as Jimmy Callahan, loses patients with Josh Gad's character and yells out loud, "God damn! Fucking white people." Seriously? Hart, can you at least have the decency to keep your racist attitude to yourself, at least until you are in the privacy of your own home before expressing it, like white people do. God damn! Fucking black people.
Gad plays likable loner Doug Harris. He has a very nice paying job and is about to marry a woman way out of his league. His problem is that he has no friends, thus no one to be his best man or groomsmen. Enter Jimmy Callahan, the owner of Best Man, Inc. For a fee, Jimmy pretends to be a lonely groom's best friend and best man. He spends the wedding making the groom look and sound as good as he can.
The movie opens with Jimmy at another wedding that ends with the groom asking Jimmy if he would like to hang out sometime. Jimmy reminds him that what just happened was a business transaction and not a real friendship. Several times while working with Doug, Jimmy makes that same statement but who is he kidding, we know exactly where this movie is going from the previews.
Jimmy collects an odd assortment of guys to be groomsmen. They are all given pseudonyms and backgrounds as if they are going under cover as spies. One guy just got out of prison while another has a stutter. When Doug first meets them, he whispers to Jimmy, "These guys cannot be my groomsmen. It looks like the entire cast of Goonies grew up and became rapists!" All are asked to come up with a distraction if ever they do not know the answer to a question posed at the reception. Of course they all use them later in the film.
Jimmy must become a military priest as that is what Doug has already told his fiancé about his made up best friend. The two men spend lots of time together resulting in a bromance. Meanwhile, the fiancé's sister has eyes for Jimmy. I am not sure if she suspects or just has a kinky thing for priests. The Wedding Ringer could have been funnier but it has some moments. Some of the comedic highlights involve a dinner that goes bad and a football game between two different generations, featuring real football legends.
The Wedding Ringer also has something to say about modern friendships. Early on, Jimmy asks, how many friends do people really have and you cannot count Facebook friends. It is a legitimate question to modern audience members. I remember a few years ago having my son say he hung out all afternoon with his friends. I asked where he went and he responded, "Nowhere, we were playing COD online." I have known middle aged men who defriended someone on Facebook to make a point. Are we really friends with someone just because we communicate online with them? You tell me.
The Wedding Ringer is a guy's movie. The men all bond going to a party where hot girls do plenty of sexy things for them. As we left the theater, my son said to me, "Yeah! Bros before hos." Not only does that tell you about the level of his maturity but also what some will take away from this movie. I enjoyed watching these two men form a sincere friendship and the commentary on what actually constitutes a real friend.
Photos © Copyright Miramax (2015)