Movie Review
The Way, Way Back
A New Comedy From the Studio That Brought You LITTLE MISS SUNSHINE & JUNO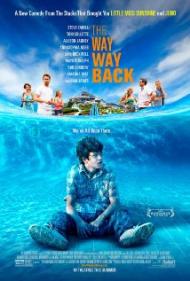 US Release Date: 07-12-2013
Directed by: Nat Faxon, Jim Rash
Starring
▸
▾
Liam James

,

as

Duncan
Steve Carell

,

as

Trent
Toni Collette

,

as

Pam
Sam Rockwell

,

as

Owen
Allison Janney

,

as

Betty
AnnaSophia Robb

,

as

Susanna
Maya Rudolph

,

as

Caitlin
Rob Corddry

,

as

Kip
Amanda Peet

,

as

Joan
River Alexander

,

as

Peter
Zoe Levin

,

as

Steph
Nat Faxon

,

as

Roddy
Jim Rash

,

as

Lewis
Adam Riegler

,

as

Neil
Jeremy Weaver

as

Jason

Reviewed on:
July 9th, 2013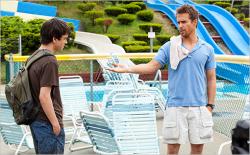 Liam James and Sam Rockwell in The Way, Way Back.
Writing partners Nat Faxon and Jim Rash (The Descendants) make their directorial debut with this coming of age dramedy. From the studio (Fox Searchlight Pictures) that produced both The Descendants and Little Miss Sunshine, The Way, Way Back reunites the latter movie's stars - Toni Collette and Steve Carell - and has a similar mix of offbeat emotional drama and lighthearted, slightly quirky humor.
Duncan is your typical 14-year-old. He's a bit of a loner and is lacking in self esteem. As the story begins he is in the car with his mom Pam, her boyfriend Trent, and Trent's teenaged daughter. They are headed to a beach community to spend the summer. Duncan instinctively dislikes the overbearing Trent. This becomes obvious when Trent asks Duncan what number he thinks he is on a scale of 1 to 10. Duncan reluctantly answers 6, before Trent tells him he is a 3. Ouch.
Duncan eventually gets a job working at a local water park called Water Wizz after befriending the owner, a gregarious man named Owen played by Sam Rockwell. Rockwell seems to be channeling Bill Murray as he spouts a continuous stream of juvenile one-liners and flirts incessantly with a female employee played by the always funny Maya Rudolph. Owen recognizes in Duncan a kid who's desperately in need of a positive father figure. Before you can say Meatballs he's formed a bond with the boy and given him a new-found confidence.
The cast is terrific. Veteran child actor Liam James is perfect in the lead role. He's your average teenager in looks and personality. Watching him grow over the course of this important summer will put a smile on your face. Toni Collette gives her usual solid performance as Pam. She's a bit on the needy side but like her son Duncan, she will grow in self esteem by the end of the movie. Steve Carell plays against type here. He is the heavy of the story and there is nothing at all comedic about his character. He's a colossal prick. The laughs are provided by the always reliable Allison Janney as the drunk neighbor, and by Rockwell and his staff of misfits at the water park.
The story has a few dramatic moments but it is definitely more of a comedy. It also feels a little too pat at times. It's a story we've seen variations of many times before. This is heightened by the style of the movie which, although set in the present day, has the look and feel of the 1970s. The Way, Way Back may be slightly derivative and overly sentimental at times but it is still better than 90% of the dreck currently filling multiplexes around the country.

Reviewed on:
July 31st, 2013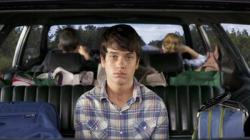 Liam James in The Way, Way Back
I agree with Patrick, this is definitely better than many other films making bigger bank at the box office. The Way, Way Back is an intimate film that speaks volumes about finding your voice. Although it contains clichés such as the girl next door and the humorous father figure, this film will touch your heart and tickle your ribs.
I also concur that the cast is terrific. I recognized Liam James from one of my favorite television shows, "Psyche", where James played Spencer in flashback scenes. Duncan does indeed grow over the course of their vacation. Throughout most of the film James keeps his head down hoping no one will notice him. After starting his job at the water park, he loosens up and for the first time we actually see him smile. Everyone judges Duncan except Owen and the other employees at the water park. It is obvious why he is attracted to Owen.
Not only does Owen provide Duncan with a positive environment, but he encourages him with gentle nudges. The scene with Owen forcing Duncan to break up the dancers is less than realistic but it shows that Owen is pushing Duncan into a world that he has been hiding from. His mother and her boyfriend make him wear an embarrassing life vest when on a boat, while Owen trusts him with a job. Owen is doing what Duncan's absent father should be doing.
Although this is Duncan's story, his mother Pam has her own journey to make as well. She is new to Trent's world and moves carefully into it. Trent's friends are out going and obnoxious. They come on very strong. Pam puts up a brave face, going along with their near endless drinking, all while keeping a secret from Duncan. She is a pot ready to boil over.
Like Duncan, Pam has some growing to do as well. Her simple gesture at the end of the film is moving and very satisfying. Duncan's and Pam's summer was a turning point for them both. They are stronger for the experience and both come into their own.
Reviewed on:
October 14th, 2013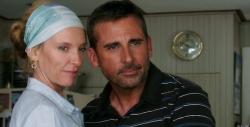 Toni Collette and Steve Carell in The Way, Way Back.
From its opening scene of Liam James as Duncan sitting in the way back seat of the 1970 Buick station wagon, The Way, Way Back has a retro feel about it. Although it's clearly set in the present day, none of the kids are ever shown using mobile phones or computers and Duncan is caught singing REO Speedwagon out loud, while there's also an air of innocence about it that gives it a timeless air. Turns out there's a reason for this. The original script was set in 1984, but making this a period film proved to be too much for its small budget and so the decision was made to set it in modern times.
Patrick compared this movie to Meatballs and I agree. Rockwell does his best to emulate Bill Murray and although he never quite reaches Murray's comic heights, he brings a heart to his performance that is commendable. The similarities between his relationship to Duncan and the central relationship in Meatballs is another aspect that makes this movie feel retro.
There's not very much original about the story. It's a coming of age tale that we've seen and read literally dozens of times. It's also fairly predictable. You can easily see how it will all end. The great thing though, is that there's enough talent in the cast and humor in the script that it hardly matters. When the trip is this enjoyable, it hardly matters that you can see the destination from the beginning.
I must join my brothers in praising the cast. Liam James is quite good as young Duncan. AnnaSophia Robb does a nice job as the almost too perfect girl next door. And as always, Toni Collette delivers another terrific performance as Duncan's mother. Steve Carrell is oddly effective playing against type as the heavy. The conversation he has at the beginning of the film where he accuses Duncan of being a 3 on a scale of 1 to 10, is based on a real conversation writer/director Jim Rash had with his own step-dad when he was a child. Carrell's best accomplishment is that he plays the villain, but keeps him a human character rather than a 2 dimensional monster.
My brothers both mentioned how The Way, Way Back was better than most films filling multiplexes today. While I agree, it has another advantage over those bigger films that they didn't mention. It's just as enjoyable on the small screen as it is on the big. The same can't be said for much of big budget eye-candy released these days that demand the largest screens, 3-D glasses and the loudest speakers to be appreciated.
Photos © Copyright Fox Searchlight Pictures (2013)
Related Review