Movie Review
The Waterboy
Everybody will feel his pain November 6.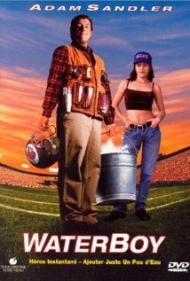 US Release Date: 11-06-1998
Directed by: Frank Coraci
Starring
▸
▾
Adam Sandler

,

as

Robert 'Bobby' Boucher Jr.
Kathy Bates

,

as

Helen 'Mama' Boucher
Henry Winkler

,

as

Coach Klein
Fairuza Balk

,

as

Vicki Vallencourt
Jerry Reed

,

as

Coach Red Beaulieu
Lawrence Gilliard Jr.

,

as

Derek Wallace
Blake Clark

,

as

Farmer Fran
Peter Dante

,

as

Gee Grenouille
Jonathan Loughran

,

as

Lyle Robideaux
Al Whiting

,

as

Casey Bugge
Clint Howard

,

as

Paco
Allen Covert

,

as

Walter
Rob Schneider

,

as

Townie
Todd Holland

,

as

Greg Meaney
Jimmy Johnson

,

as

Himself
Brent Musburger

,

as

Himself
Dan Patrick

,

as

Himself
Lynn Swann

,

as

Himself
Lawrence Taylor

,

as

Himself
Paul Wight

as

Captain Insano

Reviewed on:
October 17th, 2013
Henry Winkler and Adam Sandler in The Waterboy
Bobby Boucher is a retarded 31 year old who loses his job as water boy for a Louisiana college football team. Bobby loves his job as a waterboy. "Now that's what I call high quality H2O." He bounces back by making himself the water boy for another college football team. This team has not won a game in years and could likely get beat by your average high school team. The coach of both teams used to work together and have a rivalry going.
After the teams quarterback calls Bobby a, "Needle dick." Coach Klein discovers that, when angered, Bobby is an unstoppable tackling machine. The problem is that Bobby's mother is an overprotective, domineering shrew who does not want her son playing, "foosball" as she calls it. Kathy Bates looks like a wonderfully normal mother, presenting herself in clean frocks and a smile. However, she lives on an island in the Louisiana bayou and likes to serve baked boa constrictor or grilled baby alligator to dinner guests. She has a pet jackass that lives in her house and she calls everyone she does not like, "The Devil."
Bobby decides to join the team without telling his mother. At first the other teammates make fun of him. "I don't want that loser on the team. Everybody's gonna laugh at us." The stuck up quarterback remarks. Soon however, they start to respect Bobby after he learns to open, "a can of whoop-ass." and help them win games.
Bobby also gets a female admirer who is recently out of jail. She comes on strong but Bobby is a virgin, who watches WWE and wears children's pajamas. After passing a test, she tells Bobby, "Well, Bobby Boucher, welcome to manhood. I'll make sure to welcome you properly later." A clueless Bobby responds, "Once again, I'm not quite sure what that means."
The humor is all very juvenile, which is not always a bad thing. To get Bobby riled up for a game, Coach Klein tells him Gatorade is better than water. After becoming locally famous, Bobby gives a speech to some young rocket football players. His speech is so nonsensical that it inspires their coach to add, "Gentlemen, which brings me to my next point. Don't smoke crack."
Even though nothing about this film is played straight, Bobby is a likable guy you cannot help but root for. He loves his Mama, football and water. Bobby does not hold a grudge. After the quarterback tells him, "Nice going shithead. You lost us the football game." Bobby replies, "Sorry. Will you please still be my friend?"
The Waterboy is an early Adam Sandler classic to his fans. It follows his well-worn tradition of humor and family. He always combines some sentimentality with his bathroom humor. It strikes the funny bone with some and repels others. For me, Sandler movies are an easy watch. I just sit back and laugh at the absurdity of it all, just as we are meant to.
Photos © Copyright Touchstone Pictures (1998)