Movie Review
The Water Diviner
A father's journey in search of his sons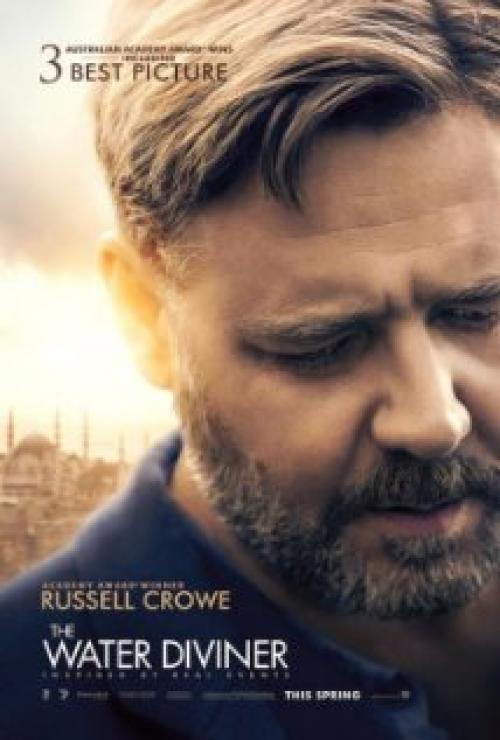 Australia Release Date: 12-26-2014
Directed by: Russell Crowe
Starring
▸
▾
Russell Crowe

,

as

Connor
Olga Kurylenko

,

as

Ayshe
Yilmaz Erdogan

,

as

Major Hasan
Cem Yilmaz

,

as

Sgt. Jemal
Jai Courtney

,

as

Lt Colonel Hughes
Dylan Georgiades

,

as

Orhan
Steve Bastoni

,

as

Omer
Isabel Lucas

,

as

Natalia
Salih Kalyon

,

as

Dr. Ibrahim
Megan Gale

,

as

Fatma
Ryan Corr

,

as

Art
James Fraser

,

as

Edward
Ben O'Toole

as

Henry

Reviewed on:
August 6th, 2015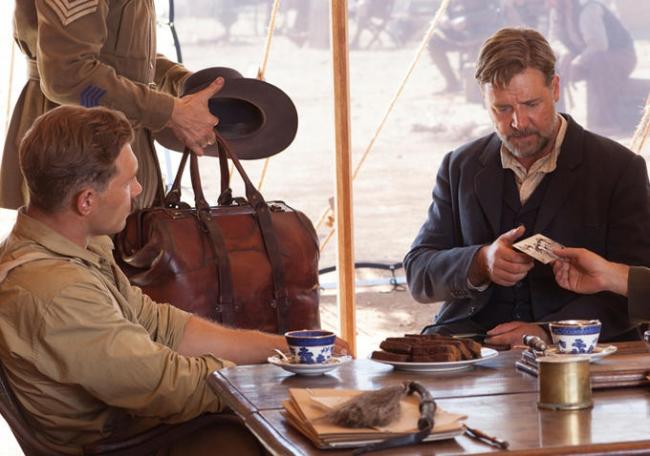 Jai Courtney and Russell Crowe in The Water Diviner
The Battle of Gallipoli, was an unsuccessful attempt by the Allied Powers to take control of the sea route from Europe to Russia during World War I. After a failed naval attack by British and French ships, they attempted a land invasion on the Turkish held Gallipoli Peninsula with British and French troops supported by divisions of the Australian and New Zealand Army Corps (ANZAC). The amount of allied casualties and the attacks lack of success against a lesser equipped opponent is considered by some war historians to be one of the biggest military blunders of the 20th century.
The 1981 Mel Gibson film Gallipoli, told the story of young Australian men going off to fight in World War I. The movie ended with the death of some of Australia's sons in the famous World War I battle. The Water Diviner starts four years after the battle, and works as a sort of sequel.
It begins with a shot of Connor, an Australian farmer played by Russell Crowe, using divining rods to locate a place to dig a well. After a hard day's work, he returns to his farm house where we meet his wife who is still suffering greatly from the loss of their three sons, all of whom died in Gallipoli on the same day. After his wife commits suicide, Connor decides his sons should be buried with their mother. Using only what the military sent him, including a diary, Connor travels to Turkey in an effort to locate his three missing sons remains.
In Turkey he meets a Turkish boy whose father died in the war, although he believes he has simply yet to come home. The boy leads Connor to his single mother's hotel. Considering that his mother, Ayshe, is played by Olga Kurylenko, we know a romance is possible, even though her brother in-law has decided it is his duty to take her on as another wife. After getting the bureaucratic run around, Ayshe tells him how he can get to the Gallipoli Peninsula.
There he meets Lt-Col Cyril Hughes (Jai Courtney) whose job is to lead a group of men in finding, identifying when possible and properly burying all of the dead. He has such eye opening lines as, "We lost over two thousand men in those four days at Lone Pine. The Turks lost seven thousand. We didn't take too many prisoners either. I don't know if I'd forgive any of us." Connor explains to Hughes why he is there and that his wife, "…wanted them buried in consecrated ground." Hughes responds, referring to the fact that they were likely buried where there died, "How much blood do you need for it to be holy?"
Hughes was at first inclined to send Connor away because of regulations and safety. In a conversation with Major Hasan, a Turkish officer and former enemy, Hughes asks, "…why change everything for one father who can't stay put?" Hasan answers, "Because he is the only father who came looking." Yeah, this film delivers a large helping of emotional sentiment.
As a father of two young men, I felt every moment of Connors anguish and frustration. However, there is a moment of complete fantasy, where Connor uses his divining power to find the exact location where his sons fell in battle. This scene features a flashback to the battle and the horrendous moment his sons went down. A father thinking of how his sons suffered, as we witness it, was a hard moment for me to take. Later in the film, we learn more details and they are not pretty.
The Water Diviner is Russell Crowe's feature film directorial debut. He does a great job in the intimate moments but the movie's battle scenes seem a bit done on the cheap. He used far too few extras for such large scale efforts. A tighter editing would have also helped. There are several action scenes but the pace is sometimes lazy. With that said, I still found myself caught up in this lonely man's effort to reunite his sons with their mother and discover a truth he may not want to know.
Photos © Copyright Fear of God Films (2014)
Related Review