Movie Review
Wall Street: Money Never Sleeps
It's not about the money - It's about the game.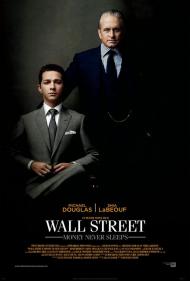 US Release Date: 09-24-2010
Directed by: Oliver Stone
Starring
▸
▾
Michael Douglas

,

as

Gordon Gekko
Shia LaBeouf

,

as

Jake Moore
Josh Brolin

,

as

Bretton James
Carey Mulligan

,

as

Winnie Gekko
Eli Wallach

,

as

Jules Steinhardt
Susan Sarandon

,

as

Jake's Mother
Frank Langella

,

as

Louis Zabel
Austin Pendleton

,

as

Dr. Masters
John Bedford Lloyd

,

as

Treasury Secretary
Charlie Sheen

,

as

Bud Fox
Oliver Stone

as

Investor

Reviewed on:
September 28th, 2010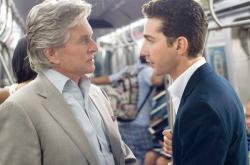 Michael Douglas and Shia LaBouf in Oliver Stone's Wall Street: Money Never Sleeps.
I'm not the biggest Oliver Stone fan in general, but I did enjoy his original Wall Street. It captured the time period perfectly and of course it gave us the immortal Gordon Gekko and his catch phrase, "Greed is good". With this sequel, you had to wonder, was Stone milking an old cow or did he have something fresh to deliver? Turns out that while it might not be remembered as a classic the way the original was, Wall Street: Money Never Sleeps is at least highly entertaining.
The movie opens with the release of Gordon Gekko from prison after serving 8 years. Gekko was a corporate raider who was jailed for insider trading and a host of other shady business practices. Now upon his release it seems he has nothing left. Not even someone to meet him at the prison gate. He's as obsolete as the gigantic cellular phone that the prison guard returns to him.
Jump ahead 7 years and it's 2008. Gekko's daughter Winnie is a liberal blogger engaged to Jake Moore, an investment banker on Wall Street. Winnie blames her father for the death of her brother and hasn't spoken to Gordon in years. Jake reaches out to Gordon, at first to help Winnie reconcile with her father, but soon he realizes that Gordon might be able to help him get revenge upon Bretton James, another Wall Street tycoon that Jake blames for the death of his mentor. Winnie warns Jake not to trust Gordon, but Jake thinks he knows what he's doing.
The thing about this movie and the last one is that Gordon Gekko is supposed to be the villain and represent everything that's wrong with Wall Street. Really though, he comes across as such a badass that I always end up rooting for him. It's certainly the best acting role of Michael Douglas's career. He perfectly embodies Gordon with the right amount of cocky charisma. He's a master manipulator who thinks he's holding all the cards and for most of the time, is right.
While a good part of the movie covers the recent Wall Street collapse and points fingers at corrupt Wall Street banks as the root cause, it doesn't really say anything original or revealing about the situation. It does manage to present boring financial matters in an entertaining manner though.
While Douglas is great as Gekko, his is the supporting part to Shia LaBouf's Jake. LaBouf is okay, but I really don't see his appeal as a leading man. How he keeps getting all these starring parts is beyond me. I mean, are audiences clamoring to see the next Shia LaBouf movie? He's adequate here, but half-a-dozen actors could have played this role as well, if not better.
Josh Brolin and Carey Mulligan both have supporting roles and do great jobs, proving why they've both been nominated for Oscars in the past. Mulligan does a great American accent and Brolin continues to impress.
At the end of the day though, this is Michael Douglas's movie. Whenever he's on the screen the movie truly shines. Even when you've forgotten the details of the movie, his performance and this character will linger with you. If it weren't for him you wouldn't be seeing a sequel after all these years.
Reviewed on:
October 4th, 2010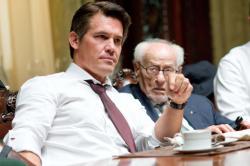 Josh Brolin and 94 year old Eli Wallach.
I enjoyed this movie quite a bit although I agree that it will never be the classic the first one was. Still look for Douglas to get nominated for another Oscar for reprising the best role of his career. And credit to him for allowing himself to look so damned old and grizzled as he does here. Clearly the man is aging naturally and that is rare for such a big time Hollywood star. An unexpected poignancy is added because of the parallel between Gekko and Douglas in relation to their sons. One scene in particular has Gekko speaking about how you can't force someone to kick a drug habit unless they are ready to do it. He also mentions cancer several times which is a bit creepy considering his current health status.
I disagree about LaBeouf. I think he is pretty damn good in the part. His mix of cocky intelligence and a certain naïve vulnerability is exactly what the part calls for. Scott I understand that there are some actors we just don't like. For me it would be Gwyneth Paltrow or Nicole Kidman. To answer your question, yes I think some audiences are clamoring for the next Shia LaBeouf movie.
As my brothers well know I have always had a soft spot for old actors and actresses. Hollywood, on the other hand, is notorious for catering to the youth market. Kudos to Oliver Stone for making good use of actors well past their supposed expiration dates. 70 year old Austin Pendleton (he will always be Frederick Larrabee from What's Up Doc to me), 72 year old Frank Langella (still best remembered as Dracula) and Eli Wallach, who at 94 is probably the oldest steadily working actor in movies today, are all given important parts here.
23 years after the original Wall Street, Oliver Stone and Michael Douglas prove that true talent, like money, never sleeps.


Reviewed on:
October 12th, 2010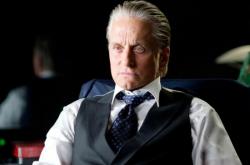 MIchael Douglas
Wall Street: Money Never Sleeps fascinated for two reasons. The first was that I was impressed by Michael Douglas for the first time. We could hear his name called when Oscar nominations are announced. The second was it's treatment of Wall Street and bankers.
I have never been that impressed with Michael Douglas, but here he seems like a king among peasants. LaBeouf and Mulligan do good work, but they do not have the gravitas that the seasoned Douglas has. He has that indescribable presence that takes control when he is on the screen. This is definitely his best role! He has less screen time but Scott is right. His role is all that stuck with me. He has the best line in the entire movie, "You stop telling lies about me and I will stop telling the truth about you."
The scene where the bankers are having a closed meeting was quite interesting. The group of men in that room have more power and influence than even the President of the United States. They can make or break a business as well as a country. Wall Street has so much power, yet at the same time is so fragile that a mere rumor can derail it.
Photos © Copyright 20th Century Fox (2010)