Movie Review
A Walk in the Woods
This Labor Day, Take a Hike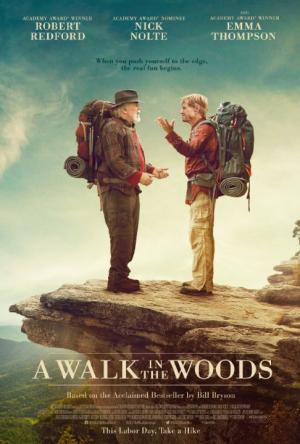 US Release Date: 09-02-2015
Directed by: Ken Kwapis
Starring
▸
▾
Robert Redford

,

as

Bill Bryson
Nick Nolte

,

as

Stephen Katz
Emma Thompson

,

as

Catherine Bryson
Mary Steenburgen

,

as

Jeannie
Nick Offerman

,

as

REI Dave
Kristen Schaal

,

as

Mary Ellen
R. Keith Harris

,

as

Sam Bryson
Randall Newsome

as

TV Host

Reviewed on:
May 17th, 2016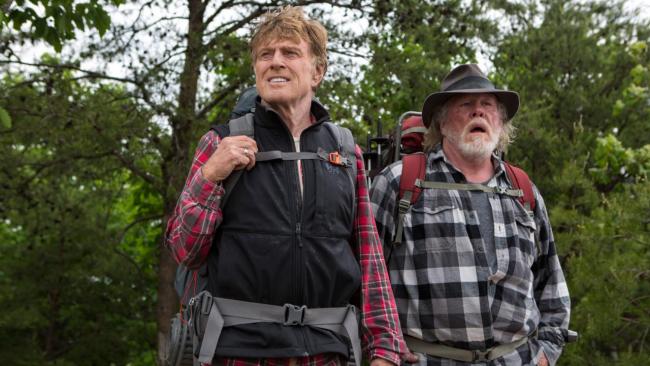 Robert Redford and Nick Nolte go for A Walk in the Woods.
Based on the 1998 book of the same name by travel writer Bill Bryson, A Walk in the Woods was originally envisioned as one last team-up between Robert Redford and Paul Newman. After Newman's death in 2008 the project was put on hold and was finally made in 2015 with Nick Nolte in the part originally intended for Newman.
Redford and Nolte play two old guys who decide to hike the entire length of the Appalachian Trail - from Georgia to Maine. Along the way they experience a few mildly comic adventures that includes an encounter with a bear or two and getting trapped overnight on a ledge. Picture a more lighthearted geezer version of Wild and you have A Walk in the Woods.
Nick Nolte and Robert Redford were 73 and 77, respectively, when they filmed this movie. Redford has obviously kept himself in better shape but neither one looks like he stands a snowball's chance in Hell of making it to the end of the more than 2,0000 mile long trail. But that's not really the point of the movie, which is simply that trying is enough.
The supporting cast includes Emma Thompson as Redford's wife, who doesn't want him to hike the trail. Nick Offerman has one scene as a guy who sells them their hiking equipment and Kristen Schaal steals her scenes as an extremely annoying fellow hiker they encounter along the way. Mary Steenburgen is completely wasted as a possible love interest for Redford's character that goes nowhere.
Even though it follows a familiar path, A Walk in the Woods still manages to provide a pleasant enough stroll with two veteran actors going for one last cinematic adventure.

Reviewed on:
May 19th, 2016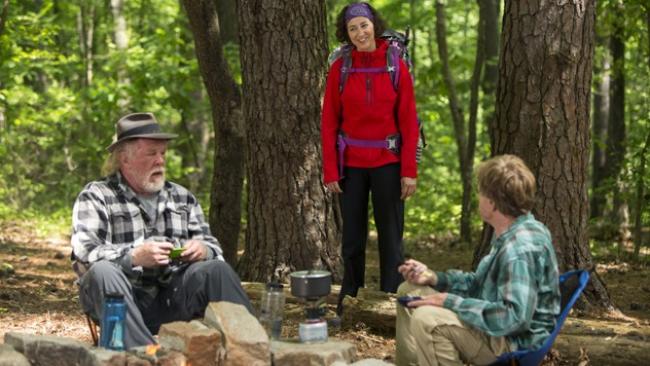 Nick Nolte, Kristen Schaal and Robert Redford in A Walk in the Woods
I love seeing older movie stars on screen. Especially as I get older. Watching these two old veterans work reminds me that life does not end at a certain age but when we decide to let it end. At 73 and 77, Nolte and Redford are still making movies and good for them.
As much as I admire their longevity, A Walk in the Woods, that Patrick aptly called, "...a more lighthearted geezer version of Wild..." is merely passable entertainment. As in Wild, this journey is intended to be a metaphor as well as a literal one. The problem is that we never truly get under the skin of these two men and therefor never really see the point of this trek through the forest. Sure it is about trying but what are either of these men trying to prove? Bill and his wife attend a funeral but it really never seems to be about defying death. Stephen's life never went anywhere but the storyis not really about him accomplishing something.
One day, Bill gets it into his head to walk the Appalachian trail and after asking everyone he knows, ends up going with Stephen, a friend from his youth whom he has not stayed in contact with. The only story arc in the movie is that they reconnect after so many years. That angle could have worked better with a flashback or two of them in their youth bonding through some adventurous travel. We do get a story or two in conversation but it is not enough to generate any concern for these men to re-bond on this walk. A little more back story was needed.
As for the supporting cast, Emma Thompson is always welcome but as she is 23 years younger than Redford, she would have been better cast as his daughter in-law than wife. Kristen Schaal does indeed steal her scenes. She is such a stand out that she needed one more scene near the end where she gives them a last criticism before getting some sort of comeuppance for being so horribly rude. As Patrick noted, Mary Steenburgen does not have much to do as Jeannie other than help to distinguish the difference between Bill and Stephen. Whereas Stephen jumps at the chance to have sex with Beulah, a woman he meets in a laundromat, Bill never even considers having a fling with Jeannie even though she seems to be flirting with him.
I will agree one last time with my brother that A Walk in the Woods provides a pleasant enough stroll but it never becomes at all exciting, dramatic or that funny. I put the blame on director Ken Kwapis. He never does anything to help the flow or humor. It is all just straight forward and unimpressive. To put it another way, this guy directed License to Wed (2007). If you saw it you know what I mean. If you did not, be thankful. In the hands of a better director, this could have been a much funnier or moving movie.
Photos © Copyright Route One Films (2015)