Movie Review
Walk Hard: The Dewey Cox Story
Life made him tough. Love made him strong. Music made him hard.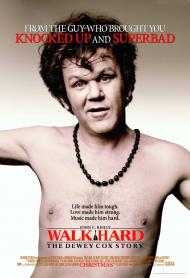 US Release Date: 12-21-2007
Directed by: Jake Kasdan
Starring
▸
▾
John C. Reilly

,

as

Dewey Cox
Jenna Fischer

,

as

Darlene Madison
Kristen Wiig

,

as

Edith Cox
Tim Meadows

,

as

Sam
Raymond J. Barry

,

as

Pa Cox
David Krumholtz

,

as

Schwartzberg
Chris Parnell

,

as

Theo
John Ennis

,

as

The Big Bopper
Paul Rudd

,

as

John Lennon
Jack Black

,

as

Paul McCartney
Justin Long

,

as

George Harrison
Jason Schwartzman

,

as

Ringo Starr
Jack White

,

as

Elvis Presley
Harold Ramis

,

as

L'Chaim
Jonah Hill

,

as

Older Nate
Jane Lynch

,

as

Gail, the news reporter
Jack McBrayer

,

as

DJ
Adam Herschman

,

as

Jerry Garcia
Frankie Muniz

,

as

Buddy Holly
Skyler Gisondo

,

as

Dewdrop
The Temptations

,

as

themselves
Eddie Vedder

,

as

himself
Jackson Browne

,

as

himself
Jewel

,

as

herself
Ghostface Killah

,

as

himself
Lyle Lovett

,

as

himself
Cheryl Tiegs

,

as

herself
Patrick Duffy

,

as

himself
Morgan Fairchild

,

as

herself
Cheryl Ladd

as

herself

Reviewed on:
December 26th, 2007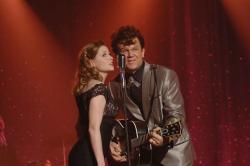 Jenna Fischer and John C. Reilly in Walk Hard.
Finally, finally, finally some one has done a spoof correctly! Forget your epic movies, your scary movies, your date movies. Walk Hard takes a knowing and very funny poke at the bloated Musical Bio-pic genre and shows that the art of spoofery isn't dead after all.
There have been so many movies made based on great musician's lives. And really, apart from the music, what's the difference between them all? Not much. We all know the story. A young man from an impoverished background, suffers adversity and tragedy as a boy, marries young, struggles for a while, finds quick success, goes on the road, cheats on his wife, gets hooked on drugs, burns out completely at the height of his success, loses everything, goes to rehab, comes out of it a changed man, going on to become a rock legend. I don't care if you're Johnny Cash or Ray Charles or whatever other rock legend, that's going to be the story of your life once Hollywood gets a hold of it.
In the case of Walk Hard, the musician is Dewey Cox (Reilly). The son of a dirt farmer, his life is set in motion when he accidentally cuts his brother in half with a machete when they're quite young. The distress of that day causes him to go smell-blind. He finds release from the memory of that tragic day, only in his music. His first taste of success comes at 14, when a young Dewey (played by an obviously 40ish Reilly) wins a high-school talent contest. From there his career follows the trajectory as described above, only even more so.
In the tradition of The Rutles and Spinal Tap, as much thought and effort went into Dewey's music as went into the comedy. Dewey's musical styles change as his career progresses and his music sounds almost, but not quite genuine. His Bob Dylan phase for instance, is highlighted by an incomprehensible folk song that is only just slightly more incomprehensible than your average Bob Dylan song. Some of the music is played for straight laughs, such as the double entendre laden "Let's Duet", but others you really have to listen to, before you'll get the joke.
Don't let me mislead you. This isn't a subtle movie by any means, apart from the songs. Its humor is in line with such movies as Anchorman, Talladega Nights and Dodgeball. If you laughed at any of those movies, you'll find plenty to laugh at here. And yes, you could quite easily see Will Ferrell playing the lead role, although he wouldn't bring the same gravitas to the role that Reilly does.
Despite a disappointing box office opening, I have no doubt that this movie will succeed later on DVD. It's the kind of movie destined to be a cult classic.

Reviewed on:
April 10th, 2008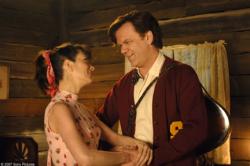 Kristen Wiig and John C. Reilly in Walk Hard: The Dewey Cox Story.
Walk Hard succeeds as a spoof in that is stays on target. Its source material, poking fun of the bio pics of Ray Charles, Johnny Cash and Tina Turner, is very limited and thus we never have to sit through some ridiculous, out of place scene of Spiderman or Carmen Electra showing up out of nowhere.
The tradition of recent satire films is to throw as many jokes at the audience as fast as they can, whether they make sense or not. Walk Hard uses entire scenes just to build to a single punch line. When Dewey and his wife breakup, they yell at each other dramatically for a while and then the scene ends with the line, "You leave me my monkey." Another scene has Dewey and his wife talking sincerely over the phone about how much they miss each other. His wife is shown working around the house, surrounded by their children, while Dewey is in a hotel room surrounded by naked people. The final punch line in is full frontal male nudity.
Walk Hard does a great job of spoofing the time periods. In the 1950's, Dewey sings a song that would today be mild for Barry Manilow, but at that time was considered very risque and sexual. Scott mentioned his Dylan phase, where people thought that drugs made their songs deep, when actually they were just incomprehensible nonsense. In the 70's, Dewey does a television show like Sonny and Cher. An interviewer reveals off camera just how belittling it must be to sink to such a low point. The one era that gets missed is the 1980's. Their should have been a sequence where Dewey has to make a music video.
Scott liked the songs and "Let's Duet" is funny as hell. My favorite scenes are when Dewey runs into famous people. Elvis is a babbling moron. The Beatles bicker. Paul and John get into a fight, while they dismiss Ringo and ignore George. Unfortunately, the cameos disappear later in the movie. They forgot to have Dewey make fun of the Bee Gees high voices in the 70's and Michael Jackson could have invited Dewey's kids over in the 80's. Where, oh where, was the Brittany Spears joke?
Walk Hard stays focused on its source material and is particular about its jokes. When the laughs come they almost all work, but for a satire, the jokes are surprisingly sparse. Sure, Will Ferrell could have starred in this movie. It has an overly long title that Ferrell seems to like. However, Ferrell only has one character, and this movie is all about Cox.
Reviewed on:
May 23rd, 2012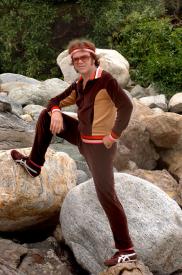 Can you guess the decade?
And not just any Cox Eric, Dewey Cox. This movie is a great send-up of the musical biopic. And Scott, your prediction has come to pass. This movie has found an afterlife on DVD and television and now has a cult following. I'm sure Dewey Cox would be pleased to know this if he hadn't tragically died three minutes after his final performance in 2007.
I didn't know John C. Reilly was this talented. I agree with my brothers that the song parodies are right on target. They perfectly embody the time periods and musical styles they were going for and the lyrics are all very clever. The list of artists this movie spoofs is a long one. In addition to Johnny Cash, Bob Dylan and Ray Charles it also pokes gentle fun at David Bowie, the Beach Boys, Jim Morrison and several others. Well done to all involved.
Walk Hard walks the line between straight drama and exaggerated parody. Like real musical biopics it maintains a reverent tone towards its subject at all times. It is only in the details of the dialogue and song lyrics that the comedy is expressed. Everyone in the cast does a great job. Kristen Wiig steals her scenes as Dewey's childhood sweetheart and first wife, and Tim Meadows elicits laughs as the fellow band member that starts Dewey down the path of drug addiction. These two characters have appeared in various forms in nearly every musical biopic ever made.
Like my brothers I too enjoyed the scenes where Dewey meets famous people. The bickering Beatles are a high point. Besides the hilarious impersonations by purposely miscast actors there are some celebrities that appear as younger versions of their current selves. Check out the cast list above for individual names. Who knew Cheryl Tiegs had such a good sense of humor?
But make no mistake, this hilarious Cox belongs to John C. Reilly. He carries the movie effortlessly on his shoulders and proves himself a versatile talent to be reckoned with. Walk Hard: The Dewey Cox Story is a profoundly funny and well-aimed spoof of its target genre. Bull's-eye!
Photos © Copyright Columbia Pictures (2007)