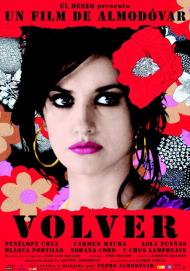 US Release Date: 11-03-2006
Directed by: Pedro Almodovar
Starring
▸
▾
Penelope Cruz

,

as

Raimunda
Carmen Maura

,

as

Abuela Irene
Lola Dueias

,

as

Sole
Blanca Portillo

,

as

Agustina
Yohana Cobo

,

as

Paula
Chus Lampreave

,

as

Tia Paula
Antonio de la Torre

as

Paco

Reviewed on:
November 25th, 2006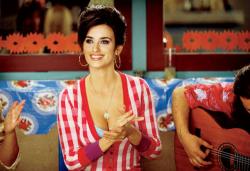 Penelope Cruz in Volver.
Volver is a comedy about murder, incest and ghosts. If those seem like unlikely subjects for a comedy, believe me when I say that Volver handles them with comic aplomb. Penelope Cruz is delightful in the lead and gives an award worthy performance, while looking extremely hot at the same time. Not to take anything away from her actual performance, but she deserves the award for Best Cleavage of the Year at least.
Cruz plays Raimunda, a wife and a mother struggling to make ends meet in Madrid, Spain. Her husband is a lazy lout who can't keep his eyes off of their teenage daughter. When one night he tries to put more than his eyes on her, insisting to her that he's not really her father so it's alright, their daughter Paula kills him with a knife. Raimunda, while understandably shocked, covers for her daughter by hiding her husband's body in the freezer of the empty restaurant next door. While locking the body in the freezer she's interrupted by a film crew who is shooting in the area and looking for a restaurant to cater for them during filming. Suddenly Raimunda finds herself running a restaurant.
Meanwhile, Raimunda's sister is visited by their mother, who died three years ago in a fire along with their father. She's returned to find forgiveness from Raimunda from whom she was estranged for much of Raimunda's life. Complicating matters, is a friend of the family's, Agustina, who is dying from cancer and who wants Raimunda to ask the ghost of her mother whether or not Agustina's mother, who went missing around the time of the fire, is still alive.
The whole cast is great, but this is clearly Cruz's movie and she does a great job. She ranges from comedy to drama and pretty much everywhere in between. Blanca Portillo is also good as the pot smoking Agustina.
There are several twists and turns in the story where you learn that all isn't as it first seems but all of the outstanding plot points wrap up nicely at the end in a satisfying way that is both emotional and funny.
Too many foreign films seem as if they trying to imitate a Hollywood film. Volver, on the other hand, is a movie that wouldn't really work as an American film. So much of the underlying themes are ingrained in the superstition and Catholicism of the elderly Spanish women that it would be hard to transfer to an American setting. Here's betting this is this year's winner of the Best Foreign Language Academy Award.

Reviewed on:
November 7th, 2007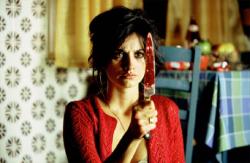 Penelope Cruz in Volver.
Although this movie does contain some funny scenes and situations, such as when Raimunda offers to pay the prostitute to help her and the whore assumes it is so she can go muff diving, it is the drama that works best. Cruz coming to grips with her daughter's, as well as her own situation with her mother, are more moving than anything found in The Divine Secrets of the Ya-Ya Sisterhood. Anyone who is familiar with Almodovar's work will not be surprised to find this film is full of women in crisis. As such, all of the men featured, or referred to, are horn dog bastards responsible for the women's problems. Even the ones in very small roles, such as the restaurant owner and the film crew employee, are just around to leer and flirt with Raimunda.
I am not sure what Scott is talking about when he wrote that the underlying themes ingrained in the superstition and Catholicism of the elderly Spanish women would be hard to transfer to an American setting. The women clean headstones at a grave and have a funeral, but religion is barely mentioned. Besides, as of the latest Fox News reporting, 80% of the United States population describe themselves as Christian. Unlike the atheist left, I think they can handle it.
Where I agree with Scott is on Cruz. She is in her best va-va-voom mode since Woman on Top. Not since Sophia Loren has such a beautiful actress so transcended sex symbol status. Also not since Loren, has a Latin actress found continued success in both English language and her native tongue films.
Reviewed on:
June 3rd, 2008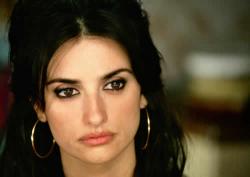 Penelope Cruz in Volver.
Eric, Scott was referring to the fact that some of these women are quite willing to believe in the existence of ghosts, and that God lets certain people come back from heaven to complete unfinished business, hence their religious superstition. The entire set-up of the plot works only because of this important detail.
Pedro Almodóvar is quite simply the best story-teller in today's cinema. He is a master; like Hitchcock, Wilder and Capra before him, he knows how to introduce characters and precisely when and how to give away key information. Look at how he deals with the character of the mother. How she makes her first entrance and then in each successive appearance becomes more clearly defined. I don't want to be any more specific as it will spoil the movie for those who haven't seen it.
It's interesting that Scott saw this mostly as a comedy while Eric enjoyed it more as a drama. Like all of the movies of Almodóvar's that I have seen, it works well on both levels, but I would argue that it is more of a drama than a comedy. The humor arises naturally from these vivid characters but the themes in the story itself are deeply serious.
Penélope Cruz is the modern day Sophia Loren. She is gorgeous and can play both comedy and drama like Loren. Yohana Cobo displays talent as Cruz's daughter and Carmen Maura does the most with her more limited role. Long time fans of Almodóvar's work may remember her from 1988's Women on the Verge of a Nervous Breakdown. This is absolutely Cruz's movie however and she deserved the Oscar Nomination she received.
Photos © Copyright Sony Pictures Classics (2006)