Movie Review
Viva Las Vegas
It's that go-go guy and that bye-bye gal in the fun capital of the world!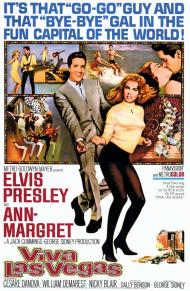 US Release Date: 05-20-1964
Directed by: George Sidney
Starring
▸
▾
Elvis Presley

,

as

Lucky Jackson
Ann-Margret

,

as

Rusty Martin
Cesare Danova

,

as

Count Elmo Mancini
William Demarest

,

as

Mr. Martin
Nicky Blair

,

as

Shorty Fansworth
The Jubilee Four

,

as

Themselves
Jack Carter

,

as

Himself
Teri Garr

as

Showgirl


Reviewed on:
January 9th, 2005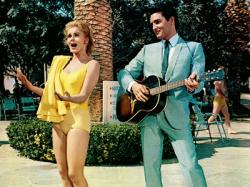 Ann-Margret and Elvis Presley in Viva Las Vegas.
Viva Las Vegas is Elvis's best movie from the 1960's. It is his best true musical and it is his one and only film where he has a costar (Ann-Margret) that matches his screen presence.
Elvis plays a mechanic who is actually a racecar driver, if he can only get the money to buy a new engine for his car. Margret plays a swimming instructor (lots of bathing suit scenes). They meet, sing, dance and fall in love.
The movie is full of songs, some good and some bad. Elvis sings the title song twice, once during the credits and then again in the movie. My favorite song is a duet between the two stars early in the movie. It is a humorous courtship song where Elvis ends up falling in a pool. At another point, Elvis sings "Yellow Rose of Texas" to make some cowboys happy. I guess that's what it takes, but it is out of place in a movie about Las Vegas.
The highlight of the movie is a number where Margret is dancing and shimmying while Elvis is singing an up tempo song. Her ass gets more screen time in this movie than Jennifer Lopez's usually does in her movies.
Elvis always dominated his films. He was always the only reason to watch them. Margret's sexuality balances Elvis well. It makes me wonder just how good some of his other movies might have been if the studios could have paired him with better costars.
Reviewed on:
January 11th, 2013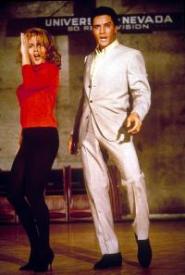 Ann-Margret and Elvis Presley in Viva Las Vegas.
Elvis and Ann-Margret sizzle together like two steaks on a barbeque grill. As Eric wrote, this 85 minute musical is really just an excuse for them to sing, dance and fall in love. And fortunately at least half of the movie is spent in song. Whether performing separately or together, Presley and Margret are dynamite.
This is pure Technicolor (actually Metrocolor) fluff but it works solely due to the talents and combined chemistry of the two leads. It's interesting to note that this movie was released the same year the Beatles conquered America. It is really a throw back to an earlier era. It is more Broadway Musical than rock-n-roll. The energetic number called "Come On, Everybody" seems to have inspired the entire musical Hairspray for example. It is gamely performed by the two stars along with a large cast of background dancers.
Ann-Margret looks sexy as hell (and this is coming from a gay guy) in all her outfits but the white short-shorts she makes her first appearance in are quite memorable. She was fresh off her successful turn in the movie version of Bye Bye Birdie and her career was as hot as her dancing.
Presley was 29 at the time and he has to work to keep up with the firecracker that was Ann-Margret. His rendition of the title track is deservedly famous. He also performs several of his trademark gentle ballads, while Margret's best number is called "My Rival" where she laments having to compete with, "...a baby blue racing car."
As Lucky Jackson and Rusty Martin, respectively, Presley and Margret engage in such innocent innuendo as the following...
Rusty Martin: "Can you check my motor, it whistles."
Lucky Jackson: "I don't blame it!"
And...
Lucky Jackson: "Look Rusty, I thought maybe you and I could go dancing or something."
Rusty Martin: "So you wanna go dancing?"
Lucky Jackson: "Or something."
Viva Las Vegas is a great musical showcase for two of the most electrifying performers of their day as well as an entertaining look back at a far more innocent time.
Reviewed on:
June 9th, 2013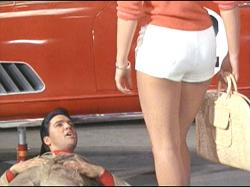 Elvis Presley meets Ann-Margret in Viva Las Vegas.
Viva Las Vegas is a breezy little musical comedy whose material is made better by its two stars. I agree with my brothers that Elvis and Ann-Margret share a great chemistry together, both comic and sexual. They're the reason to watch. Reportedly their chemistry came naturally as they were rumored to have an affair while filming and would remain close for the rest of Elvis's life. In Ann-Margret's autobiography she even referred to Elvis as her soulmate. Elvis continued to send a bouquet of flowers in the shape of a guitar to her dressing room on the opening night of all her live Las Vegas shows until his death.
This is one of Elvis's most iconic films. The title song is a classic and still used today whenever a movie or TV show takes place in Vegas. The Speed Racer cartoon was modeled after its lead character and the Mach 5 was based on the car Lucky drives. In 2006's Talladega Nights, Will Ferrell and Sacha Baron-Cohen are clearly paying tribute to the Lucky Jackson and Count Mancini characters and their relationship.
As Patrick wrote, there's an old fashioned feel to the story and songs. When Elvis burst on to the music scene in the 1950s he was on the cutting edge of music and caused quite a controversy, but he's playing it safe here. Some of the sexist humor seems particularly dated. The Ann-Margret song, "My Rival", that Patrick mentioned, is sung while she does her best putting together a meal, 1950s housewife behavior, and later when she gets to the garage, she can't tell a screwdriver from a wrench and simply gets in the way of the men. She seems more modern and liberated at the beginning of the film when she gets to strut her sexuality and independence.
Elvis churned out far too many movies during the 1960s, many of them forgettable, but this one represents what he could produce with the right songs and co-star. Like Vegas itself, it may be a little tacky, but it's also a lot of fun.
Photos © Copyright MGM (1964)