Movie Review
The Visit
No one loves you like your grandparents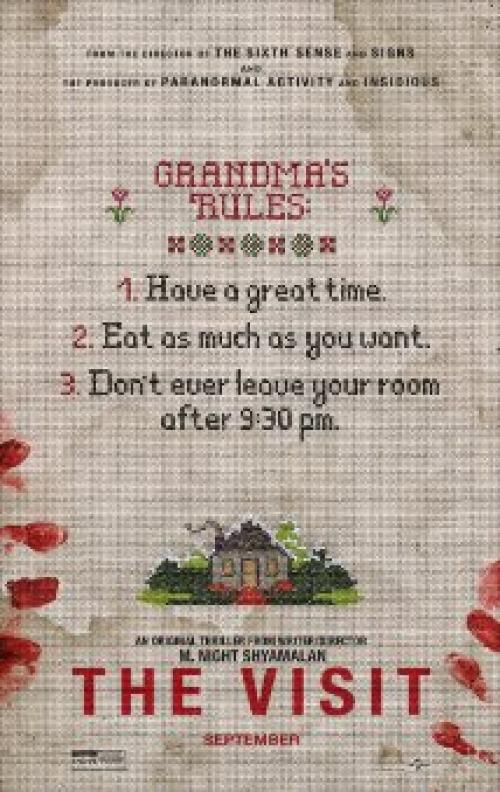 US Release Date: 09-11-2015
Directed by: M. Night Shyamalan
Starring
▸
▾
Olivia DeJonge

,

as

Rebecca Jamison
Ed Oxenbould

,

as

Tyler Jamison
Kathryn Hahn

,

as

Paula Jamison
Deanna Dunagan

,

as

Doris Jamison
Peter McRobbie

,

as

John Jamison
Benjamin Kanes

,

as

Robert
Celia Keenan-Bolger

,

as

Stacey
Steve Annan

,

as

Man on Street
Samuel Stricklen

,

as

Conductor
Benjamin Kanes

as

Dad

Reviewed on:
September 14th, 2015
Deanna Dunagan and Peter McRobbie in The Visit.
The Visit is M. Night Shyamalan's best movie in years. I realize, given the poor quality of his recent work, that that's not much of a statement. However, The Visit succeeds as both a comedy and a horror film. The bizarre antics of the grandparents are humorously twisted and the story maintains a darkly comic tone right up until the final 20 minutes or so. At which point the horror angle takes over completely. The only time the script fails is when it attempts to tug at the heartstrings.
After the scathing reviews and disappointing ticket sales for his last several movies, and after losing final cut for those films, Shyamalan decided to make a change. He financed The Visit himself and filmed it secretly. This probably explains his decision to make this a "found footage" horror film. Although that idea is far from fresh, Shyamalan puts it to good use here. Sure there are those moments where it makes no sense that the character would continue filming but at least the shaky hand-held camera movements are kept to a minimum.
The set-up is simply this. Two teenagers spend a week with their grandparents in rural Pennsylvania while their mother goes on a cruise with her boyfriend. Their mother (Kathryn Hahn) has been estranged from her parents since leaving home 15 years earlier. Her children, 15-year-old Rebecca (who is making a documentary about their visit) and 13-year-old Tyler, have therefore never laid eyes on their grandparents until meeting them at the train station. The two old people seem friendly enough but their behavior soon becomes increasingly weird and sinister.
The small cast is excellent. Both of the young actors deliver the goods. They speak their dialogue with professional ease and handle the comedy and the horror aspects of the story equally well. But it's the two older actors that steal the movie. Peter McRobbie has a great deadpan expression and line delivery as Pop Pop. 75-year-old Deanna Dunagan is a hoot as the bat-shit crazy Nana. In one scene she joins her grandkids in an impromptu game of hide-and-seek that's both unsettling and hilarious.
Those expecting the director's trademark twist won't be disappointed. As usual he hides it in plain sight while including a few red herrings that double as sly homages to some of his earlier films. The Visit isn't a masterpiece by any means but it is a satisfying and entertaining low-budget horror/comedy. Welcome back M. Night Shyamalan!
Reviewed on:
September 17th, 2015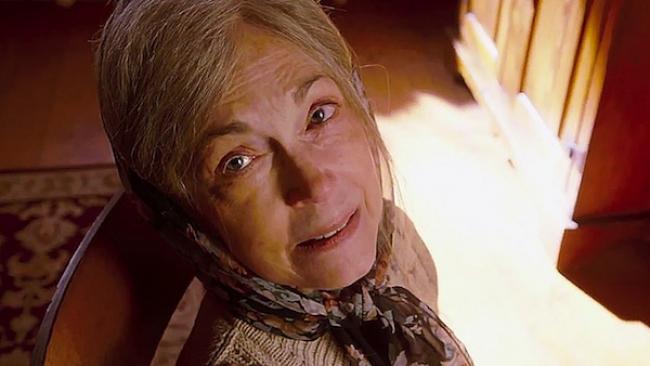 Deanna Dunagan in The Visit.
My opinion aligns pretty closely to Patrick's. Without a doubt this is Shyamalan's best film in years. Like his most famous works, it comes complete with his trademark twist ending. While his overuse of that particular trope has felt gimmicky in the past, this time it makes perfect sense and makes you look back at everything that came before it in a new light. And as Patrick said, the twist is right there in front of you the whole time, but cleverly hidden and obscured by a few red herrings.
The decision to make this a "found footage" film may have been influenced by budgetary reasons, but it's still the film's weakest aspect. This filming method has long since worn out its welcome as far as I'm concerned. At least Shyamalan gives a more logical reason for the filming than in other variations of the genre, but as Patrick said, there are still times where it makes no sense for the characters to continue filming. And if they could have lost all of the footage of the little brother rapping, I would have been grateful. Whatever humor there is to be found in that particluar joke is gone before he finishes his first rap.
Although the kids do a good job, I agree that it's the older actors who steal the show. Deanna Dunagan is both hilarious and scary at the same time. She also bravely does a nude scene that is creepy and funny. Peter McRobbie is likewise frightening, while also providing a little sly humor.
It is the use of humor that really makes this movie work. Whether intentional or not, Shyamalan mingles the comedy with the thrills, but the laughs it generates are tinged with nervous tension. These wacked out old people start so sweet, but grow increasingly bizarre, which builds the tension nicely and Shyamalan relieves that tension with the comic relief. It keeps you unsure of what's coming next and how dark it will all go.
There are elements of a classic horror story here, of the kind that might be told around the campfire. The twist isn't literally anything like the old "The call is coming from inside the house!" story, but it still put me in mind of that story. It feels similar.
With such a low budget, The Visit has already turned a profit. Perhaps it will mark an important turning point in Shyamalan's career. If he keeps things small and focuses on the story and a few well developed characters then a return visit from the once red hot director is likely.

Reviewed on:
April 7th, 2016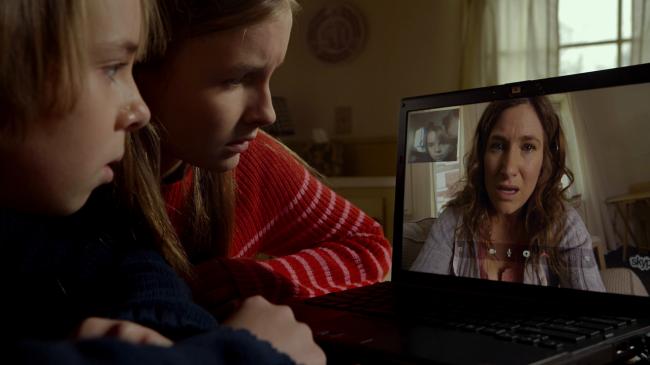 Ed Oxenbould, Olivia DeJonge and Kathryn Hahn in The Visit
The simplicity of the story is definitely the key to The Visit's success. What could go wrong with two innocent teenagers visiting their kindly grandparents? Considering this is from the darkly creative mind of M. Night Shyamalan, plenty.
The fact that M. Night Shyamalan has such a reputation for twists, actually makes the movie better. We are never sure what is going to happen at any point in the story. What is in the shed? Why does Nana always need the back of the oven cleaned? "Would you mind getting inside the oven to clean it?" What is going on with Nana's night time activities? Why does Pop Pop's mind seem to come and go? What is with his gun? "I was just cleaning it."

Because of who made this film, we keep looking for answers and actively stay involved in the story, waiting for that "A-hah!" moment. I did not see it coming and it was very satisfying when it did. It instantly raised the tension level to frightening heights.
The cast is good without any of them truly standing out or distinguishing themselves. I mean that as a compliment as that lets the story alone be the focus. The presence of a major star would have been an unnecessary distraction and thrown the balance off. The one star I kept expecting to show up but, spoiler alert, did not make his trademark cameo is the director himself.

The Visit is an unnerving little film that, as my brothers mentioned, proves that less can definitely be more.

Photos © Copyright Universal Pictures (2015)