Movie Review
Virunga
Conservation is war.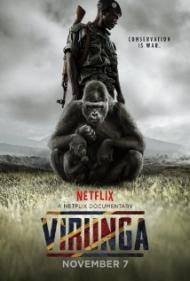 US Release Date: 11-07-2014
Directed by: Orlando von Einsiedel
Starring
▸
▾
Andre Bauma

,

as

Himself
Emmanuel De Merode

,

as

Himself
Melanie Gouby

,

as

Herself
Rodrigue Mugaruka Katembo

as

Himself


Reviewed on:
January 15th, 2015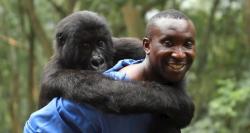 Andre Bauma and one of his children in Virunga
Virunga is a powerful documentary about the struggles of the Virunga park rangers who must fight to protect it and its most precious inhabitants, the last wild mountain gorillas. And I do mean fight, as 130 of these armed rangers have died protecting it. Virunga is a large national park in Congo, Africa.
We are given a brief history of the Congo that includes European interest in its natural resources as well as all of its internal fighting and civil wars. We are introduced to Andre, who, as a child was forced into the army but left as a teenager. He eventually became a scientist working at Virunga. He is also the caretaker of four young gorillas who were orphaned by poachers. One is missing a hand. Andre calls himself not only the gorilla's father but also their mother. He has an amazing way with the gorillas that is very Tarzan like. They accept and react to him as if he were one of them. He calls them by name and they answer.
In 2010, oil was discovered below Lake Edward, in Virunga Park, causing the British owned SOCO International to make a lucrative deal with the Congo government to extract the oil, even though it is technically illegal to allow it in a conservancy. The rangers have no desire for the oil company to begin development. In 2012, the rebel group M23 declared war on the Congo government. In the middle of all of this power struggle is the fate of the last of the mountain gorillas.
What I find interesting about this documentary is the difference between the two different groups threatening the way of life in Virunga Park. The M23 are vicious thugs who murder whoever gets in their way, making their point known through killing and intimidation. SOCO International acts more civil but are just as motivated. They make presentations about how they will bring prosperity and pay off those who stand in their way. The rebel force has armed men while SOCO has schmoozers.
A female journalist went undercover, meeting with SOCO employees and secretly taping them and their opinions on the situation. One man called the Congolese, "children." He goes on to complain that Emmanuel De Merode, director of the park, is standing in their way. Another man states of the Congolese, "You can't educate them. You can't culture them." One conversation involves some SOCO security men discussing why the rangers defend the park. They cannot possibly believe that they are doing it for the gorillas, or as they say, "…fucking monkeys." They clearly have not met Andre who says he will die for the gorillas.
Now here comes the real problem, what happens when it is believed that SOCO is employing members of M23? How are these park rangers possibly expected to maintain law and order in their park against such threatening odds? When the rebel/government fighting gets near the park, the villagers who live there evacuate, while we also see how the gorillas react to the sounds of explosions. The park literally becomes a battleground.
Virunga has tension and intrigue. A scripted movie could very easily be made out of this. This film has a point to make and it gets it across through information, action, drama and heart. What more can you ask from a documentary?
Reviewed on:
January 16th, 2015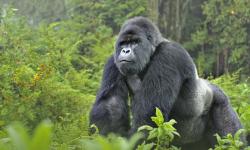 One of just 800 mountain gorillas left in the world in Virunga.
I couldn't agree more. Virunga is one of the most powerful documentaries I've ever seen. It's a beautifully crafted film that makes its points clearly and effectively. In response to the negative press it received after the film's release, representatives of SOCO released a joint statement with the World Wildlife Fund saying they were committed, "...not to undertake or commission any exploratory or other drilling within Virunga National Park unless UNESCO and the DRC government agree that such activities are not incompatible with its World Heritage status." However, the WWF has since acknowledged that SOCO has yet to relinquish its operating permits. Clearly the fight for Virunga isn't over.
Eric mentioned just how deadly the struggle to preserve this pristine wilderness has been. It continues to be so. In fact just two days before the world premiere of this film at the Tribeca Film Festival in New York City on April 17, 2014, Emmanuel de Morode was shot on his way to the park's headquarters. His assailants remain unknown. Morode survived the attack and courageously insisted the premiere go ahead as planned.
From human slave labor to blood diamonds to oil the exploitation of the African continent by outside forces has been going on for centuries and as this film so eloquently demonstrates it continues to happen today. As Andre Bauma says in the film the survival of the mountain gorillas, of whom only about 800 remain today, is critical to the survival of Virunga National Park. Once they are gone the park's ability to resist SOCO will be much more difficult, if not impossible.
The film includes many aerial shots of the park. It is one of the most breathtakingly beautiful places on earth and home to a wide variety of wildlife. I cannot fathom how any corporation can willingly and knowingly undertake to destroy such a place for profit. Yes, I am that naive. Andre Bauma wisely states the obvious; that oil is a limited resource that will run out eventually, whereas the flora, fauna and animal life are constantly renewing themselves and will go on in perpetuity as long as they are left alone. But then capitalism is a nearsighted beast with a voracious appetite.
Virunga is an absolute must see film. If I could I would award it 5 stars.
Photos © Copyright Grain Media (2014)