Movie Review
A View to a Kill
Bond Is Back - Action Packed As Ever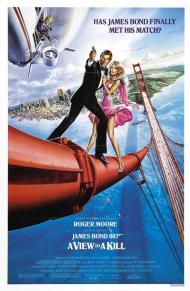 US Release Date: 05-24-1985
Directed by: John Glen
Starring
▸
▾
Roger Moore

,

as

James Bond
Christopher Walken

,

as

Max Zorin
Tanya Roberts

,

as

Stacey Sutton
Grace Jones

,

as

May Day
Patrick Macnee

,

as

Sir Godfrey Tibbett
Alison Doody

,

as

Jenny Flex
Willoughby Gray

,

as

Dr. Carl Mortner
Desmond Llewelyn

,

as

Q
Robert Brown

,

as

M
Lois Maxwell

,

as

Miss Moneypenny
Walter Gotell

as

General Anatol Gogol

Reviewed on:
January 10th, 2009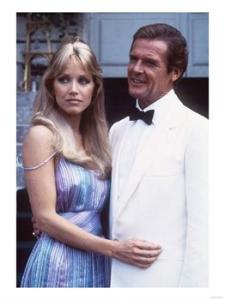 This would be the last time Roger Moore would appear as 007.
A View to a Kill, Roger Moore's last Bond film, is another flawed but somewhat entertaining entry into the series. So many of Moore's movies were that way. He proved that with the right script he could play Bond convincingly; as in The Spy Who Loved Me and For Your Eyes Only. It's just too bad that during most of his tenure as 007 the producers seem more concerned with the locations and the stunts than they did with the actor inside the tuxedo.
For his final fling as the suave secret agent, Roger Moore's Bond is sent to Paris to investigate Max Zorin. He is the manufacturer of a special micro-chip that is impervious to electro-magnetic pulses and an exact duplicate of that chip has shown up in Soviet hands. Bond has to find out if Zorin is also selling the chips to the communists. What he discovers is that Zorin intends to corner the world market on computer chips by destroying Silicon Valley completely. This, naturally, is something Bond will not let happen.
Moore started looking to old for the part back 1979's Moonraker, and so here in 1985 he looks way, way too old for the part and expecting the audience to believe that it is him doing the stunt scenes, stretches incredulity to its breaking point. To Moore's credit though he still has the unflappable charm he's always had and he really shines in some scenes, especially those he shares with Patrick Macnee's character.
One thing this movie suffers from is a weak Bond girl. Tanya Roberts as geologist Stacy Sutton is as worthless as her name is ordinary. This is a woman that lets a blimp sneak up and surprise her (yes, an actual giant, gas-filled, flying blimp). She has zero chemistry with 007. Except for the scene at the end when they're in the shower together, you might mistake them for a kindly old uncle and his niece. She has to rank right up there near the top of the list of worst Bond girls.
Walken as Zorin is an interesting choice and one that should have been better. He's supposed to be totally psychopathic, but apart from when he starts machine gunning down his own men he never really lets go into total madness. Of course Zorin's true downfall in the movie is employing a female bodyguard and then letting her sleep with Bond. 007's magic penis rarely lets him down. It almost always has the effect of bringing the woman around to his way of thinking.
While often Moore's Bonds are filled with slapstick, this one only has two groan inducing scenes; the trimming of which would have reduced the running time and improved the script. The first is the totally silly pre-credit snow boarding scene that comes complete with the Beach Boys' "California Girls" song. The second is the car chase with Bond on a fire engine. And I suppose if I were editing the movie I would have removed the bit where May Day picks the guy up over her head, but that would just be nitpicking.
Reportedly Moore was ready to leave the part of Bond after For Your Eyes Only, but the producers convinced him to stay for two more movies. He also said in an interview that he felt he was about 400 years too old to play Bond when he starred in this movie. It is true that he was too old for the part, but it's also true that he still manages to bring his trademark style to the part one last time. This isn't the best Bond movie, but like all of the Bonds, it does provide two hours of fairly solid escapism.

Reviewed on:
March 20th, 2009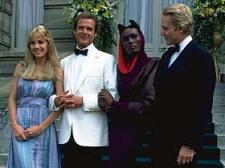 Roberts, Moore, Jones and Walken.
A View to a Kill is one of the worst Bond movies. It could only provide two hours of fairly solid escapism if I were making fun of it with Scott or Patrick. It has so many flaws and cliches that it could only be considered enjoyable if our interjected comments were any good. In my scenario we would be drunk, so they would all be good.
After discovering who Bond is, Zorin decides to kill him by letting him ride a horse he can turn wild with a push of a button. Later, Zorin has Bond at gun point, but he does not pull the trigger. He puts Bond in an elevator and then starts a fire. Zorin kills many innocent people, but does not have the brains to outright kill the one man who is trying to stop his plans.
Early in the movie Mayday kills a man feeding Bond information, with a poisoned dart/butterfly in the middle of a crowded restaurant in the Eiffel tower. I have not read any assassins handbooks, but it seems that a less public killing would work better. After Mayday remembers that Bond was the man who chased her up the tower, she does what any girl in her position would do. She has sex with him.
The dumbest person in the movie though, is a truck driver whom asks Bond, "Where's the fire?" when Bond drives up to him in a fire truck. Bond responds, pointing at the back of his truck, "In your rear end." So of course the doofus climbs out of his truck to take a look, allowing Bond to knock him out cold and steal his truck.
The one thing I liked about A View to a Kill is that it has one of the most recognizable casts. Roberts (Charlie's Angels, That 70s Show)is a breathing mannequin, but she is less detrimental to Bond than Kara from The Living Daylights. Walken plays crazy like no other, but is rather subdued here. My favorite moment of his is when he smiles just before falling off the bridge. The casting of Jones is a bit over-the-top. I remember her from when I lived in Italy in the 80's. She had a few club hits, (Slave to the Rhythm) there. Macnee was likely chosen because they needed someone old, to help make Moore look younger.
Moores age did not bother me all that much. The director works around it well enough. When Bond is supposed to be naked, the director only showed lower legs or shoulders. He is physically no match for any of the other Bonds, but at 58 he held his own. I would like to use Walken's line, "If you're the best they've got, they're more likely try and cover up your embarrassing incompetence." To describe my opinion of Moore's Bond, but as Scott wrote, he does have some charm. I liked Moore's sarcastic delivery when he says to Zorin, "Brilliant. I'm almost speechless with admiration."
Reviewed on:
August 6th, 2011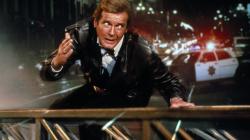 Roger Moore as James Bond one last time thinking,
Moore was 58 when this movie premiered but he actually celebrated his 57th birthday during filming. Either way he was clearly a bit long in the tooth for the part. To his credit he knew this and has stated that this is his least favorite of the 7 Bond movies he starred in.
I agree more with Eric's review than Scott's. This is one of the worst Bond movies. Even for a franchise known for its clichés, ridiculous character motivations and over-the-top action sequences, A View to a Kill is flawed. I do agree with Scott about the ludicrous snowboarding opening scene with the Beach Boys playing in the background. The theme song by Duran Duran is good though.
I'm surprised it took Bond 14 official movies to feature an action sequence on the Eiffel Tower. That idea seems like a no brainer. It provides one of the best moments in the movie and serves as an interesting way of introducing Grace Jones' May Day.
In my opinion she fares better than Christopher Walken. He never really lets loose as Max Zoran. The scene Scott mentioned where he begins machine-gunning his own men has to be one of the most shockingly violent moments from any of the Bond movies. Walken also has the dubious distinction of being the first Oscar winner to play a Bond villain.
Lois Maxwell makes her 14th and final appearance as Miss Moneypenny. It has been reported that the producers told her she could take on the role of M in the next movie but producer Albert R. Broccoli felt audiences wouldn't accept a woman in the role. A decade later, of course, Judi Dench famously took on the part in Goldeneye.
Moore's Bond beds 4 different women in this movie which ties Connery's Bond in Never Say Never Again. According to the IMDB Moore wins the battle of the bedroom as he slept with 17 women in his career as 007 while Connery only managed to get 16 females into the sack.
A View to a Kill was released a few weeks before I graduated from high school. Eric had enlisted in the navy and was off seeing the world. Scott was in the tenth grade and already developing his passion for computers. Like our young lives Bond, James Bond, as a movie franchise, was at the end of an era and would never be quite the same again.

Photos © Copyright MGM/UA (1985)