Movie Review
A Very Harold & Kumar 3D Christmas
Christmas comes prematurely.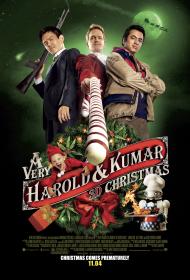 US Release Date: 11-04-2011
Directed by: Todd Strauss-Schulson
Starring
▸
▾
John Cho

,

as

Harold
Kal Penn

,

as

Kumar
Paula Garces

,

as

Maria
Eddie Kaye Thomas

,

as

Rosenberg
David Krumholtz

,

as

Goldstein
Danneel Harris

,

as

Vanessa
Amir Blumenfeld

,

as

Adrian
David Burtka

,

as

David Burtka
Patton Oswalt

,

as

Mall Santa
Richard Riehle

,

as

Santa Claus
Danny Trejo

,

as

Mr. Perez
Neil Patrick Harris

,

as

Himself
Bobby Lee

,

as

Kenneth Park
Thomas Lennon

,

as

Todd
Elias Koteas

as

Sergei Katsov

Reviewed on:
November 6th, 2011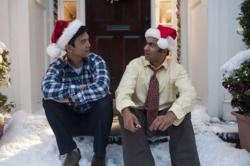 John Cho and Kal Penn in A Very Harold & Kumar 3D Christmas.
Although this was the first Harold and Kumar movie that I'd ever seen, I guessed exactly the level of humor to expect and I wasn't disappointed. It's immature, non-politically correct, filled with racial stereotypes and heavily features drug use. Fortunately, all of that is accompanied by a good sense of tongue in cheek humor that is often quite funny and even hilarious at some points.
A few years have passed for Harold and Kumar and the two friends have drifted apart. Harold is now a successful businessman and husband, working on Wall Street and living in the suburbs. He and his wife are trying to have a baby. It's Christmas time and Harold must deal with a large batch of in-laws, including his wife's father, who doesn't approve of him.
Kumar, meanwhile, is still living the irresponsible life. He recently split up with his girlfriend. He failed a drug test and was kicked out of med school. His idea of a good time is still kicking back and firing up a bong. His life is given a wake up call when his ex shows up and tells him that she's pregnant with his baby.
The two friends are reunited when a mysterious package addressed to Harold is dropped off at Kumar's house on Christmas Eve. When Kumar goes to drop it off at Harold's, he inadvertently helps to destroy Harold's Christmas tree. This sends Harold and Kumar on a quest to find the perfect new tree in time for Christmas morning.
Their adventure takes them to a party in a Russian mobster's apartment where they are slipped some drugs, causing the two to hallucinate that they're both claymation. They meet Neil Patrick Harris again, who pokes fun at himself by admitting that he's not really gay, he just uses it as a way of getting women into bed. They meet the real Santa Claus, after accidently shooting him. And naturally they make a detour to White Castle at one point.
The filmmakers make good use of and poke fun at 3-D. In one scene Harold is shown a 3-D television, to which he comments, "Isn't the whole 3-D thing played out?" A few scenes later, eggs are thrown, splattering a colleague of Harold's, in crystal clear 3-D.
This is not a movie for the easily offended. Jokes are aimed at ethnic and religious groups. Catholics, Jews, Jesus himself, Hispanics and Asians all get jokes aimed in their direction. A small child is given several types of drugs. No subject is off limits and it's actually during these moments that movie is at its funniest.
In a sign of the times, Wall Street protesters are also featured, providing one of my favorite sight gags. One of the protesters is holding up a sign that says, "Wall Street sucks!" Next to him is another protester holding up a sign that says, "Wall Street 2 sucked more!"
Not every joke works, but enough of them do to keep the pace of the film light and peppy. Despite the crudeness of the humor, there's a feel good tone to the story and even an ounce of genuine Christmas spirit.
Not a classic by any means, but still an enjoyable enough comedy for those not easily offended.

Reviewed on:
November 9th, 2011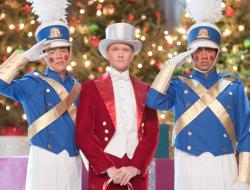 John Cho, Neal Patrick Harris and Kal Penn put on a show.
As Bad Santa proved, there is definitely an audience for holiday movies with a darker sense of humor. Not every Christmas film has to be family oriented, and I stress that A Very Harold & Kumar 3D Christmas is not intended for the entire family by any stretch of the imagination.
The baby getting high is definitely a subject matter I did not see coming. My first reaction was that they had gone too far, but then a story should always stay true to itself and this is just that kind of film. Where the movie lost me was in a scene where Kumar's pregnant girlfriend says that he does not have to get off weed to be a good daddy. Someone needs to do a drug test of this film's writers because only a drug user would write that bull shit. Harold has matured since the first film. Should this not have been Kumar's moment to grow up?
One scene in the film has an in-joke about Kumar working at the White House, something Kal Penn has been doing for a few years now. I have no Idea what his actual job there is, but according to an article in The Los Angeles Times, by Scott Collins, "He was hired to work for Valerie Jarrett, a top Obama adviser, doing outreach to arts and minority organizations." Why a sitting President would want to employ an actor whose most famous role encourages and praises the use of illegal drugs is beyond me.
Speaking of politics, the movie opens with Harold and Todd being assaulted by some Occupy Wall Street idiots. Harold has a line where he shows some sympathy for them because they are unemployed. A poll taken by the Wall Street Journal by interviewing hundreds of protestors early on showed that 85% have jobs and 50% have done other protests. If Harold and Kumar can slip in a political comment, so can I. The original protestors were a group of career protestors organized to distract the American people from all the billions of dollars President Obama lost in his "Green" jobs projects. It has since collected naive college student sheep who think they are part of something important. I had to get that out.
A Very Harold & Kumar 3D Christmas is funny from start to finish. I disagree with you Scott. This could become a classic Holiday film to stoners and casual drug users. More jokes work than do not. Some you can see coming a mile away. Harold's wife wants to have sex on the stairs just as Harold reminds her that her father is due any minute. Others not so much. In an early scene we find Kumar watching the classic tongue stuck to the poll scene in A Christmas Story. Later, Harold gets his penis stuck to a poll right after some Russian gang members attempted to burn them alive.
Two scenes really stick with me. The first is with Neal Patrick Harris, whose part in this series have become the best ever done by an actor not playing himself. This time it has his real life partner, David Burtka, joining in on the fun. How Harold and Kumar run in to him again is ridiculous, but the writers were probably too stoned to come up with anything better. The other is the inclusion of Santa Claus, or as Harold says to his father-in-law, "He is real and I shot him in the face." It is funnier than it sounds and as I wrote earlier, this is not a film for the kiddies.
Reviewed on:
December 16th, 2012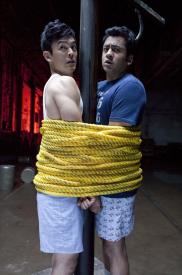 John Cho and Kal Penn are Harold and Kumar.
Until today, I'd never seen any of the Harold and Kumar movies and I didn't watch this one in 3D. I'm not sure if I would have enjoyed it more if I was more familiar with the characters or if I had seen it in 3D. At any rate I found it to be only mildly amusing at best. It's a bit ironic that both of my brothers liked this movie more than I did considering I'm the only one of the three of us that occasionally indulges in the type of herbal refreshment favored by Harold and Kumar.
I was expecting more of a heartfelt relationship in the friendship between the two main characters. I get that the movie is showing how they have grown apart but I never really got just why they were such good friends in the first place. Maybe I should have watched the preceding two movies first after all.
I certainly don't see this becoming a Christmas classic (and I watched it stoned). Yes Harold and Kumar are likable enough, and Neil Patrick Harris is funny spoofing his image, but I honestly didn't laugh out loud once during this movie. After reading Eric and Scott's reviews, and hearing positive word of mouth about the franchise for years, perhaps my expectations were too high? It certainly didn't put me in the Christmas spirit or make me in any kind of rush to watch the other two Harold and Kumar movies.
Photos © Copyright Warner Bros. (2011)
Related Reviews