Movie Review
Vera Drake
Wife. Mother. Criminal.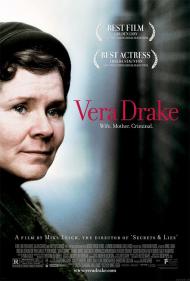 US Release Date: 10-22-2004
Directed by: Mike Leigh
Starring
▸
▾
Imelda Staunton

,

as

Vera
Richard Graham

,

as

George
Eddie Marsan

,

as

Reg
Anna Keaveney

,

as

Nellie
Alex Kelly

,

as

Ethel
Daniel Mays

,

as

Sid
Philip Davis

,

as

Stan
Lesley Manville

,

as

Mrs. Wells
Sally Hawkins

,

as

Susan
Simon Chandler

,

as

Mr. Wells
Chris O'Dowd

,

as

Sid's Customer
Joanna Griffiths

,

as

Peggy
Peter Wight

,

as

Det. Inspector Webster
Martin Savage

,

as

Det. Sergeant Vickers
Jim Broadbent

as

Judge
Reviewed on:
September 26th, 2011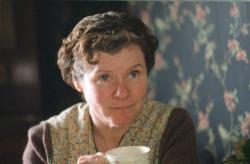 Imelda Staunton in Vera Drake.
Vera Drake is the heartbreaking story of a working class woman living in London who, in 1950, gets arrested for performing an illegal abortion that nearly kills a young woman. Imelda Staunton, as the title character, gives an intense and emotional tour de force performance. She received the BAFTA but lost the Academy Award to Hilary Swank in Million Dollar Baby. Mike Leigh was Oscar nominated for directing and writing this superbly crafted movie.
Vera Drake is the heart and backbone of her family and beloved in her community. She has a loving husband and a grown son and daughter living at home. Vera spends her days helping others. She runs errands for an invalid neighbor, cares for her elderly mother, plays matchmaker when she can, and basically spreads cheer everywhere she goes.
Vera also has a secret. For many years she has helped women who find themselves "in trouble". She performs abortions, although she doesn't use that word. Vera simply inserts a mixture of soap and water into the woman's womb and lets nature take its course. "Tomorrow, or the next day, you'll feel a pain down there. When you go to the toilet you will start to bleed and then you'll be all fixed up dear."
Halfway through the movie one of Vera's patients suffers an allergic reaction and nearly dies. The scene where the police show up at Vera's home during her daughter's engagement party is highly dramatic. The look on Vera's face says it all. She instantly realizes why the police have come. In fact her first words to the arresting detective are, "I know why you're here."
Apparently the other actors in the scene - like their characters – were in the dark about why Vera is taken into custody. They learned of the abortion plot angle only when their characters were told. Most of the dialogue was improvised. Incredibly there was never even a written script until after Leigh's Oscar nomination when he had to submit it to the Academy.
The topic of abortion is a tricky one and Leigh wisely remains impartial. The movie neither condones nor condemns Vera's actions. Her son reacts angrily at his mother's murdering of innocent fetuses while her future son-in-law reasons, "It ain't fair. Me mum brought up six of us in two rooms. If you can't feed 'em, you can't love 'em, now can you?"
Vera Drake is not the easiest movie to sit through. It is slow-paced and quite sad. It does, however, tackle a highly divisive issue with intelligence and restraint. Most of all it features one of the all time great screen performances by Imelda Staunton as Vera Rose Drake.

Photos © Copyright Film Council (2004)