Movie Review
Vanity Fair
All's fair in love & war.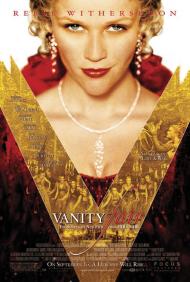 US Release Date: 09-01-2004
Directed by: Mira Nair
Starring
▸
▾
Reese Witherspoon

,

as

Becky Sharp
James Purefoy

,

as

Rawdon Crawley
Romola Garai

,

as

Amelia Sedley
Jonathan Rhys-Meyers

,

as

George Osborne
Gabriel Byrne

,

as

Steyne
Jim Broadbent

,

as

Mr. Osborne
Bob Hoskins

,

as

Pitt the elder
Rhys Ifans

,

as

Dobbin
Eileen Atkins

as

Matilda
Reviewed on:
August 28th, 2004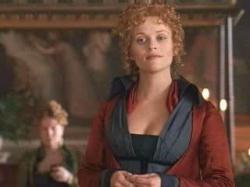 Reese Witherspoon in Vanity Fair.
The subtitle of the novel Vanity Fair is, "A Novel without a Hero." That description holds true of this adaptation. You might find the characters interesting, and sometimes sympathetic, in this beautifully filmed, and well-acted movie, but you'll be hard pressed to find anyone who you can root for or admire.
Reese Witherspoon stars as Becky Sharp, a social climber with humble origins, in 19th century England. The daughter of a French Chorus girl and an English artist, Becky's lowly start in society is lowered even further when she is orphaned at a very young age. When she leaves the orphanage, it is with the single goal of rising above her humble beginnings.
Since a good marriage was the only avenue open to a penniless girl in that day and age, Becky is soon on the hunt for a husband. At first, she sets her eyes on the brother of her best friend, a soldier on leave from India, but he is soon warned away from her lowly status in society by a 'friend'. She then accepts a position as a governess to the children of a country lord (Bob Hoskins). Once there she is befriended by the lord's aunt (Eileen Atkins in a possible Best Supporting Actress role), who invites her to become her companion in London. When Becky woos and marries her favorite nephew, the dashing Rawdon, her benefactor disowns the couple and they are soon struggling to make a living off of Rawdon's soldier salary.
In character, Becky is a close cousin of Scarlett O'Hara. And indeed, there are several striking similarities between Gone with the Wind and Vanity Fair. Both feature ruthless heroines who are willing to do whatever it takes to get what they want. And there is at least one scene in this movie, which features a moment nearly identical to the very famous last scene of GWTW. Where the two movies differ is in how with Scarlett we see her at her lowest moment, when she swears that she will never be tired or hungry again. After that moment, we know that Scarlett will do whatever it takes to get money, wealth, and luxury again. With Becky, we never see her at her lowest point. The movie begins as she leaves the orphanage, and the motivations for her attempts to rise in society aren't really explored. What is it that drives her to so ruthlessly try to break into society?
Visually the movie is stunning. Lush costumes and beautiful sets recreate the time period in great detail. Your eyes never get bored while watching and an Oscar nomination for Best Costumes is pretty much guaranteed.
Witherspoon does a decent job in the lead role, although undoubtedly, part of the reason for her casting was name recognition. A British actress would have seemed more natural in the role, but without a recognizable lead, perhaps the producers feared it wouldn't appeal to American audiences.
At 135 minutes, and featuring several subplots, Vanity Fair is best suited for lovers of British costume dramas. If you've never had the slightest interest in the manners of 19th century English society, or if watching an episode of Masterpiece Theater is your idea of hell, than this one probably isn't for you.
Photos © Copyright Focus Features (2004)