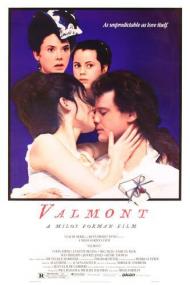 US Release Date: 11-17-1989
Directed by: Milos Forman
Starring
▸
▾
Colin Firth

,

as

Valmont
Annette Bening

,

as

Merteuil
Meg Tilly

,

as

Madame de Tourvel
Fairuza Balk

,

as

Cecile
Sian Phillips

,

as

Madame de Volanges
Jeffrey Jones

,

as

Gercourt
Henry Thomas

,

as

Danceny
Vincent Schiavelli

,

as

Jean
Isla Blair

as

Baroness


Reviewed on:
November 27th, 2009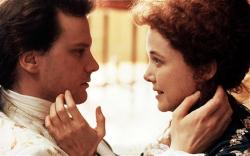 Colin Firth and Annette Benning in Valmont
Based on the same works as Dangerous Liaisons and Cruel Intentions, Valmont is a story of love, lust and manipulation. The performances, especially by Benning, are stellar. If only they could have kept it under two hours.
Benning plays a scheming widow, Merteuil, who makes a bet with a former playboy lover, Valmont, that if he can seduce a married woman, she will have sex with him again. However, he falls in love with his target. Merteuil also uses Valmont to seduce the intended fifteen year old virgin bride of her current lover. The fifteen year old has meanwhile fallen in love with her seventeen year old harp teacher.
For a movie based so much on sex, the film is fairly tame. Of the three versions, Cruel Intentions is the sexiest. The best moment in Valmont is when he arrives in Merteuil's room to collect his reward. Benning is taking a bath in a gown. Sure it clings to her body nicely, but it makes no sense for her to not be naked. Benning has no intention of giving him his reward, but still honors the bet. She climbs out of the tub, lays on her bed, spreads her legs, and starts reading a book. He leaves in anger.
The weakest aspect of Dangerous Liaisons is that the very ugly John Malkovich played a man able to seduce many women. Ryan Pillipe in Cruel Intentions and Firth are much more convincing in the same role. The one actor in Valmont that seems horribly miscast is that of Jeffrey Jones, who plays Merteuil's soon to be married, lover. I kept picturing him as Ferris Bueller's principle. Besides that, why would the very provocative Merteuil choose such an unattractive lover?
Colin Firth does a good job as the smooth lothario who falls in love. My favorite scene of his is when he is giving dictation to the fifteen year old. His face is on her nice round naked bottom as he is telling her what to write.
Like Dangerous Liaisons and Cruel Intentions, the best role is that of the cruel female lead. Benning acts like sugar and flowers one minute and then turns into vinegar and weeds the next. At one point the harp teacher has a sword to her neck. With but a single question, Merteuil gets out of the situation and ends up using it to further destroy Valmont. It is truly one of the juiciest female roles ever put on film.
Taking place in the world of the wealthy Baroque French, Valmont is filled with beautiful sets and plenty of cleavage revealing costumes. At over two hours there is no one, including Valmont, to really root for. Valmont simply gets what he has coming to him. He always played with women's emotions and so it is fitting that he ends as he does. The last scene of Merteuil shows her unhappy, but with such a creatively devious mind I am sure she will not be bored for long.
Reviewed on:
June 18th, 2013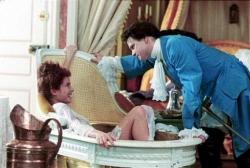 Annette Bening and Colin Firth in Valmont.
As directed by Milos Forman, Valmont is a sumptuous feast for the eyes. The sets and costumes are breathtaking in their elaborate and exquisitely rendered detail. All of which provides such a rich and beautiful background for all the dastardly scheming and back-stabbing being perpetrated by Valmont and Merteuil. These two are a perfect pair as they both take pleasure in destroying other people's lives. As Valmont says at one point, "You are confusing bets and marriages, madame. One must always honor a bet."
Annette Bening steals the movie as Merteuil. As Eric said she has the juiciest role and she doesn't disappoint. She goes from being sweetly seductive to a ferocious bitch without missing a beat or mussing her hair. Bening has the gravitas to play larger-than-life divas as she has proven on more than one occasion. She has received four Best Actress Oscar nominations to date but has yet to take home the golden statuette. Although Valmont was to receive only one nomination and that was for Best Costume Design. After being the Academy's darling for many years, with Valmont it seems, Milos Forman's love affair with Oscar came to an end.
Some of the humor is wickedly funny. I cracked up in the scene where Merteuil is to be introduced to the prospective husband of the young bride-to-be. Sian Phillips plays the girl's mother and as she is taking Merteuil to meet the man she mentions that he has a mistress he's trying to get rid of but that she's a bit crazy. Of course when Merteuil and the man come face to face he turns out to be her lover whom we just saw in the previous scene making excuses as to why he can't meet her for a tryst again soon. It is a truly hilarious comedy-of-manners moment. Bening plays the scene to perfection. Eric, I agree that Jeffrey Jones lacks leading man looks but the movie hints that he is well-endowed and a very talented lover.
Colin Firth is quite good in the titular role. He's certainly attractive and a decent actor even if he lacks true movie star charisma. And apparently the man has a decrepit self-portrait hidden away in his attic as he hasn't noticeably aged in the nearly quarter-of-a-century since this movie was made.
Two former child stars each took on a more adult role for this movie. Fairuza Balk was most famous for playing Dorothy in Return to Oz and Henry Thomas was Elliott in E.T. They are both terrific as the two innocents being manipulated by Merteuil and Valmont as part of their bet. The ending hints at the fact that Danceny (Thomas) will now become the Valmont of his generation.
Valmont is a solidly entertaining movie with a great cast. It has been stuck in the shadow of Dangerous Liaisons all these years as it had the unfortunate timing of being released the following year. Valmont is worth watching for Annette Bening's performance alone. Brava!
Photos © Copyright Orion Pictures Corporation (1989)