Movie Review
Vacation
What could go wrong?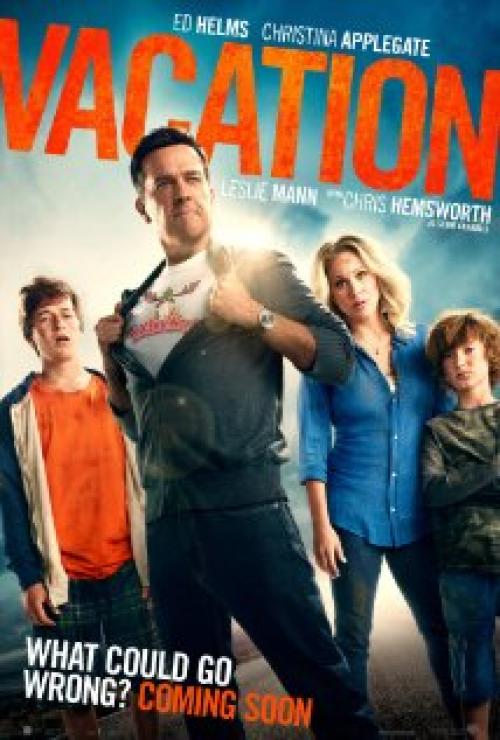 US Release Date: 07-29-2015
Directed by: John Francis Daley, Jonathan M. Goldstein
Starring
▸
▾
Ed Helms

,

as

Rusty Griswold
Christina Applegate

,

as

Debbie Griswold
Skyler Gisondo

,

as

James Griswold
Steele Stebbins

,

as

Kevin Griswold
Chris Hemsworth

,

as

Stone Crandall
Leslie Mann

,

as

Audrey Crandall
Chevy Chase

,

as

Clark Griswold
Beverly D'Angelo

,

as

Ellen Griswold
Charlie Day

,

as

Chad
Catherine Missal

,

as

Adena
Ron Livingston

,

as

Ethan
Norman Reedus

,

as

Trucker
Keegan-Michael Key

,

as

Jack Peterson
Regina Hall

,

as

Nancy Peterson
Colin Hanks

,

as

Jake
Nick Kroll

,

as

Colorado Cop
Tim Heidecker

,

as

Utah Cop
Kaitlin Olson

,

as

Arizona Cop
Michael Pena

,

as

New Mexico Cop
Hannah Davis

as

Ferrari Girl


Reviewed on:
July 29th, 2015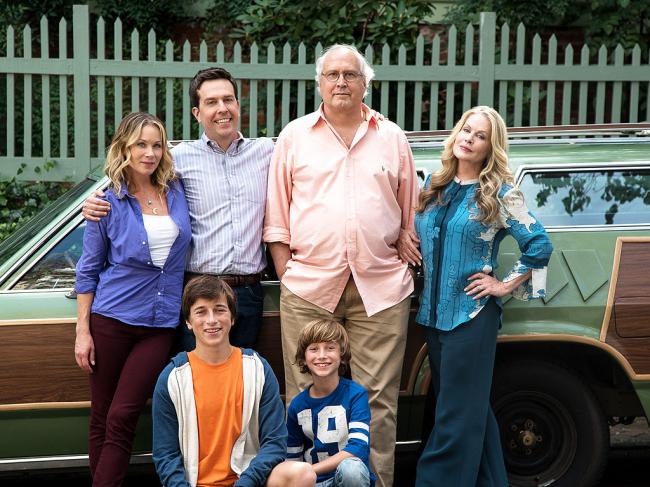 Three generations of Griswolds. God help them all.
The Vacation films are some of the greatest comfort movie food in film history. This clearly traditional middle class family seems to have everything on the surface they could want. They have a nice home and bills never seem to cause them any strife, no matter how much they waste or lose their money. If you are envious of such people, this movie invites you to laugh at them. If you are a member of this family's class standing, the Griswolds allow you to laugh at yourself as they hilariously reveal their insecurities and all too human foibles.
Feeling that his family is not in a happy place, Rusty Griswold decides to recreate a childhood vacation he experienced with his parents and sister, hoping to help his family feel closer. Rusty, his wife Debbie and their two bickering sons, James and Kevin, pack up and drive across country, from Chicago to a California amusement park, Walley World. Things do not go as plan which results in a vacation very much in line with what Rusty experienced when he was young.
What makes this trip different from the original is that the humor is more adult and also quite a bit darker. People and animals die in violent ways and there is some gore to speak of. Chris Hemsworth has a scene where he proudly walks about in his boxer briefs revealing a large prosthetic penis for comic affect. The scene where Rusty and his son discuss a rim job is awkward, as is the presence of a rapist/pedophile truck driver. A family film, this is not!
Ed Helms is playing his standard put upon character we came to like in the Hangover films. His Rusty is a loving father and husband but has his father's bad habit of assuming his family wants to do whatever he does. He is a bit jealous of his friend's relationship with his son and attempts to emulate it with his oldest son James, to no avail.
Christina Applegate is clearly in the "Mom" phase of her career. Her Debbie is not much of a stretch as she could be a possible future for Kelly Bundy if she had experienced some higher education. The family stops by the college that Debbie went to and they visit her sorority where Rusty learns that his wife had a very wild time in college, doing some sexual things I will not write here. It all earned her the nickname, "Debbie does anything."
The Griswolds stop off in Texas to visit with Rusty's sister Audrey and her husband Stone. These scenes could have, and should have, been milked for some humorous reminiscing. Audrey and Rusty could have shocked their family with all the stories they could have told about their father's over reactions but all we get is Audrey asking her brother why he wants to take his family to a place where their father freaked out at. Leslie Mann can be a very funny lady but she gets very little screen time, while Hemsworth dominates their time in Texas. Penis size jokes and his flirting with Debbie only go so far.
Rusty and family finally arrive in California where his parents are now, for some reason, running a Bed and Breakfast, very poorly. Chevy Chase is worth a chuckle but his weight gain makes his health seem dire. My son turned to me and asked in a whisper, "That's the same guy from Christmas Vacation?" My favorite moment of his is when he tries to pick up his teenage grandsons and carry them inside. Chase always had a way with slapstick.
This family's misadventures are entertaining and often hilarious but there is also a heart beating at its core. Just like Clark, Rusty just wants to make the family he loves happy, even if it is going to kill them. How many of you have a relative that loves you to the point of annoyance?
Reviewed on:
August 12th, 2015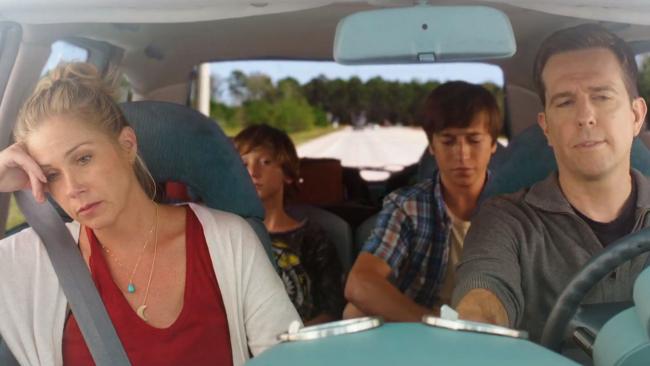 Christina Applegate and Ed Helms in Vacation.
Normally Eric I consider our sense of humors to be pretty close to each others, but for the life of me I cannot understand you giving this movie 3.5 stars. I know that as a married father of two sons you were probably able to relate to this movie's setup more than I was, but still, this is at best a hit-and-miss comedy that overly relies on bodily excretions for laughs. There are a few mildly amusing moments, but they're few and far between.
This is kind of an odd film in that it's both a sequel and a remake of the original Vacation film. The plot is the same, but by making Rusty the son of Clark Griswold, it becomes a sequel, which allows Chevy Chase and Beverly D'Angelo to make cameo appearances, but not nearly enough is done with this idea. Like Eric, I expected more reminiscing to take place between Rusty and his sister Audrey. I agree completely with Eric that Leslie Mann is wasted in her part and takes a big back seat to Chris Hemsworth's part. At the beginning of the film we are shown a brief glance of a photo album showing all of the different actors who played Rusty over the years, but no comment or joke about it is made. Chase's scenes aren't funny at all and apart from providing them with the keys to the old station wagon from the original film, provides little to the film except to make audiences says, "Wow, Chevy Chase got really old." Why make it a sequel if you're not going to take advantage of the connection to the earlier films?
I had my suspicions what kind of humor I was going to be in for when snot and vomit had already been used as jokes before the credits had even finished rolling. And I wish I could say that was the only time vomit was used for a joke, but it's not. Later human feces and cow guts are also used for "laughs". To be fair, not all of the humor is related to bodily functions, but too much of it is.
Some of the jokes are worth a chuckle. The relationship between the brothers and Rusty's attempt to be his son's wingman are amusing, as is the mini-van the Griswolds drive, dubbed the "Tartan Prancer", which is the "Honda of Albania". Its mismatched shape and confusing button symbols are one of the few jokes that continues to work no matter how often it's milked.
The cast is fine, lead by Ed Helms who is basically, as Eric noted, reprising his character from the Hangover films. Applegate is definitely in generic mom mode in a part that could have been played by almost anyone. Regina Hall is another female comedian who gets a cameo appearance and like Mann is mostly wasted, apart from one joke about some Instagram photos.
Even though the original Vacation film isn't one of the greatest comedies of all time, it did manage to contain some heart that this one just can't muster. Maybe that was because the original was written by John Hughes while this one was written by Jonathan Goldstein, a sitcom writer, whose feature film credits include The Incredible Burt Wonderstone and Horrible Bosses 2.
Despite a few funny moments, this remake/reboot/sequel is one vacation you won't want to take.
Photos © Copyright New Line Cinema (2015)
Related Review