Movie Review
The Upside of Anger
Sometimes what tears us apart helps us put it back together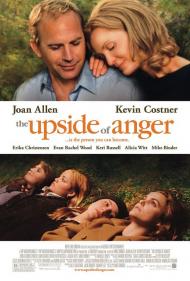 US Release Date: 03-11-2005
Directed by: Mike Binder
Starring
▸
▾
Joan Allen

,

as

Terry Wolfmeyer
Kevin Costner

,

as

Denny Davies
Erika Christensen

,

as

Andy Wolfmeyer
Evan Rachel Wood

,

as

Lavender "Popeye" Wolfmeyer
Keri Russell

,

as

Emily Wolfmeyer
Alicia Witt

,

as

Hadley Wolfmeyer
Mike Binder

as

Adam "Shep" Goodman

Reviewed on:
March 14th, 2005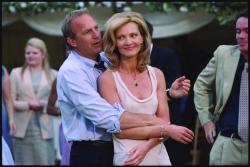 Kevin Costner and Joan Allen in The Upside of Anger.
Ever since Shakespeare first wrote Romeo & Juliet, it seems that your average lovers in a romance are so young that the older I get, I can't help but think, what do these kids know about love? Sure, being rejected or accepted by love when you're a teenager or in your early twenties seems like the most dramatic thing that could ever happen to you, but what about mature love? It's a subject that Hollywood doesn't have as strong a track record with. As Good as It Gets, was appropriately as good as it got. The Upside of Anger is a movie that also deals with it (along with a host of other topics), and does it well, with a stellar cast, a great deal of humor and just the right amount of pathos.
When Terry Wolfmeyer (Joan Allen) must suddenly deal with the disappearance of her husband, whose absence just happens to coincide with that of his Swedish secretary, she goes (according to her youngest daughter) from being one of the sweetest people alive, to a person full of anger who deals with her abandonment by crawling into a bottle. Happily joining her is her easy-going neighbor, Denny Davies (Kevin Costner), a former- baseball player with the Detroit Tigers, who has long had feelings for Terry.
Along with the offbeat love story between the two leads, there are several subplots involving Terry's daughters. The oldest daughter, Hadley is graduating from College and getting married. Emily, the next oldest, dreams of becoming a dancer. Andy decides not to go to college and with the help of Denny, gets a job as a production assistant at the radio station where Denny hosts a talk show. Once there, she begins an affair with Denny's much-older producer, played with slimy gusto by the movie's writer-director, Mike Binder. And the youngest daughter, Popeye, is still in high school looking for her first crush. She also bookends the movie with a little voice-over narration.
It is 48-year-old Allen who steals the movie away from her young co-stars, though. In turn bitter and funny, she leads the cast and the movie. The often under-rated Costner is also quite good. Why is it that his best performances always involve him being connected to sports in some way? Their autumn romance is touching and funny and very real. Neither of them is gushing with the first blush of youth, and their experience and emotional baggage adds weight to their relationship, particularly when it's contrasted with the fumblings of the two youngest daughters.
Lest you get the impression that this is strictly a love story, let me assure you that this movie is also brimming with humor. Binder's script is filled with witty moments, and his own performance is a scene-stealer.
The only weakness I found with the movie was the ending. While the outcome is satisfying, it does contain an eleventh hour 'trick'. It doesn't really mar the film as a whole, but seems unnecessary.

Reviewed on:
August 13th, 2005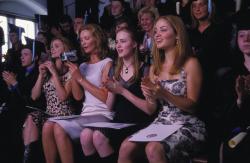 Keri Russell, Joan Allen, Evan Rachel Wood and Erika Christensen in The Upside of Anger.
The Upside of Anger is first and foremost a chick flick. It contains lots of women who do lots of screaming. The plot is driven by conversation. I, like Scott, think some of the dialogue rings quite true to life.
On the surface, this is a mother/daughter movie with a love story. It is also a message movie about anger, and how easily people seem to jump to that emotion. During the course of the movie, Allen's character gets mad at every single character in the movie. It is the one emotion she easily expresses.
Throughout the movie a character, or characters, watch riots and protests on televison. The point is obvious to reinstate the message about anger and how easily people get mad. This narrative quote really sums it all up, "People don't know how to love. They bite rather than kiss. They slap rather than stroke. Maybe it's because they recognize how easy it is for love to go bad, to become suddenly impossible... unworkable, an exercise of futility. So they avoid it and seek solace in angst, and fear, and aggression, which are always there and readily available. Or maybe sometimes... they just don't have all the facts."
The Upside of Anger makes a great point about it's subject and the two leads are great in their roles. However, the movie seems to drag. For some reason, it takes place over a couple of years. The four daughters do not have enough distinct personalities. They are each assigned a one dimensional trait. There is the one getting married, the one who doesn't want to go to college, the one who wants to be a dancer and the smart one in highschool. All, of course, get mad at mom often.
Photos © Copyright New Line Cinema (2005)