Movie Review
The Unsinkable Molly Brown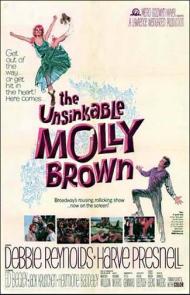 US Release Date: 06-11-1964
Directed by: Charles Walters
Starring
▸
▾
Debbie Reynolds

,

as

Molly Brown
Harve Presnell

,

as

'Leadville' Johnny J. Brown
Ed Begley

,

as

Shamus Tobin
Jack Kruschen

,

as

Christmas Morgan
Hermione Baddeley

,

as

Buttercup Grogan
Vassili Lambrinos

,

as

Prince Louis de Laniere
Fred Essler

,

as

Baron Karl Ludwig von Ettenburg
Harvey Lembeck

,

as

Polak
Lauren Gilbert

,

as

Mr. Fitzgerald
Kathryn Card

,

as

Mrs. Wadlington
Hayden Rorke

,

as

Malcolm Broderick
Harry Holcombe

,

as

Mr. Wadlington
Amy Douglass

,

as

Mrs. Fitzgerald
George Mitchell

,

as

Monsignor Ryan
Martita Hunt

,

as

Grand Duchess Elise Lupavinova
Eleanor Audley

,

as

Mrs. Cartwright
Anna Lee

as

Titanic Passenger in Lifeboat

Reviewed on:
January 24th, 2015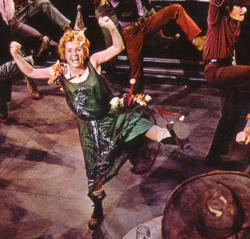 Debbie Reynolds giving it her all as The Unsinkable Molly Brown.
Based on the hit Broadway Musical of the same name, The Unsinkable Molly Brown represented not only the pinnacle of Debbie Reynold's movie career, it also marked the end of an era at MGM. It was the studio's last big musical production and it came at the tail end of the golden age of the Hollywood movie musical. It was the final musical directed by Charles Walters, as well as being legendary producer Roger Edens' swansong at Metro (he did produce one final musical, Hello Dolly! over at Twentieth Century Fox).
Some fans of the Broadway production were disappointed that Tammy Grimes wasn't allowed to reprise her Tony winning role from the stage. The director's first choice was Shirley MacLaine but when she was unable to get out of her contract with Hal Wallis, Debbie Reynolds ultimately secured the role of the uncouth hillbilly from the backwoods of Colorado who becomes the toast of Europe before surviving the sinking of the Titanic.
Much of the film is apocryphal, such as Molly surviving a flood on the Colorado River as an infant (in the movie's opening scene), or when Molly hides $300,000.00 in the stove only to have her husband burn it up. Other details of her true life were altered or left out completely, like the fact that in real life Molly and Johnny Brown had two children. Molly Brown has become a mythical American figure and her story, as told in this film, is a simplified tall tale set to music.
After her husband strikes it rich with a gold mine, Molly insists they move to Denver where she attempts to break into high society, only to be rebuffed at every turn. On the advice of a friendly monsignor, Molly and Johnny take an extended trip to Europe where she charms the jewels off of the crowned heads. Whereas her uncouth behavior and general tackiness only served to remind the social elite in Denver of their humble beginnings from a generation or two earlier, her earthy sense of humor and genuine personality are fully appreciated by the Europeans and she becomes a celebrity. She gains some culture, acquires a fashion sense, learns to speak several different languages and returns triumphantly to Denver with her new royal friends in tow.
Reynolds gives her all from beginning to end. Her energy and enthusiasm never waver. She sings, dances, acts, fights and yells her way across the screen. Some have criticized her performance for being more athletic and vigorous than artful but she does what the part requires and that is to be larger than life every single second. One thing I liked about her approach is that Molly never manages to smooth out all of her rough edges. This isn't an Eliza Doolittle type of total personality transformation. Sure she gets more sophisticated but she stays pretty much the same person in the process. Her grammar improves slightly and her gruff speaking voice occasionally softens a bit, but in many ways she remains the same simple but blindly ambitious backwoods gal who made good. Reynolds was deserving of the Best Actress Oscar nomination (she lost to Julie Andrews in Mary Poppins). This would be Debbie's sole Oscar nod in her long career.
Only a handful of songs from the Broadway score made it into the film. The most famous being "Belly Up to the Bar, Boys" sung with gusto by Reynolds and company when she gets her first job at a saloon, and done as a reprise later in the film. The tall, handsome Harve Presnell was the sole member of the Broadway show to repeat his role for the screen, making his movie debut as Johnny Brown, a man so smitten with Molly that he'll do anything to win her heart. This is best demonstrated in the number "I'll Never Say No", the lyrics to which he proceeds to live up to throughout the movie (with one notable exception). Presnell's wonderfully mellifluous singing voice perfectly suits the film's setting. The panoramic outdoor scenes were shot on location at a national park in Colorado. Harve's booming voice fills the canyons and he sings the lion's share of the songs.
As pure Hollywood entertainment The Unsinkable Molly Brown delivers. It's quite funny. Molly's homespun folksy one-liners are often amusing, with Reynolds' seemingly inexhaustible gusto helping to sell them. The romance between Molly and John is sweet and charming. Sparks may not fly between the two leads but both actors successfully manifest the depth of the love felt between these two. The supporting cast is filled with talent. The standouts are George Mitchell as Monsignor Ryan and Martita Hunt as the Grand Duchess Elise Lupavinova. Hunt steals the climactic ball sequence.
It's no wonder that Debbie Reynolds calls this her favorite role. It's the part of a lifetime and she knew it. The one thing you can't say about it is that she didn't give her all. The Unsinkable Molly Brown has its flaws but it was a big hit with audiences and critics alike in 1964. All things considered it's not a bad way for the era of the classic MGM musical to come to an end.

Reviewed on:
January 27th, 2015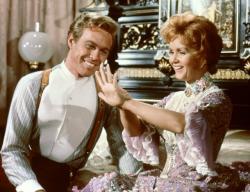 Harve Presnell and Debbie Reynolds in The Unsinkable Molly Brown
As Patrick mentioned, this film pays no attention to the fact that when Molly Brown was in Europe for the second time, she and J. J. had not only two children but some grandchildren as well. In fact, it was the news that one of her grandchildren was ill that sped up her return to the United States. In this film she comes home because she misses her husband who she had separated from. In real life, they separated in 1909 but unlike what this movie implies, they never reconciled.
I always hate when a Broadway play is turned into a movie but not filmed on location. That is not the case here. The scenes filmed in Colorado are as beautiful as anything you see in The Sound of Music (1965). The scenery adds some brilliant background for some forgettable songs. Although many are peppy and emotional, none of the songs have stuck with me in any way.
The best thing about this film is something Patrick mentioned, the dialogue. Debbie Reynolds has some great lines as Molly Brown. My two favorites of hers are, "It's not the money I love, it's the not having it I hate." And "I'm interested in everything because I don't know nothing." One of the most memorable is also quite racist. After an angry Molly shoots her gun out of the window to scare off some tourists, J.J. yells at her for, "Firing out the window like a liquored up red skin!"
The story of Molly Brown is one that is very uniquely American. Molly starts out as a poor uneducated country girl. Her husband got lucky and they both found themselves with more money than they knew what to do with. In real life and in this film, Molly educated herself, learning to speak several languages and became a philanthropist. Her charm won over many Europeans but especially the French who awarded her the French Legion of Honor for her support during World War I. Although it can happen anywhere, her rags to riches story seems as American as apple pie.
At over two hours long and without any worthy songs, The Unsinkable Molly Brown is not a film worth watching a second time. However, I agree completely with Patrick that Debbie Reynolds gives it her all with a boundless amount of energy. My favorite scene of hers is when she greets her royal guests and speaks in several languages to impress her neighbor. I have never thought of her as anything more than cute but here she is downright beautiful. This is a showcase of Reynolds's talent but not a great film.
Photos © Copyright Metro-Goldwyn-Mayer (MGM) (1964)