Movie Review
Unfinished Business
Best business trip ever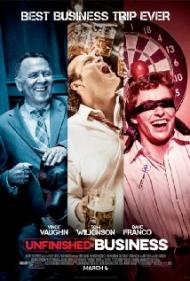 US Release Date: 03-06-2015
Directed by: Ken Scott
Starring
▸
▾
Vince Vaughn

,

as

Dan Trunkman
Tom Wilkinson

,

as

Timothy McWinters
Dave Franco

,

as

Mike Pancake
Sienna Miller

,

as

Chuck Portnoy
June Diane Raphael

,

as

Mrs Trunkman
Britton Sear

,

as

Paul Trunkman
Ella Anderson

,

as

Bess Trunkman
Nick Frost

,

as

Bill Whilmsley
James Marsden

,

as

Jim Spinch
Ken Scott

,

as

Tourist at German Hotel / Museum Tourist
Uwe Ochsenknecht

as

Maarten Daaervk

Reviewed on:
March 11th, 2015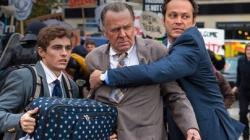 Dave Franco, Tom Wilkinson and Vince Vaughn in Unfinished Business
Vince Vaughn starred in the Ken Scott scripted Delivery Man in 2013. Now Scott directs Vaughn in Unfinished Business. Both films have a central issue of fatherhood. Whereas Delivery Man asked what it meant to be a father, Unfinished Business is more about the stress and responsibility in being a father. Vaughn became a father in 2010 and again in 2013. No doubt the subject is hitting home.
Vaughn plays Dan, a married father of two. He quits his job in the first scene and starts his own company, taking with him the recently fired Tim (Tom Wilkinson) and Mike (Dave Franco). Tim was fired for being old while Mike was there because he just had an interview that he bombed. The specifics of what his new company, named Apex, does are a bit vague. Just understand that a very important introduction and handshake is needed for the survival of Apex.
This takes the three men on a couple of business trips. The most important one being to Berlin, Germany, where every hotel is full due to several events happening at the same time. Dan ends up staying in a museum/hotel room while Tim and Mike stay at a youth hostel.
Of the three very different men, Tim is the least well rounded. Out of the blue he tells Dan that he has never made love even though he has been married for years. He has had sex but never passionate lovemaking. He wants the deal to go through so he can divorce his wife.
Mike is special, as in he lives in an assisted adult living facility special. He miss pronounces any word that has more than three syllables. After hearing Tim moan that he wants to experience wheel barrel sex, Mike goes on a quest to experience it as well, but considering that he is a virgin, he should have started out on something simpler.
The movie has plenty of nudity. At one point they go into a unisex spa to meet an important female businesswoman. Mike cannot help but point out and announce, "Big boobies" as a topless woman walks by. Later in a gay bar bathroom, also to hunt down a businessman, Mike handshakes a penis sticking through a glory hole when introduced to the man behind the wall. He then falls down and notes nervously, "It touched my face."
It is up to Dan to give the movie its heart. His wife keeps reminding him that the private school they want to send their son to is very expensive. His daughter keeps pestering him about doing her homework essay about her father. His overweight teen son is going through a rough patch as he is constantly being picked on. The film points out how bullying has changed since the internet. It used to be that bullying ended when the child got home. Now it can continue 24/7 through social media.
Dan needs the deal to go through to put his son in another school but he also tells his son that a change in location alone will not solve everything. Dan has his family and two employees depending on him. He has to fight for his and their survival. He is pulled in many directions and struggles to keep it all going.
In the age of Oprah it has felt to me that women have been demanding that people recognize how hard their lives can be when juggling a marriage, children and a career. I am not sure if Ken Scott and Vince Vaughn are consciously trying to do the same for married fathers but it is nice to see a "fairly" realistic portrayal of what it means to be a man willing to face his responsibilities. Unfinished Business has a mature message but it may get lost in the immature sex jokes and frat boy partying.
Photos © Copyright Regency Enterprises (2015)