Movie Review
Underworld: Awakening
Vengeance Returns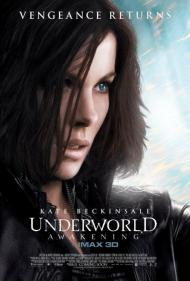 US Release Date: 01-20-2012
Directed by: Mans Marlind, Bjorn Stein
Starring
▸
▾
Kate Beckinsale

,

as

Selene
Stephen Rea

,

as

Dr. Jacob Lane
Michael Ealy

,

as

Detective Sebastian
Theo James

,

as

David
India Eisley

,

as

Eve
Sandrine Holt

,

as

Lida
Charles Dance

,

as

Thomas
Kris Holden-Ried

,

as

Quint
Jacob Blair

as

Officer Kolb

Reviewed on:
January 22nd, 2012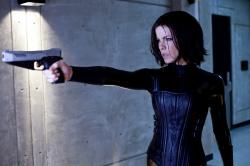 Kate Beckinsale is back in black in Underworld: Awakening.
Six years to the day after her last Underworld movie was released (she skipped 2009's Rise of the Lycans), Kate Beckinsale slips back into her black Lycra tights in the role that made her a star as the vampire Selene. It's nice to have her back in the series and she still looks as good as ever, but the movie itself is no better or worse than the first two, which were only ever just passably entertaining, despite their stylish visuals.
The plot isn't very complicated, but the background mythology makes it seem so. Selene is captured by humans, who have become aware of the existence of vampires and werewolves. She's kept in a frozen state for 12 years. When she is thawed out, she learns that her vampire/werewolf hybrid lover Michael, has disappeared and she now has a daughter. Once that setup is explained, the rest of the story is simply Selene and Eve, her daughter, either running away from or toward their human captors.
One of my complaints about the first two movies was that although Selene was a vampire, she never really acted like one. She never drank blood and she favored guns over fangs as a way of killing people. Although she's still not exactly a classic vampire, she does at least drink blood from a victim once and her daughter drinks voluntarily given blood to help her heal. It's not much, but it's something. Even without all the usual vampire trappings she's still miles better than the things claiming to be vampires in the Twilight series.
Something that hasn't changed is the way Selene is a stylish killing machine. With her Lycra suit and long flowing jacket, she runs, jumps, kicks and slides in the best possible way to make her look badass. The actions scenes are the movie's best moments, particularly when she does battle with the gigantic new breed of werewolf. By keeping the mythology backstory to a minimum and keeping the focus heavily on the action, the story feels much more streamlined and fast paced than the earlier installments.
Despite Selene spending a good portion of the movie looking for Michael, the love story angle has been almost completely removed. The character of Michael is only in two scenes and filmed from a distance or in an obscured manner to hide the fact that the actor who played him didn't come back for this cameo. Instead, Selene is given a daughter, who is a hybrid like her father. Not much is done to develop the mother daughter relationship beyond Selene's devotion to protecting her. This isn't a character driven story by any means.
Certain movies can surprise you by turning out to be something you didn't expect. This isn't one of those movies. It's exactly what you expect and therefore is easy to judge whether or not you will enjoy it. If you liked the earlier Underworld films, or if you haven't seen them but enjoyed the Resident Evil movies, then you'll like this one too. Otherwise, you'd might as well sit this one out.

Reviewed on:
February 6th, 2014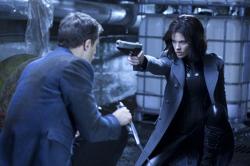 Kate Beckinsale takes aim at Theo James in Underworld Awakening
Some movies make you think, while others are simply a two hour distraction. The ones that make me think can inspire research or discussions. They stay with me far longer than the ones that merely entertain. I watched Underworld Awakening just last night and I am already struggling to recall much of it, and I was also not that entertained.
As Scott wrote, it breaks no new ground in the series and if you liked the earlier installments, you will enjoy this one. Kate Beckinsale as Selene, is a vampire made "human" by her capacity for love, be it for a hybrid man or her hybrid daughter. On her way to rescue her daughter, she turns all kinds of women into widows and creates a long list of orphans as she kills countless amounts of humans. Was I supposed to root for her or the men trying to kill dangerous blood thirsty immortals? Just because she is hot, we are supposed to like her?
This is like some bad allegory of Europe at the start of World War II. The vampires are Nazis, the Lycans are communists, leaving the humans as the Jews. The vampires and werewolves feed on the Jews. Selene is a Nazi who will kill any Jew who dares to get in her way. When wanting some answers she grabs a human, shoves him through a window, holding him by his neck. As the man dangles many stories up, he begs for his life, "Please! I'm the one who let you go!" As cold as ice, Selene responds, "Consider us even." And then drops the man out the window to his death.
I guess I was wrong. This movie did make me think. It is so bad that I had to imagine it had more depth than it actually does. For whatever reason, Michael is barely in the film. His absence changed nothing. He was replaced by a daughter and a new love interest, David, played by Theo James who stars in the soon to be released Divergent. If it and the planned sequels take off, James may very well leave this worn out series in the dust, like some vampire corpse decomposing in the sunlight.
Photos © Copyright Screen Gems (2012)
Related Reviews