Movie Review
The Undefeated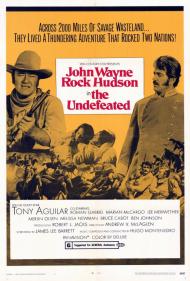 US Release Date: 11-27-1969
Directed by: Andrew V. McLaglen
Starring
▸
▾
John Wayne

,

as

Col. John Henry Thomas
Rock Hudson

,

as

Col. James Langdon
Tony Aguilar

,

as

Juarista Gen. Rojas
Roman Gabriel

,

as

Blue Boy
Marian McCargo

,

as

Ann Langdon
Lee Meriwether

,

as

Margaret Langdon
Merlin Olsen

,

as

Cpl. Little George
Melissa Newman

,

as

Charlotte Langdon
Bruce Cabot

,

as

Sgt. Jeff Newby
Jan-Michael Vincent

,

as

Lt. Bubba Wilkes
Ben Johnson

,

as

Short Grub
Edward Faulkner

,

as

Capt. Anderson
Harry Carey Jr.

as

Soloman Webster
Reviewed on:
June 3rd, 2009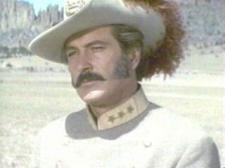 Although this is really a John Wayne movie, Rock Hudson does get one great movie star moment.
Released in 1969, The Undefeated boasted the two biggest male box office stars of the preceding decade. John Wayne and Rock Hudson were both nearing the ends of their legendary movie careers and both men were nearly always underrated as actors; beyond which these men had very little in common. Wayne being the embodiment of the red-blooded American male, the quintessential cowboy/war hero and a paradigm of a traditional conservative society; while Hudson was one of the great manufactured stars, given the ridiculous moniker of Rock by star-finder extraordinaire Henry Wilson, and using his handsome face and broad shouldered physique to act out lightweight comedic fantasies for American women, all the while hiding the fact that he was gay.
Before you are 20 minutes into this movie it is clear that John Wayne is the star. Rock Hudson's name may be next to his above the title but he not only gets less screen time than Wayne, but he also has the weaker role. Wayne is the wise brave hero while Hudson is merely a noble soldier. Rock does get one great movie star moment. Once his men have gotten across the Rio Grande they don all of their military splendor and fly the Confederate flag. There is an aerial shot of Hudson in his dress grays, head held proudly, with the large red plume on his hat blowing in the wind.
The movie takes place immediately following the American Civil War. Wayne is a colonel in the Union Army and Hudson is a Confederate colonel. Fate brings them together in Mexico. Wayne and a group of hired men are taking a herd of horses to sell to the Emperor Maximilian. Hudson and his men, not ready to admit defeat, are taking their families to Mexico City where Maximilian has promised them amnesty in exchange for their military service.
Both groups paths soon cross and they have encounters with bandits and with Mexican soldiers fighting for their leader Benito Juarez against French occupation. In between action scenes there is the prerequisite melodrama; a subplot involving a romance between Wayne's adopted Native American son and Hudson's daughter briefly brings race into the story. There is also another staple of John Wayne movies, a humorous drinking scene that leads to a brawl.
1969 also saw the releases of True Grit, Butch Cassidy and the Sundance Kid and The Wild Bunch. In a great year for westerns The Undefeated was the most old-fashioned of the bunch. It is more dated than those other three movies but still makes for an enjoyable matinee.
Photos © Copyright Twentieth Century-Fox Film Corporation (1969)