Movie Review
Last Tango in Paris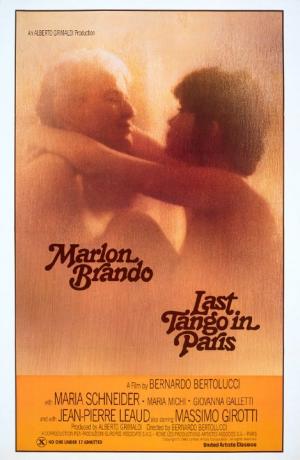 US Release Date: 02-07-1973
Directed by: Bernardo Bertolucci
Starring
▸
▾
Marlon Brando

,

as

Paul
Maria Schneider

,

as

Jeanne
Maria Michi

,

as

Rosa's Mother
Gitt Magrini

,

as

Jeanne's Mother
Catherine Allégret

,

as

Catherine
Luce Marquand

,

as

Olympia
Marie-Hélène Breillat

,

as

Monique
Catherine Breillat

,

as

Mouchette
Jean-Pierre Léaud

,

as

Tom
Massimo Girotti

,

as

Marcel
Veronica Lazar

as

Rosa

Reviewed on:
July 6th, 2016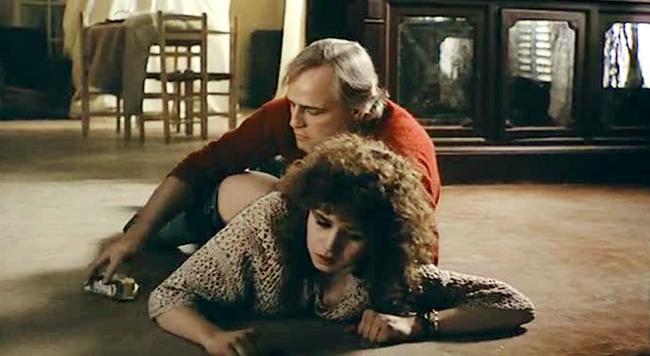 Marlon Brando and Maris Schneider doing the infamous butter scene in Last Tango in Paris
In 1987, while living in Italy, I remember walking through a piazza and coming across a movie poster for Ultimo Tango A Parigi, playing in the local cinema. I smiled to think that they were showing an older film. Little did I know at the time, but that was the films official release in Italy as it had been banned up until then, even though it is the home country of director Bernardo Bertolucci.
For the time, Last Tango in Paris was a shocking film due to its blunt depiction of casual sex. Maria Schneider is nude in many scenes, going full frontal with her 70's bush on proud display. Bertolucci has stated that he filmed a scene of Brando doing the full monty but never used it, explaining, "I had so identified myself with Brando that I cut it out of shame for myself. To show him naked would have been like showing me naked." Brando's explanation is much funnier. He wrote in his autobiography "Brando: Songs My Mother Taught Me", the reason he did not do a full frontal nude scene was because his, "penis shrank to the size of a peanut on set".
Not only did Brando have a shy willy, but he often came to the set unprepared. He never memorized his lines, causing the production crew to be tape his lines onto the set or on Maria's body for him to read. When he could not even be bothered to do that, he just made up the dialogue and much of it ended up being used. The story he tells about his dog hunting rabbits is from his own childhood. They also used dubbing but it often did not match the actors lips. Still, with all that in mind, Brando still pulls out an amazing performance. Look no further than the long dialogue he spouts, whether from memory or made up, over his wife's corpse. It ends with him yelling/crying, "...tell me something sweet. Smile at me and say I just misunderstood. Go on, tell me. You pig-fucker... you goddamn, fucking, pig-fucking liar!"
The movie opens with a sad and very depressed Brando who quickly meets a beautiful young Parisian. They fuck almost immediately and decide to begin an affair in an apartment that they rent. Brando insists that they never tell each other anything personal, including their names. We soon learn that he is suffering emotionally from his wife's recent suicide while she has a boyfriend who is filming a documentary about her.

They are drawn to each other but their relationship is a hard sell. Her time spent with Brando seems more about his pleasure than hers. Schneider is way too hot for Brando, making this movie an obvious male fantasy, with Bertolucci admitting it was what interested him about it. When with her boyfriend, she must act for his film and reveal things about her past, while with Brando it is all private pseudo psychological conversation and sex. I would have bought their affair better if she were a prostitute or just in need of him paying for her to have a place to live.
The film has two scenes that shocked audiences the most. The one begins with Brando telling Schneider, "Go, get the butter." He uses it to lubricate her for anal sex without ever asking her opinion on the matter. The other comes later when he instructs her to clip her finger nails and then insert her fingers up his anus.
Other than those two scenes, this movie has lost most of its shock appeal. Take Brando's name out of the credits and this film would only be remembered for Schneider's nudity, if at all. No actor of his caliber had made what was then a rated "X" film. Unfortunately, there is far more dreary drama than sexual shenanigans going on here. Take out the sex and you have no reason to ever watch this.

I never got around to watching this when I was in Italy. Although the nudity may have impressed me more then than now, Last Tango in Paris remains only a mostly boring curiosity.

Photos © Copyright United Artists (1973)