Movie Review
Two-Faced Woman
She's Twins! Her first picture in two years . . . so we're giving you two Garbos in this one! And both of her are terrific!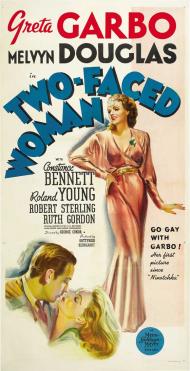 US Release Date: 11-30-1941
Directed by: George Cukor
Starring
▸
▾
Greta Garbo

,

as

Karin Borg Blake
Melvyn Douglas

,

as

Lawrence 'Larry' Blake
Constance Bennett

,

as

Griselda Vaughn
Roland Young

,

as

Oscar 'O. O.' Miller
Robert Sterling

,

as

Dick 'Dickie' Williams
Ruth Gordon

,

as

Miss Ruth Ellis, Larry's Secretary
Frances Carson

as

Miss Dunbar
Reviewed on:
April 10th, 2013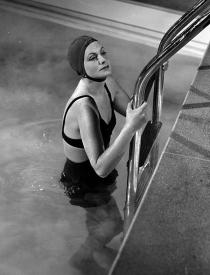 Greta Garbo in Two-Faced Woman.
Two-Faced Woman is remembered today for being the movie swan song of the ineffable Greta Garbo. After the success of Ninotchka, where the famous tragedienne finally laughed, it's no surprise that MGM re-teamed her with Melvyn Douglas for another comedy. This time under George Cukor's direction. Although it wasn't the flop history has made of it, it did suffer from bad timing. It premiered just one week before Pearl Harbor and America was hardly in the mood to laugh at this frivolous farce.
The silly plot has Garbo as a ski instructor. She meets and inexplicably falls head over heels for a wealthy magazine editor played by Douglas. By the second scene of the movie they are married although their relationship never really rings true. He returns to Manhattan to work while she stays in Idaho. Eventually she comes to the city to check up on her negligent husband and winds up impersonating her imaginary globetrotting twin sister. Moderately amusing shenanigans ensue.
Censors at the time took umbrage at the fact that Douglas tries to seduce his sister-in-law (even though the audience knows full well she is actually his wife). Later a scene was added where he calls the lodge in Idaho and discovers his wife has left and therefore is in on the charade. By today's standards this detail makes precious little difference but in 1941 it caused quite a stir. A reviewer for Time Magazine famously wrote, "It is almost as shocking as seeing your mother drunk."
An underused Roland Young, a nearly unrecognizable Ruth Gordon (to audiences used to seeing her as an old woman anyway), and a scene stealing Constance Bennett all costar. The funniest scene belongs to Garbo however. In the movie's most celebrated moment she invents a funny new dance after stepping on the hem of her gown and stomping her foot to get it loose. The band instantly picks up the beat and before you know it Garbo has the entire room swaying and dancing to her rhythm. When asked its name she replies, "La Chica-Choca" and a new dance craze is born.
Garbo sat out the war years and then made an attempt to return to the screen that fell through. She walked away from the industry and into legend. From today's perspective this makes sense. She belongs to that romantic pre-WW II Hollywood era.
There is a parallel between Garbo and Monroe. Both women were 36 when they filmed their final scenes for a movie. And like Monroe's unfinished Something's Got to Give, Two-Faced Woman includes a scene where its star is in a swimming pool (see photo). The difference, of course, being that Monroe died tragically young while Garbo lived on in seclusion for decades.
Two-Faced Woman isn't a great picture by any means but it is a must see for fans of the legendary Greta Garbo. It truly marked the end of an era.
Photos © Copyright MGM (1941)