Movie Review
Two Women
Suddenly...Love Becomes Lust...Innocence becomes shame...As two women are trapped by violent passion and unforgettable terror!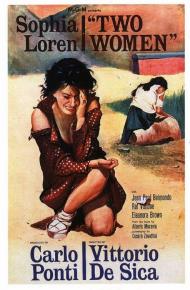 US Release Date: 05-08-1961
Directed by: Vittorio De Sica
Starring
▸
▾
Sophia Loren

,

as

Cesira
Jean-Paul Belmondo

,

as

Michele Di Libero
Eleonora Brown

,

as

Rosetta
Carlo Ninchi

,

as

Filippo, Michele's father
Andrea Checchi

,

as

fascist
Pupella Maggio

,

as

farmer
Emma Baron

,

as

Maria
Raf Vallone

,

as

Giovanni
Bruna Cealti

as

refugee

Reviewed on:
February 15th, 2012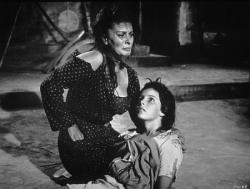 Sophia Loren and Eleonora Brown in Two Women.
Two Women (La ciociara) proved to worldwide audiences that Sophia Loren was much more than just a beautiful face and curvaceous figure. Her performance as the young mother in wartime Italy earned accolades around the globe and stands as an example of some of the most indelible and powerful screen-acting of the 20th Century. In addition to being the first person to win an Oscar (Best Actress of 1961) for a role in a foreign language film she received Italy's David for Best Actress, The BAFTA for Best Foreign Actress and the Best Actress Award at Cannes, among others.
This is a highly personal war story as seen through the experiences of mother and daughter. Sophia Loren was only 25 at the time but she convincingly plays Cesira, the mother of a 13 year old girl. A 12 year old Eleonora Brown made her movie debut as Rosetta, the daughter. Their relationship is at the heart of the story as they wander through the war-torn, and extremely perilous, Italian countryside together. Acclaimed director Vittorio De Sica (The Bicycle Thief) does a superb job at recreating and conveying the apocalyptic atmosphere of this landscape ravaged by war.
The story is quite simple but emotionally riveting. Its theme is loss of innocence. When the movie begins bombs are raining down on Rome near the grocery store Cesira inherited after her husband's death. We learn that she married a much older man to escape a life of poverty in the hills. In a scene that would never have made it past American censors at the time, she has a casual sexual encounter with a married friend before fleeing the city with her daughter. Cesira plans on returning to the village of her birth to wait out the war.
After arriving at their destination they encounter an idealistic young man named Michele, played by Jean-Paul Belmondo. Rosetta experiences her first crush on the noble and pure-hearted young intellectual. The war soon follows them to this remote village when German soldiers arrive and take Michele along as a guide at gunpoint. When news reaches them of Mussolini's arrest and the arrival of Allied soldiers, Cesira and Rosetta begin the journey back to Rome.
Along the way Cesira and Rosetta stop to rest in an abandoned, gutted church. They are set upon and brutally gang-raped by a group of Moroccan soldiers in a scene that will resonate long after the movie is over. The look of stupefied terror that comes over Rosetta is chilling. You know this child will never be the same. She has learned the facts of life – and witnessed man's cruelty - in the most horrifying way imaginable. The moment where Cesira (in her torn dress and disheveled hair) cradles her severely traumatized daughter is an iconic image in screen history (see photo).
Later when mother and daughter are back on the road they encounter several American officers in a jeep. Cesira blocks their path in the road and cries out, "Do you know what they have done those "heroes" that you command? Do you know what your great soldiers have done in a holy church under the eyes of the madonna? Do you know?" One of the officers says, "Peace, peace." In a voice dripping with venom, Cesira replies, "Yes, peace, beautiful peace! You ruined my little daughter forever! Now she's worse than dead. No, I'm not mad, I'm not mad! Look at her! And tell me if I am mad! Rotten crazy bastards!" She then falls to her knees in the dirt while shaking a clenched fist at the soldiers as they continue heedlessly on their way. It is another iconic screen moment.
The denouement is heartbreaking. Rosetta can never regain her lost innocence, which she blames her mother for. As the title suggests she has been forced into womanhood before her time. The final shot, as the camera slowly pulls back from mother and daughter, will linger in your consciousness long after the word Fine disappears from the screen.


Reviewed on:
February 16th, 2012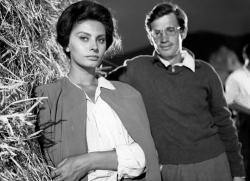 Sophia Loren and Jean Paul Belmondo in Two Women
Although throughout history women have been, at times, forced to be the family provider, it is traditionally a burden accepted by fathers and husbands. This was exemplified in The Bicycle Thief, where a married father goes to great lengths for a job whose income will help his family. Having a spouse and child makes a man vulnerable. A married woman is not so vulnerable, but a single mother is.
1940s Italy was a very sexist time and place. The Italian soldiers talk down to Cesira. A man on the train stares down her shirt. You may think this a bad thing, but the buxom Cesira makes it work in her favor when she wants it to. She married an older man because he had a business. She had a lover who gave her coal and a bottle of wine, as well as sexual comfort. Men on every side of the war take notice of her looks. Michele falls in love with her and helps her find food in a nearby German occupied village. She is vulnerable but she has what nature gave her to help her through it.
Her sexuality helped her at times, but it also proved to make her and her daughter extremely unprotected in a world at war. The rape scene, although not extremely graphic, is horrific. The look on the girl's face as well as the one on Cesira's are heart breaking. I am not sure who suffered more, the innocent daughter or the mother who has to carry the guilt to her grave. As the German film A Woman in Berlin (2008) showed, their fate was an unfortunate common one.
As Patrick wrote, this is an amazing performance by Sophia Loren. It is also a very personal one. She was a child in Italy, living in poverty during World War II. She did not know her father well, as her mother was his mistress as he was married to another woman. Like Cesira, Sophia married an older man, producer Carlo Ponti, who discovered her at 14 at a beauty contest. Just older than Rosetta.
Photos © Copyright Embassy Pictures Corporation (1961)