Movie Review
The Turning Point
The generations change. But the choices remain the same.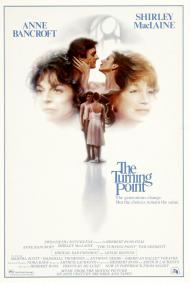 US Release Date: 11-14-1977
Directed by: Herbert Ross
Starring
▸
▾
Anne Bancroft

,

as

Emma
Shirley MacLaine

,

as

Deedee
Tom Skerritt

,

as

Wayne
Mikhail Baryshnikov

,

as

Yuri
Leslie Browne

,

as

Emilia
Martha Scott

,

as

Adelaide
Antoinette Sibley

,

as

Sevilla Haslam
Alexandra Danilova

,

as

Madame Dahkarova
Starr Danias

,

as

Carolyn
Marshall Thompson

,

as

Carter
James Mitchell

,

as

Michael
Anthony Zerbe

,

as

Rosie
Donald Petrie

as

Barney Joe

Reviewed on:
August 5th, 2014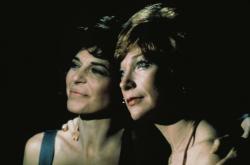 Anne Bancroft and Shirley MacLaine in The Turning Point.
Under Herbert Ross's direction, from a script by Arthur Laurents, comes this low key melodrama set in the highly strung world of professional ballet. The Turning Point features two strong female characters played by Anne Bancroft and Shirley MacLaine; once they were both aspiring dancers in ballet school together, one followed her dreams and became a celebrated prima ballerina while the other married and raised a family. Although MacLaine was the only one of the two with real world dance experience, Bancroft plays the dancer. At 45 she had retained her rail thin frame and possessed the well-defined musculature of an aging ballerina. She doesn't even attempt to dance however. She merely strikes diva-like poses while professionals dance around her. MacLaine, meanwhile, settles for a few juicy scenes in a part that calls for her to be, at various times, a mother, a wife, a friend, and a lover.
Deedee (MacLaine) and Emma (Bancroft) are reunited after many years when Emma's NYC ballet company comes to Oklahoma City. Seeing Emma reignites a feeling of regret in Deedee for having given up her career when she got knocked up by her then boyfriend (and fellow dance student) Wayne (Skerritt). They married and their children are now aspiring dancers, especially their very talented firstborn Emelia (Browne). Whereas Deedee regrets the past, Emma fears the future as she sees the inevitable end to her career as a dancer looming ever nearer. She finds solace in nurturing Emilia and taking her under her wing. This leads to resentment from Deedee who feels her motherly duties are being usurped.
The script is competent but not super compelling. There is a subplot involving the daughter Emilia's relationship with a fellow dancer played by Mikhail Baryshnikov. Leslie Browne was herself a professional ballet dancer and this marked both of their film debuts. Remarkably enough they were both nominated for supporting acting Oscars (neither won). They aren't bad in the straight acting scenes, Browne is quite good in fact, but it would be pretty hard to argue against the real reason they were nominated being the incredible display of dancing they exhibit, both separately and together. Of all the ballet themed movies I've seen this one contains the most thrilling dancing. Fans of Tchaikovsky will be particularly pleased.
Over the years my brothers and I have often commented in our reviews on the fact that we initially saw many movies on HBO as kids in the late 1970s and early 80s. Until VCR's became common this was the only way you could watch a movie multiple times on television, something we did often. I remember The Turning Point from those days. I'm pretty sure it's a movie I watched just once as a 12 year old, understandably. As an adult I enjoyed watching Anne and Shirley go toe-to-toe. They get in a full-fledged cat fight that's worth the price of admission. The ballet scenes are brilliantly performed, and shot in a simple manner. The director lets the dancers shine without resorting to any intrusive camera tricks.
The title has a double meaning. It refers to a major change in one's life as well as being a ballet term. Historically, The Turning Point ties for a rather dubious distinction. As of this writing it is, along with The Color Purple, the movie with the most Academy Award nominations (11) without a single win. Turning Point garnered four acting nominations. In addition to the two supporting nods both MacLaine and Bancroft were nominated for Best Actress. The talents of its two leading ladies plus the incredible dancing by Baryshnikov and Browne equals a much better movie than the script alone warrants.

Reviewed on:
August 7th, 2014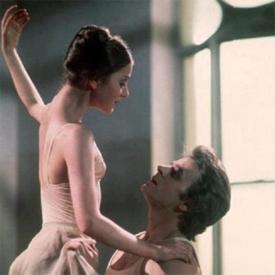 Leslie Browne and Mikhail Baryshnikov in The Turning Point
What exactly am I to get from a film where a couple of women spend the whole film bitching about what could have been. As Patrick wrote, Emma never had a family while Deedee gave up the stage to have one. Living a life of regret is like masturbating with sandpaper, pointless and painful. We have all played the "what if" game but if life has taught me anything, it is that happiness comes from enjoying the moment you are in and not stressing over the future or pining for the past.
Granted, had this movie been about middle aged men, I may have enjoyed it more or at least related to the characters better. These two women do become real and are heartfelt, although Emma is heading toward Norma Desmond land while Deedee is grounded by her family. Emma looks on the younger dancers with jealousy while Deedee enjoys the sexual attention of an old acquaintance. Both are in the throes of a middle age crisis.
I have always enjoyed Shirley MacLaine on screen. She was cute as a button when she was young playing in The Apartment and continued to play solid characters through middle age and continues to do so today. Anne Bancroft will, for me, forever be the original cougar in The Graduate and I was reminded of Mrs Robinson in scenes where Bancroft struts around in a sheer top.
The entire film is a slow burn to a confrontation between these two unhappy women. We know it is coming but have to wait over an hour and a half to get there. We even have to endure a scene where we hear voice overs repeating their personal issues that have already been firmly established. The only resolution in the story is that Deedee comes to terms with how her life turned out.
The movie is highlighted with plenty of ballet scenes that may be entertaining if you enjoy such things but they truly do nothing to advance the plot. Put this one down for those who are light in their ballet slippers. Ballet and middle aged bitches. Who thought this was a good idea?
Photos © Copyright Twentieth Century Fox Film Corporation (1977)