Movie Review
Trouble With the Curve
Whatever Life Throws at You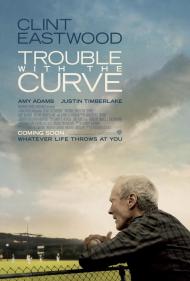 US Release Date: 09-21-2012
Directed by: Robert Lorenz
Starring
▸
▾
Clint Eastwood

,

as

Gus
Amy Adams

,

as

Mickey
Justin Timberlake

,

as

Johnny
John Goodman

,

as

Pete Klein
Matthew Lillard

,

as

Phillip Sanderson
Robert Patrick

,

as

Vince
Joe Massingill

,

as

Bo Gentry
Scott Eastwood

,

as

Billy Clark
Jay Galloway

as

Rigo Sanchez


Reviewed on:
October 11th, 2012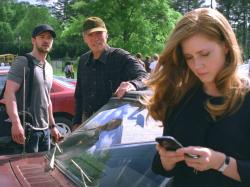 Justin Timberlake, Clint Eastwood and Amy Adams in Trouble with the Curve
Trouble With the Curve is in many ways Clint Eastwood's On Golden Pond. Like Henry Fonda, Eastwood plays a grumpy old man who reconnects with his daughter one fateful summer. Both discover that families need to be cherished as well as protected.
Gus is at least a decade past retirement age, but loves his work. With his eye sight fading and a boss that wants him replaced, Gus heads out on what may be his last scouting trip. His estranged daughter Mickey, grudgingly accompanies him and they re-connect. Along the way they meet a former pitcher that Gus scouted but is now a scout himself with dreams of being in an announcers booth. He has eyes for Mickey.
The entire film is dramatically lukewarm and often misplayed. One scene has Gus explain to Mickey why he sent her away to live with relatives when she was young. He kept this a secret for years. The scene should have been played up more as a reconciliatory moment. Earlier in the film Clint sits at his wife's grave and sings, "You are my sunshine, my only sunshine. You make me happy when skies are gray. You never know dear, how much I love you. Please don't take my sunshine away." He then breaks into tears like he is going for the Oscar. However, I found the moment more groan inducing than award worthy.
Timberlake is all right in a role that should have been trimmed. Early in the movie we see him driving down a country road, but then stops when he sees some boys playing baseball in a field. He gets out of his car and calls the game into his cell phone, before being embarrassed by the kids staring at him. We are later told he wants to be an announcer, so what was the point of that scene? His relationship with Mickey seems based more on a fondness for baseball history trivia than any real feelings.
My favorite moment in the entire film comes very early on when Gus visits a player he had previously scouted and brought to the Atlanta Braves franchise, but is now struggling in the minor leagues. Gus talks to him after a game and asks how long has it been since he has seen his parents. After responding that it has been a while, Gus suggests he ask them to come visit and then helps make the arrangements for him. Later in the movie Gus finds out that the player's batting average has improved since his parents came to watch him play.
The point of that scene is of course to demonstrate the value of having a family support system around you. What makes the scene all the more poignant is that just like Henry talking to Jane in On Golden Pond, Clint is talking to his real life son Scott, who is playing the role of the struggling ball player. Clint and Scott's mother never lived together. Scott and his sister grew up between their mother's home in Hawaii and their father's in Carmel, CA. Just as you can draw comparisons in real life to the scene of Henry and Jane, you could do the same with Scott and Clint, who refused to put his name on Scott's and his sister's birth certificate. Scott grew up using his mother's name, Reeves but later changed it to Eastwood.
Reviewed on:
December 30th, 2012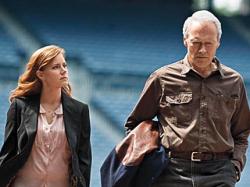 Amy Adams and Clint Eastwood in Trouble with the Curve.
The trouble with Trouble with the Curve is its by the numbers, movie of the week, script. This is screenwriter Randy Brown's one and only movie script and Robert Lorenz's first directing effort, although he's worked as an assistant director for 20 years. With a couple of rookies behind the camera, it's a good thing there are pros in front of it who can still deliver the high heat.
Despite being about 20 years too old for the part, Eastwood can still play a grumpy old man with the best of them. The fact that he's 82 wouldn't be quite so bad if they'd acknowledged it in the script. It's not that they don't mention he's old, because they do, numerous times, but it treats him as if he's around retirement age and not as if it's remarkable that he's still working. Yes, I agree with Eric that the scene at the grave where he sings, "You are my Sunshine", is over the top, but Eastwood does what he can with it.
The best scenes in the movie, and the only ones that make this worth watching at all, are those between Eastwood and Adams. They have a great chemistry together and it's easy to believe that they're related. Together they raise the material above the cliches. The big emotional reveal scene about why he left her as a child isn't as strong as it should have been, because while it explains why he put her with her uncle, it doesn't explain why he didn't stay in touch. However, because of Adams and Eastwood, it still manages to be effectively emotional.
Outside of the emotional stuff though, the movie is often just silly. No one else noticing that Bo can't hit a curve or the idea that they would let the star prospect they just signed hit against an unknown pitcher in front of the press, doesn't make much sense. And the fact that the pitcher who shows what a truly bad hitter Bo is, just happens to be the guy who Bo made fun of earlier, is just a little too neat and tidy.
Any emotion felt at the end of the movie is entirely down to Adams and Eastwood. Like a couple of good hitters, they manage to pickup a struggling rookie pitcher who's throwing too many outside the strike zone. They can't quite do enough to win the game, but they do manage to keep it competitive.
Reviewed on:
February 4th, 2013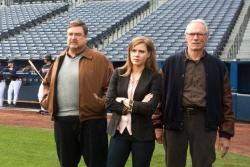 John Goodman, Amy Adams, and Clint Eastwood in Trouble with the Curve.
After Gran Torino in 2008 Clint Eastwood announced his retirement from acting. He planned on continuing to direct but his days as a leading man were over. This self imposed retirement lasted just 4 years before Clint was coaxed back in front of the cameras for Trouble with the Curve. This is his first acting gig in a movie he himself didn't helm since In the Line of Fire way back in 1993. The funny thing is he was playing a secret service agent way past the age of retirement then and 2 decades later he's still playing a character slowly fading into his twilight years.
I agree with my brothers that he elevates the material. I thought he was heartbreaking in the scene where he sings a few bars of "You Are My Sunshine" at the cemetery. Not many actors could pull it off without oozing sap all over the screen. But then let's be honest, is it really a stretch for him to play a crotchety old guy who's desperately clutching his career as he faces advanced old age? He could play this part in his sleep because he lives it everyday.
Eric mentioned the parallels between this movie and On Golden Pond. The aging, distant father reconnecting with his grown-up daughter is a theme both movies have in common but honestly, other than that the two pictures are very far apart. The script for On Golden Pond was incredibly moving and funny while this script is, as Scott said, strictly by the numbers. Scott, I agree with your entire fourth paragraph and if you hadn't beat me to it I would have brought up just how contrived the whole set-up with the unknown pitcher versus the first round draft pick hitter was.
Amy Adams is as good as she always is. Regardless of the material I have yet to see her give a sub-par performance in anything. The same cannot be said of Justin Timberlake. He is living proof that charm plus charisma does not equal acting ability. His performance varies between flat and awkward. He has zero chemistry with Adams.
The movie only comes to life in the scenes between Adams and Eastwood. It's just too bad that Gus is such a selfish bastard. His excuse for why he sent Mickey away, as Scott pointed out, doesn't explain why he failed to stay in touch with her as she was growing up. Perhaps it was too painful for him being around his daughter after his wife's death, but that's just too damn bad. As a father his first responsibility was to his daughter's welfare. Not just her physical safety but her emotional needs as well, which clearly he was unwilling to attempt to deal with. Their reconciliation, therefore, seems contrived and forced, despite the considerable talents of these two actors.
Clint Eastwood should be more choosy in his scripts. It will be a shame if this turns out to be his last starring role in a movie. Gran Torino was so much better.
Photos © Copyright Warner Bros. Pictures (2012)