Movie Review
Tristram Shandy: A Cock and Bull Story
Because everyone loves an accurate period piece.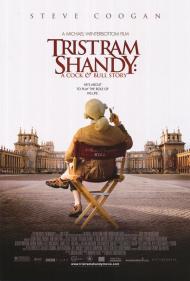 US Release Date: 01-27-2006
Directed by: Michael Winterbottom
Starring
▸
▾
Steve Coogan

,

as

Tristram Shandy/Walter Shandy/ Steve Coogan
Rob Brydon

,

as

Capt. Toby Shandy/Rob Brydon
Jeremy Northam

,

as

Mark
Kelly Macdonald

,

as

Jenny
Shirley Henderson

,

as

Susannah
Keeley Hawes

,

as

Elizabeth
Dylan Moran

,

as

Dr. Slop
David Walliams

,

as

Parson
Naomie Harris

,

as

Jennie
Kieran O'Brien

,

as

Gary
Ian Hart

,

as

Joe
Ronni Ancona

,

as

Anita
Stephen Fry

,

as

Patrick Curator/Parson Yorick
Gillian Anderson

as

Widow Wadman/Gillian Anderson

Reviewed on:
October 6th, 2010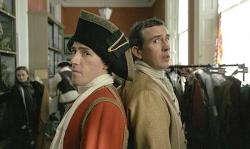 Rob Brydon and Steve Coogan play Rob Brydon and Steve Coogan in Tristram Shandy: A Cock and Bull Story.
"The Life and Opinions of Tristram Shandy, Gentleman" is a 9 volume, humorous, fictional, 18th century biography that was long considered unfilmable because of the meandering storytelling involved. The narrator is so sidetracked by various events that the character of Tristram isn't even born until volume 3. This movie version isn't a direct translation. Instead it uses a film within a film technique to tell the story of an attempt to film this unfilmable story, with portions of the books included as scenes from the movie within the movie. It features an embarrassingly high number of famous British comedians led by Steve Coogan and Rob Brydon and it manages to be both clever and funny at the same time.
Coogan plays Steve Coogan, a fictionalized version of himself, as well as Tristram and Walter Shandy in the scenes from the movie they're filming. Brydon is likewise playing an exaggerated version of himself as well as Tristram's uncle in the movie. Coogan is the insecure star. He worries about appearing shorter than Brydon and is concerned about his amount of screen time. Brydon is more relaxed, just going with the flow, often seeming to be obsessed with his appearance; his hair and teeth. Their scenes together are some of the funniest in the movie. They share a comic chemistry that makes them a great comedy duo.
The movie jumps around a bit, in a sort of stream of consciousness manner. One scene is within the movie being filmed, the next is behind the scenes and often they are shown out of chronological order, much in the same way a movie is not shot in running order. It takes a bit of getting used to, but not much. It's done in such a light hearted way that you soon get the hang of it.
Although the filming and storytelling is a bit more complicated than your average movie, it's all very accessible and funny. You can read meaning into the story, but you can also just sit back and laugh at the madness of it all. Coogan being fitted into a glass-fronted womb and Brydon and Coogan arguing over who does the better Al Pacino impersonation are silly and funny. Pretentious film students are poked fun of in the form of the production runner who prefers German cinema and doesn't like action scenes or romance in movies (she's also the only one on set who seems to have actually read the book they're shooting).
Brydon and Coogan are the leads, but the supporting cast are also well done and are filled with recognizable faces from British television and cinema. Stephen Fry, Dylan Moran, David Walliams, Ronni Ancona, Kelly McDonald and Shirley Henderson all make an appearance amongst others. Trust me, even if you don't know the names, you're bound to recognize the faces.
Director Michael Winterbottom may not have proved that you can film this unfilmable book, but he definitely proved he can film a funny movie about trying to film it.

Reviewed on:
July 11th, 2011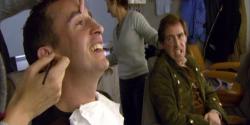 What do you think? Have a look at the color.
Rob and Steve play off each other like the old friends they are. Whether being themselves, or their movie selves, or their characters within the movie, they are a treat to listen to. They act serious, yet the jokes come pouring out. The teeth color conversation is hilarious. When Rob tries to explain his issues about working with Gillian Anderson, he says to Steve, "The thing is, I can't act..." Steve interjects, "I know that." Rob continues, "...with Gillian Anderson. I have a sexual thing for Gillian Anderson."
The supporting roles are likewise good. Jennie the pretentious films students tells Steve, "'Fear Eats The Soul,' there's more truth in that title than most whole films." Later when he rebuffs her sexual advances, he tries to let her off easy by complimenting her, "You're fantastically attractive and your knowledge of German cinema is second to none." No doubt she appreciated the latter compliment more than the former.
Shirley Henderson is great as the one step behind everyone else actress. In one scene she sings a song that everyone else stop singing a couple of scenes earlier. When they go to finish the birthing scene, the director says they are going to film the ending of it. She needs clarifying, by asking if that meant the baby being born.
This movie enjoys poking fun of Hollywood. Responding to Coogan's suggestion on how to film a particular scene, someone says, "Yeah, but it would look terrible. It'd be like the scene in Robin Hood where Kevin Costner delivers a baby." The best inside joke is when they call Gillian Anderson to appear in their film. It goes so smoothly and quickly that we must assume that reality is far different.
As Scott mentioned, it is filmed out of order in a rambling way, perhaps mimicking the novel. Too often it seems to be trying too hard to be clever. "Tristram Shandy" was a post-modern classic written before there was any modernism to be post about." Although the plot is more like a series of sketches than story arc, the film will make you laugh, especially if you like the British sense of humor.
Reviewed on:
June 26th, 2012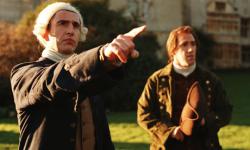 Steve Coogan and Rob Brydon in the movie within a movie in Tristram Shandy: A Cock and Bull Story.
Tristram Shandy: A Cock and Bull Story is clever and funny. It's a bit like a cross between the 1963 movie adaptation of Tom Jones and a Christopher Guest mockumentary. As my brothers said, and as they so wonderfully demonstrated in the 2011 film The Trip, Steve Coogan and Rob Brydon have great comic chemistry together. Coogan's the narcissistic movie star with a dash of charming charisma, while Brydon is the nerdy best friend with whom he keeps up a constant stream of bickering banter.
The supporting cast of familiar faces adds to the fun. Gillian Anderson plays against type as herself by being serenely soft spoken and lacking any movie star ego trips. The humor ranges from one-liners to surreal sight gags. The sight of a naked Coogan upside down inside a giant, partially transparent womb in the middle of a garden, is surely one of the oddest visual images you are ever likely to see on the screen; about which Coogan quips, "Womb with a view."
This filmed adaptation of the supposedly unfilmable 18th Century novel, which includes the making of the movie within the movie, is often quite brilliant. The editing and pacing are inspired if slightly confusing for those viewers unaware of just what type of movie they are watching.
My favorite part comes at the very end during the credits. My brothers often tease me about how I can work my favorite star's name (Barbra Streisand) into nearly any movie review. With this one it's easy since Rob Brydon mentions her. He says he pulls a Streisand by incorporating elements from Hello Dolly and Yentl into his acting style. He's famous for his impressions of iconic male actors. It's too bad he didn't try to imitate Barbra's speaking voice.
Photos © Copyright Newmarket Films (2006)
Related Review