Movie Review
The Trespasser
Her first ALL TALKING picture.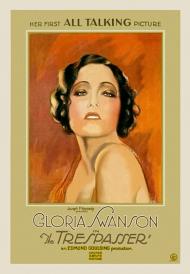 US Release Date: 11-11-1929
Directed by: Edmund Goulding
Starring
▸
▾
Gloria Swanson

,

as

Marion Donnell
Robert Ames

,

as

Jack Merrick
Purnell Pratt

,

as

Hector Ferguson
Henry B. Walthall

,

as

Fuller
Wally Albright

,

as

Jack Merrick
William Holden

,

as

John Merrick, Sr.
Blanche Friderici

,

as

Miss Potter - Nurse
Kay Hammond

,

as

Catherine 'Flip' Merrick
Mary Forbes

,

as

Mrs. Ferguson
Marcelle Corday

as

Blanche - the Maid

Reviewed on:
December 16th, 2011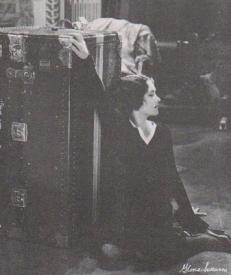 Gloria Swanson in The Trespasser.
The Trespasser is pure soap opera from start to finish. Written and directed by Edmund Goulding as a starring vehicle for Gloria Swanson (her first talking movie), it proved her talent wasn't limited to silent movies as she was Oscar Nominated for Best Actress at the third annual Academy Awards in 1930. She lost out to Norma Shearer for The Divorcee. Goulding would remake the movie using the title That Certain Woman in 1937 with Bette Davis in the Swanson role.
The plot mirrors real life to some extent. Swanson was having an affair with Joseph Kennedy, father of the future President of the United States, at the time. He, in fact, co-produced the movie with Swanson. In the movie, Gloria's character has an affair with an older, wealthy, married man.
This early talking picture packs in plenty of plot in 90 minutes and Swanson appears in virtually every scene. When the story begins she is a stenographer about to elope with the son of the wealthiest man in Chicago. The father objects to the marriage and insists on an annulment even though the newlyweds have been living as man and wife for several days. In a highly dramatic confrontation Swanson storms out and leaves her husband.
The hokey melodrama just keeps coming as Swanson bears a child from her brief marriage. Her pride won't let her tell the boy's father about him and she nearly has a nervous breakdown. She recovers in the arms of her wealthy but married boss. I won't give away the rest of the story but believe me there is plenty of overwrought hysterics yet to come. The ending borders on maudlin but Swanson's acting nearly pulls it off.
Swanson gives a powerhouse performance that definitely deserved recognition by the Academy. She was a bit on the hammy side dramatically speaking but she is quite affecting. She transitioned seamlessly from silent film to sound. A remarkable feat when you consider she had no theatrical training at all. There is one scene early in the movie that includes some silent acting technique. She pantomimes some actions to her fiancé across the room while standing next to her boss who is on the telephone. She also reveals the ace up her sleeve, her remarkably strong singing voice.
The Trespasser is over-the-top melodrama that showcases the great Gloria Swanson's dramatic chops. It's too bad she is remembered today only for playing Norma Desmond because she actually left quite a decent body of work. The Trespasser gave her one of her juiciest roles, even if the script is pure hokum.


Reviewed on:
November 14th, 2013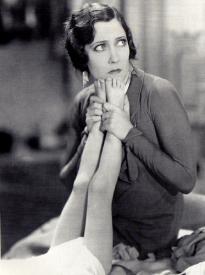 Gloria Swanson in The Trespasser
As Patrick wrote, this film is melodramatic. It works like a soap opera with Swanson playing an innocent victim to some cruel and weak men. She runs the gamut of emotions and is mostly successful in her performance. Occasionally we see some silent film over acting slip in but she is more often than not spot on. The plot keeps moving along right up to the over the top ending. This is an alright film entertainment wise but I found something else about it to be more enjoyable.
As Patrick mentioned, the plot has some similarities to what was going on in real life between Gloria Swanson and Joseph Patrick Kennedy. In the film we are told and shown over and over just how the media can make or break a situation involving a wealthy man's affairs. At the time, the Kennedy/Swanson affair was not exactly common knowledge but was certainly gossiped about. It isalmost impossible to find a photo of them together but there is a film clip of them together at a premiere. Since they also worked together, those moments could be dismissed by those who did not want to see the obvious.
This film almost comes across as an alibi for the Swanson/Kennedy affair. As Patrick wrote, Swanson becomes a kept woman by her wealthy married boss. He gives her a fine place to live and, judging by her wardrobe, some spending money. In real life, Kennedy did the same for Swanson. That is until they broke up and she found out the home he bought her was actually purchased through their production company and he left her broke.
The film makes a point to show that Swanson and her boss never have sex. They date and spend time together, but there is no hanky-panky. It is a weak aspect to the plot but is it there because Swanson is supposedly playing a noble character or was Kennedy trying to make a point to enquiring minds. Look at the scene where Swanson meets her boss's wife and then look up a picture of a younger Rose Kennedy, Joseph's wife, and like me, you may find some striking similarities.
I think my brothers sometimes think of me as a conspiracy nut, but I think of myself more as a cynic. I do not believe in too many coincidences. As Swanson and Kennedy both worked on this film while having an affair, I believe they both knew damn well what this film would say to viewers. Let us not forget that this film involves the identity and custody of a child, while in real life Swanson adopted a son and changed his name to Joseph Patrick.
The Kennedy name has long been associated with immoral and illegal actions, starting with Joseph, who made his initial fortune as a bootlegger. Since then, his offspring have racked up such scandals as leaving the scene of a deadly accident, rape, drunk and disorderly and more affairs than anyone can possibly keep track of, and I am not even mentioning all of the back door political shenanigans. As the Kennedy's as well as all politicians know, the press can either be your ally or your enemy. This film's plot shows that if you are rich enough, you can have whatever story written that you want, while this movie shows that if you are rich enough you can have whatever movie made that you want.
Reviewed on:
November 3rd, 2015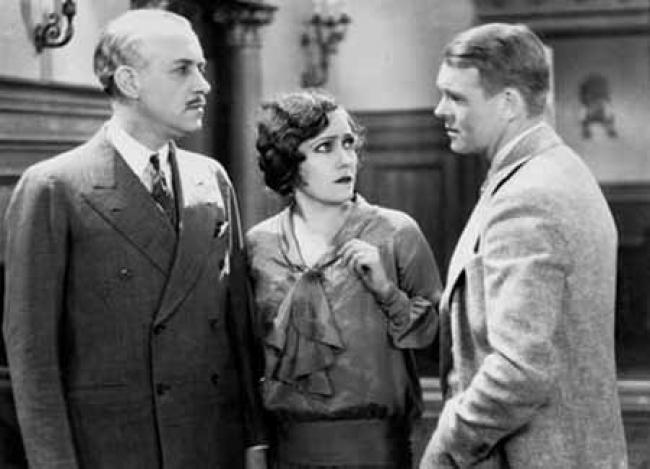 William Holden (not that William Holden), Gloria Swanson, and Robert Ames in The Trespasser.
Both of my brothers seem somewhat distracted by Swanson's relationship with Joseph Kennedy. And while, yes it's easy to read parallels between the relationship in this movie with the relationship Swanson and Kennedy had, it's really only possible via the gift of hindsight. Swanson and Kennedy were quite successful at keeping their affair out of the public eye and the fan magazines of the period. The idea that they would then make a movie about it to help people guess at the nature of their real relationship does indeed sound like a conspiracy theory, and a nutty one at that. And in reality, the relationship in this movie wasn't that much like their real relationship anyway. Swanson, although in financial troubles because of Queen Kelly, was hardly the struggling lower class stenographer. We're talking about a woman who was spending $10,000 a year on lingerie alone! That's the equivalent of over $125,000 in today's money. In real life, she wasn't a pawn in anybody's game except her own. The Marion Donnell in this film is a milquetoast by comparison to the real Swanson.
I can though, understand why my brothers would write about Swanson's real life and that's simply because her real life was much more interesting than this movie, which is really pretty awful. If some lesser known actress had played the lead in it, it would have long since been forgotten. It's only the fact that this was Swanson's first talking-picture that any of us are writing about it all.
The plot is pure soap opera. It's cheap melodrama of the very worst kind. It's all just pure fantasy stuff that might have appealed to the real life stenographers of the day, who could imagine themselves having rich men falling in love with them. Swanson suffers, but always in luxury. She does the noble thing near the film's climax, but her tragedy is short lived. And through all her low points, she remains fashionably dressed and impeccably turned out.
There are more than a few moments of silent film acting amongst the melodrama. Some of the cinematic language of the film is straight out of the silents as well. Several plot points are revealed in zoomed in closeups of newspaper stories and the occasional subtitle superimposed on the screen. And actually, as wasn't uncommon at the time, two versions of this movie were filmed and cut together. One of them was the all talking version and another was a silent version that was shown in theaters that hadn't yet made the transition to sound. The fact that this hammy melodrama could so easily be shown in both types of theater doesn't speak well in its favor.
Swanson is the one and only good thing about this movie. It was the big hit she desperately needed to pay off her financiers for the flop that was Queen Kelly. It also launched her into the talkie era and would allow her to make several more films. Sadly, none of them would be hits. It wouldn't be until 1950's Sunset Boulevard that another film of hers would earn a substantial profit. Coincidentally, both of her biggest talking movie hits would feature an actor named William Holden.
There's no doubt that Swanson was a true star, but even her talents and wattage can only do so much with this trivial, melodramatic mush. Her presence is the only reason to watch, but even so I wouldn't inflict this yawnfest on her most ardent admirer.
Photos © Copyright United Artists (1929)
Related Review