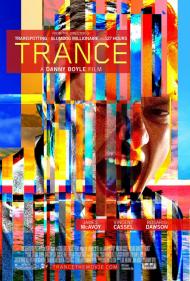 US Release Date: 04-05-2013
Directed by: Danny Boyle
Starring
▸
▾
James McAvoy

,

as

Simon
Vincent Cassel

,

as

Franck
Rosario Dawson

,

as

Elizabeth
Danny Sapani

,

as

Nate
Matt Cross

,

as

Dominic
Wahab Sheikh

,

as

Riz
Mark Poltimore

,

as

Francis Lemaitre
Tuppence Middleton

as

Young Woman in Red Car

Reviewed on:
April 7th, 2013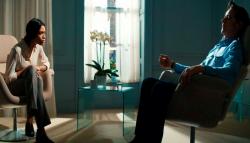 Rosario Dawson and James McAvoy in Trance.
Trance is director Danny Boyle's first movie since 2010's 127 Hours. He was kept busy planning and directing the opening and closing ceremonies at the 2012 Olympics in London but he returns to the big screen with this psychological thriller. With a script co-written by John Hodge and music by Rick Smith of the band Underworld the only major player from Boyle's early days who's missing from this production is Ewan McGregor.
In his place is James McAvoy as Simon. A man who works security for an auction house in London. After he suffers a head injury during an attempted theft of a Goya masterpiece, he develops a mild form of amnesia. Without giving too much of the plot away it soon becomes evident that Simon is the only person that knows where the painting ended up and he begins seeing a hypnotherapist in an attempt to remember its current location.
The therapist, a woman named Elizabeth, is played by Rosario Dawson, who once again proves she's ready, willing and able to show off what Mother Nature gave her. She does several full frontal nude scenes. I've never been overly impressed with her as an actress but I enjoyed her in this movie. She brings the right amount of edginess mixed with vulnerability to what is a complex and sexually charged character.
Vincent Cassel completes the trio of lead characters as Franck. He's the leader of the gang of criminals that planned and executed the attempted heist. The lives of Simon, Elizabeth and Franck become more and more entwined as the story heads towards its climax which, not surprisingly, gets fairly bloody. One scene in particular is intended to make the male audience members squirm. One of the gang members takes a bullet directly to his genitals and it's shown quite graphically.
This is one of those movies where things and people aren't what or who they seem to be. The plot twists aren't all that original or unexpected. If you've seen many movies you will probably guess where things are headed before Simon figures it all out. The ending isn't completely satisfying but it isn't horrible either by any means. The cast is good, Boyle keeps the story moving along and the camera work is quite nice.
I was never bored by Trance but it lacks that dramatic payoff where the audience collectively thinks AHA and suddenly realizes where all the puzzle pieces go. With this movie it was more like I thought, "Oh yeah, that makes sense." But it didn't really engage me emotionally.
Reviewed on:
April 8th, 2013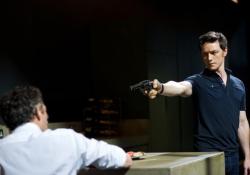 Vincent Cassel and James McAvoy in Trance.
Trance is a slickly packaged slice of psychological neo-noir from the mind of Danny Boyle. It's filmed very stylishly, with an electronic soundtrack to match. It throws plenty of visual imagery onto the screen and several plot twists into the story. The sound and fury are enough to keep you from getting bored, but underneath its snazzy veneer, there's not much depth to this story. Like the sight of a fully naked and shorn Rosario Dawson, it's pleasant to look at, but without much meaning.
The story starts intriguingly enough. The art heist is handled well and the amnesia, while overdone in films, feels fresh here. Once truths start to be revealed however, the answers never seem as interesting as the questions were. Movies with twist endings need to reward the viewer and make them want to watch the film again to see how all the pieces fall into place with the benefit of hindsight. Trance never has that satisfying moment when the man behind the curtain is revealed and everything clicks together neatly to form a full picture. Instead, it comes out in dribs and drabs with the resulting painting being rather a dull one.
A few years ago, it would almost certainly have been Ewan McGregor in the lead, but James McAvoy does sterling work in his place. His character changes the most, beginning as sympathetic and seemingly a victim of events, to something quite different by the final denouement. Likewise, Cassel's character goes from the unquestionable villain to an almost sympathetic pawn by the film's climax.
I agree with Patrick. This is a stylish, fast paced, and blessedly well under 2 hours, thriller that manages to hold your attention, without ever really putting you under its thrall. It's worth a watch if you're a fan of Boyle's, but isn't one of his best films.
Photos © Copyright Fox Searchlight Pictures (2013)