Movie Review
Trainwreck
We all know one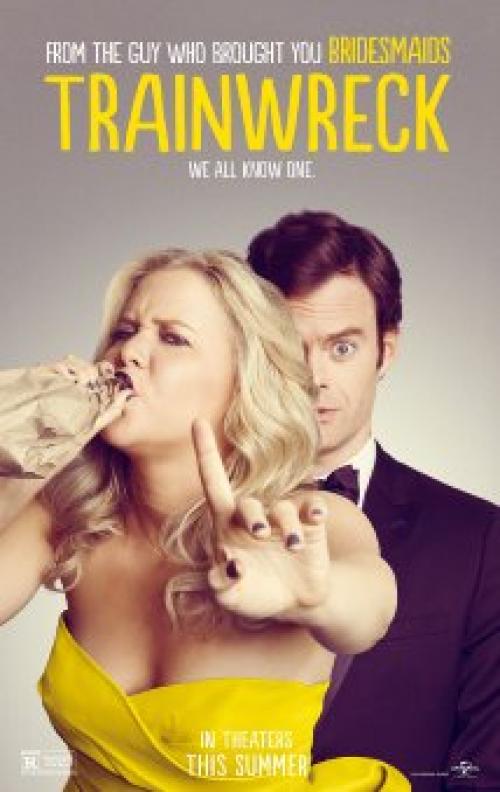 US Release Date: 07-17-2015
Directed by: Judd Apatow
Starring
▸
▾
Amy Schumer

,

as

Amy
Bill Hader

,

as

Aaron
Brie Larson

,

as

Kim
Vanessa Bayer

,

as

Nikki
Tilda Swinton

,

as

Dianna
Colin Quinn

,

as

Gordon
LeBron James

,

as

Himself
John Cena

,

as

Steven
Dave Attell

,

as

Noam
Randall Park

,

as

Bryson
Jon Glaser

,

as

Schultz
Ezra Miller

,

as

Donald
Evan Brinkman

,

as

Allister
Mike Birbiglia

,

as

Tom
Norman Lloyd

,

as

Norman
Method Man

,

as

Temembe
Daniel Radcliffe

,

as

The Dogwalker
Marisa Tomei

,

as

The Dog Owner
Pete Davidson

,

as

Dr. Conner's Patient
Tim Meadows

,

as

Tim
Amar'e Stoudemire

,

as

Himself
Matthew Broderick

,

as

Himself
Marv Albert

,

as

Himself
Chris Evert

as

Herself

Reviewed on:
July 18th, 2015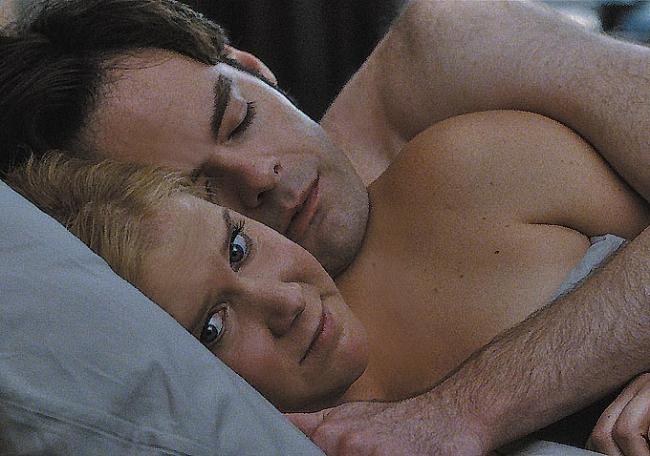 Amy Schumer and Bill Hader in Trainwreck.
Trainwreck is a romantic comedy from the mind of "it" comedy girl of the moment, Amy Schumer, and prolific comedy director/producer, Judd Apatow. Schumer brings her particular brand of vulgar comedy and sharp wit to the production, but the result never strays too far from the standard romcom formula. Its biggest departure is flipping the gender roles. Instead of an emotionally broken, womanizer finding love with a good woman, it's the female half of the couple who needs to be convinced that all you need is love.
Schumer wrote the script and while obviously exaggerated, based much of it on her real life. She really has a sister named Kim and her father really does have multiple sclerosis. When the story begins, she's sort of in a relationship with a boyfriend played by John Cena, who isn't afraid to poke fun at himself in several funny scenes, but doesn't let that stop her from having random one night stands. Her attitude towards love is setup in the film's very first scene, when in a flashback she learns that her parents are getting divorced and her father teaches her that monogamy doesn't work. Ever since then, she seems to have lived by that mantra. However, when she meets Aaron, a sports doctor played by Bill Hader, on an assignment for the fratboy magazine she writes for, her life choices are put to the test.
Like all romantic comedies, this one lives or dies based on the chemistry of its two leads. While neither Schumer nor Hader are traditional looking sex symbols, there's no denying they work well together. With all of her negative habits, in the hands of a less likable actress, Amy would be difficult to sympathize with. Schumer somehow makes it work even when behaving despicably. She also shows a surprising range, generating real emotion in the film's more dramatic scenes. She's not likely to win an Oscar any time soon, but she's much more than a one note comedian. Hader makes the most of his part, but he's definitely in the supporting role and never gets to be quite as three-dimensional as Schumer.
The script has deliberately turned the tables on the sexes. Schumer sleeps casually around and finds emotional discussions uncomfortable. Hader, on the other hand, has long sensitive talks with a fictionalized version of LeBron James (played surprisingly well by the real LeBron James) about romance and relationships.
As with many of Apatow's films, the film does run long at a full two hours. There are several funny supporting parts, including Cena and a scene stealing Tilda Swinton, but they provide amusing moments that aren't integral to the plot and a celebrity cameo filled intervention in the film's third act just feels out of place. There's definitely room for tightening in the film's second hour. The heart of the film is the relationship between Amy and Aaron and Amy and her sister Kim. Too many scenes move the focus away from those relationships.
Perhaps the biggest surprise, despite the R-rated nature of the comedy, is just how traditional it all is. At its heart, underneath all the oral sex jokes, this is a girl meets boy story in the best Hollywood tradition.

Reviewed on:
July 24th, 2015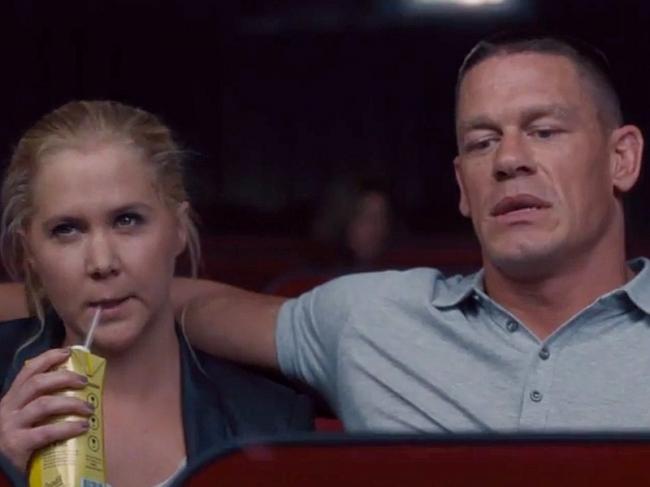 Amy Schumer and John Cena in Trainwreck
In agreement with Scott, Trainwreck is merely a romantic comedy with the most unique aspect being the switching up of traditional gender roles. Instead of the man being the horny stray dog, like Harry before being collared by Sally, we have Amy who sleeps around and manipulates men for her satisfaction. The film begins with her building up a man's ego by telling him, in hilarious exaggerated terms, how big his dick is. "Have you fucked before? Where is she buried?" She then easily talks him into giving her cunnilingus but then feigns sleep so she does not have to have intercourse or return the oral sex. Also mentionable about this scene is that the guy in question bares his ass while Amy remains clothed and discreetly under a blanket.
Later she has a sex scene with John Cena where he is in the buff, revealing that he, for some reason, has an entire body tan. Who does that in real life? Amy is once again fully dressed while a butt naked Cena is humping her missionary. Amy tries to get Cena to talk dirty to her but he fails miserably and even ends up sounding gay. It is one of the film's funniest moments.
Seconds later Cena does a near full frontal nude scene that is both awkward and a statement about romantic comedies. There is no way in hell someone who looks like Schumer would be attractive to someone who looks like Cena. She is bland and a bit over weight while his nude scene reveals a body that Greek Gods would envy. In real life Cena dates WWE diva Nikki Bella. Google image her and you will know what I mean. However, it does point out a fantasy element in romantic comedies. If Billy Crystal can get Meg Ryan, Tom Hanks can win the heart of Darryl Hanna and Dudley Moore can easily talk Bo Derek into sex, Amy Schumer can have John Cena beg her to marry him.
I also agree with Scott about the length. For some reason, Schumer and Apatow included too many characters and sub plots. This is essentially a love story between Amy and Aaron but before we get to their happy ending, and you just know there is going to be one, Amy has to resolve her issues with her boyfriend, father, sister, employer, her many bad habits and even her sister's stepson. Sure Amy needs to make changes for the story to have an arc but the film strays too far and wide too often. I looked at my watch several times.
There are many funny moments here but the trailer gave away some of the best. When her boss, Dianna, talks down to her, "I like you, Amy. You're clever but you're not too brainy. You're pretty-ish but you're not too gorgeous. You're approachable." Amy responds unsure how to take that with, "Thank you?" The scene where Aaron calls Amy, which freaks her and her friend out could become a classic. "He called me on purpose." Amy tells a confused Nikki, who advices her to, "Hang up! He's obviously like sick or something." LeBron James also has his moments, such as when he asks Amy what her intentions are with Aaron. She looks lost for an answer while he stares at her with an intense glare (see photo in Patrick's review).
There are plenty of jokes delivered to help you get through most of the filler, but not all. A tighter editing job could have definitely helped.
Reviewed on:
February 13th, 2016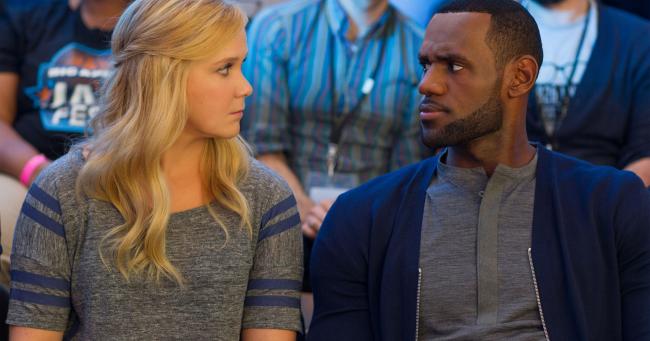 Amy Schumer and LeBron James in Trainwreck.
I too agree with Scott. Trainwreck is definitely Amy Schumer's cinematic moment. She's the latest in a long line of stand-up comics to attempt the transition to the big screen. Some have obviously been more successful than others. Although flawed, Trainwreck is definitely a success. I somehow doubt, however, that Schumer will ever again capture the current zeitgeist as well as she has here. Style wise Judd Apatow is a good match for her raunchy comedy but I do concur with my brothers that the movie runs long and is in need of not only a tighter edit but also a slightly quicker tempo.
Schumer has created an original female archetype in the romantic comedy genre. There have been other sexually aggressive women in comedies -Barbra Streisand in The Owl and the Pussycat (1970) comes to mind- but whereas Doris Wilgus was a hooker in love with a writer, Amy Townsend is the writer. The scene where she coldly dismisses her boyfriend (John Cena – who's hilarious) on the front stoop of her building after he proposes marriage to her is new territory for female characters. He's the emotionally needy sex object while she's distant and uncaring. Actually, now that I think about it, Barbra Streisand did that first too – check out the morning-after scene between her and Ryan O'Neal in The Main Event (1979)). Amy is also in the normal male role of the hedonistic self-destructive person in all of her relationships.

The many supporting players do add to the run time even though most of them are quite funny. I already mentioned John Cena, but I likewise agree about LeBron James being very amusing; also playing against type "Are we watching Downton Abbey later?". The movie within the movie starring Daniel Radcliffe as a dogwalker in love with Marisa Tomei is hilarious too.
My favorite supporting character was the old guy at the nursing home played by then 99-year-old Norman Lloyd. As of February 2016, now 101, he's the oldest working actor in Hollywood. His stage career dates back to the early 1930s and he's probably the only living person to have worked with Orson Welles, Alfred Hitchcock and Charlie Chaplin. His completely random line, "I was the first person on my block to own a television." cracked me up.
Trainwreck just narrowly misses greatness.
Photos © Copyright Universal Pictures (2015)