Movie Review
Toy Story 3
No toy gets left behind.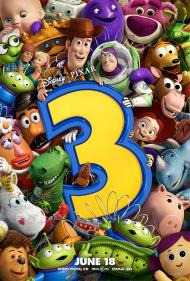 US Release Date: 06-18-2010
Directed by: Lee Unkrich
Starring
▸
▾
Tom Hanks

,

as

Woody (voice)
Tim Allen

,

as

Buzz Lightyear (voice)
Joan Cusack

,

as

Jessie (voice)
Ned Beatty

,

as

Lotso (voice)
Don Rickles

,

as

Mr. Potato Head (voice)
Michael Keaton

,

as

Ken (voice)
Wallace Shawn

,

as

Rex (voice)
John Ratzenberger

,

as

Hamm (voice)
Estelle Harris

,

as

Mrs. Potato Head (voice)
John Morris

,

as

Andy (voice)
Jodi Benson

,

as

Barbie (voice)
Emily Hahn

,

as

Bonnie (voice)
Beatrice Miller

,

as

Molly (voice)
Timothy Dalton

,

as

Mr. Pricklepants (voice)
Bonnie Hunt

,

as

Dolly (voice)
Whoopi Goldberg

,

as

Stretch (voice)
Richard Kind

as

Bookworm (voice)

Reviewed on:
June 21st, 2010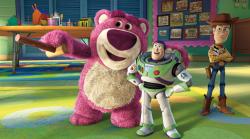 Ned Beatty, Tim Allen and Tom Hanks voice Lotso, Buzz and Woody in Toy Story 3.
The Toy Story movies always make me feel guilty for blowing up some of my Star Wars action figures with firecrackers as a kid. Although to be fair to me, I only blew up stormtroopers and Lando and he betrayed Han and Leia. In any case these movies will most definitely remind you of either when you were a kid or when your kids were kids because that's really what they're all about; valuing the childhood years because they pass so quickly and we all must say goodbye to our toys at some point. It's a theme that was explored in Toy Story 2 and is continued here.
Fifteen years have passed since the first Toy Story was released and nearly as many years in the movie, as young Andy is now getting ready to leave for college. Almost all of his toys are gone, with just the core group of Woody, Buzz, Mr. and Mrs. Potato Head, Hamm, Slinky Dog, Rex the dinosaur, Jessie, Bullseye the horse and three Little Green Men remaining, unplayed with for years, in Andy's old toy chest.
Following a mix-up where Andy wants his old toys put in the attic, but his mom throws them out, the toys end up being donated to a Daycare Center. Woody, who was the only toy Andy wanted to take with him to college, escapes from the Center, but the others remain because it seems like the perfect setup; an endless supply of children to play with them forever. However, like they say, when something is too good to be true...
Like the first two films, the story blends humor, pathos and nostalgia in equal amounts. It makes you laugh and may bring a tear to your eye. Part of what makes Pixar such a great studio is that they bring genuine depth to their animated characters. Woody, Buzz and the rest seem like real people in a way that most cartoon characters never manage to be.
Along with the slightly serious theme, there is plenty to laugh at as always. Some of my favorite gags include Barbie meeting Ken and getting a tour of his dream house, "And this... well, this is where I live. Its got a disco, its got a dune buggy, and a whole room just for trying on clothes.", Buzz being switched to passionate Latin lover mode, and in the best sight joke of the movie; Mr. Potato Head's features being transplanted onto a floppy tortilla shell. New girl Bonnie's toys also provide some laughs as they treat playtime as a chance to practice their improv skills. "We're either in a cafe in Paris or a coffee shop in New Jersey. I'm pretty sure I just came back from the doctor with life-changing news."
Pixar has set such high standards of animation for themselves that it's easy to just take it for granted and they do another excellent job here. It's presented in 3-D, but it's done so subtly that you might just want to save yourself the money and see it in plain 2-D. The message and the comedy will still be there and you won't have to wear the glasses.
Toy Story 3 is full of laughs, adventure, great characters and a dose of nostalgia. It's a fitting ending to a great trilogy. It's possible that this movie will do so well that Disney/Pixar will be tempted to bring the toys back out one more time. As much as I enjoyed them all, I hope they don't. This is the perfect ending to a near perfect series of films.

Reviewed on:
June 22nd, 2010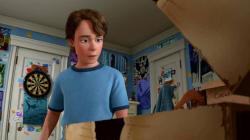 Andy, looking into his past.
Toy Story 3 is all about saying goodbye on so many levels. Andy is featured here more than he ever was in the first two, although it is still clearly the toy's story. Andy is off to college and is faced with deciding what to do with his cherished toys. He makes it clear that Woody is his most beloved. It reminded me of Patrick, who I believe still has a teddy bear from when he was a child.
In that is the secret to the Toy Story movies success. We all see ourselves in some way, in Andy. He had those carefree days as a child, as we all did, and now he is off to face responsibilities. He fondly looks at his toys and we know how he feels. Sure, he is excited for the future but the nostalgia of his past is obvious.
The toys have an adventure that is both exciting and funny. Ken and Barbie nearly steal the movie. Ken is from the seventies, as represented by his clothes, and dialogue. The gang deals with an evil toy who felt abandoned. It is kind of a rehash of Jesse's story from Toy Story 2, only he takes his bitter feelings to a whole new level.
The journey through the movie is fun, but we all know where it is headed, and sometimes the adventure just seemed liked filler. Do not get me wrong, I really liked this movie, but the ending is where the emotional pay off comes. That pay off would have come with or without this last adventure. We know what Andy feels for these toys and we know how Woody feels about Andy.
Although the other two films were about Woody and Buzz, the final scene shows that it is really about Woody and Andy. Andy must grow up and give up his childhood toys. Woody, who spent the other two films and most of this one, trying to stay close to Andy, finally decides that it is time for him to grow up as well. His final act is the saddest goodbye in the movie as he once and for all communicates to Andy.
I watched this movie with my sons, who have seen the first two films several times. My oldest is nearly Andy's age, and he loves this film. He told me he related to Andy very well. I am not anywhere near Andy's age, but I too felt a connection when he last looked at his toys and bid them farewell.
Reviewed on:
February 3rd, 2011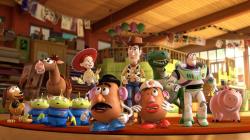 Childhood nostalgia personified in Toy Story 3.
I have to admit that I have seen the original Toy Story only once and that was back in the 1990's. I have never even seen the sequel, but with Toy Story 3 being up for Best Picture I had to watch it. I'm a sucker for sentimental movies but somewhere along the way I lost my taste for animation. Toy Story 3 however is splendid entertainment and an absolute triumph of the imagination.
The script is clever and very funny including several sly winks at adults… "Who's velocistar237?" "Oh! That's just a dinosaur toy down the street, that's nothing, let's just take care of that." Or when the Bookworm thinks the Ken doll is wearing high heels under his spacesuit and rolls his eyes and mutters, "Sheesh." There is also a cute homage to Cool Hand Luke, "Any prisoner caught outside their cells spends the night in the box."
The personality traits of the toys are flawlessly brought to life and the computer generated images are sublime. I didn't watch the 3D version and can't imagine that it adds anything of value to the movie. The adventure gets a bit extreme at the climax but it manages to add a sense of danger which isn't easily done when your protagonists are a bunch of animated toys.
The ending will bring projectile tears to the eyes of anyone with a soul. I've never seen a more poignant or clearly illustrated farewell to childhood innocence than when Andy says of Woody to Bonnie, "Now Woody, he's been my pal for as long as I can remember. He's brave, like a cowboy should be, and kind, and smart. But the thing that makes Woody special is he'll never give up on you... ever. He'll be there for you no matter what." I'm getting misty eyed typing this. "So long... partner."
OK, I've pulled myself together. While I don't think this movie has a snowballs chance in hell of winning the top prize at the Oscars I do predict that sometime around 2020 (just in time for the 25th anniversary of the original) we can expect Toy Story 4 where Woody, Buzz and the rest of the gang get sold in a garage sale and wind up belonging to Andy's children.

(Oh and for the record I do still have my childhood teddy bear and will never part with him.)
Photos © Copyright Pixar (2010)
Related Reviews