Movie Review
The Town
Welcome to the bank robbery capital of America.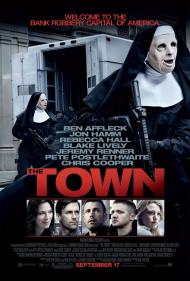 US Release Date: 09-17-2010
Directed by: Ben Affleck
Starring
▸
▾
Ben Affleck

,

as

Doug MacRay
Rebecca Hall

,

as

Claire Keesey
Jon Hamm

,

as

FBI S.A. Adam Frawley
Jeremy Renner

,

as

James Coughlin
Blake Lively

,

as

Krista Coughlin
Slaine

,

as

Albert 'Gloansy' Magloan
Owen Burke

,

as

Desmond Elden
Titus Welliver

,

as

Dino Ciampa
Pete Postlethwaite

,

as

Fergus 'Fergie' Colm
Chris Cooper

as

Stephen MacRay


Reviewed on:
September 24th, 2010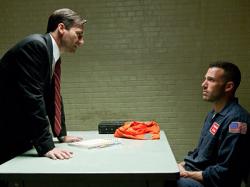 Jon Hamm and Ben Afleck in The Town.
The Town is based on the novel "Prince of Thieves", by Chuck Hogan. The screenplay was written by Affleck, Peter Craig and Aaron Stockard, who co-wrote the screenplay for Gone Baby Gone with Affleck. Both films were directed by Affleck, who is a good actor, but his work behind the camera may end up being his greater legacy.
Four masked Boston bank robbers get away with the money and a female bank manager, Claire, as hostage. They let her go without her ever seeing any of their faces. Later, one of them, Doug, decides to check her out to see if the FBI has found out anything from her. They end up meeting, dating and fall in love.
As the FBI close in, the gangsters continue to practice their trade. In the film's most exciting sequence, they dress as nuns and rob another bank. They race to get away in one of the most adrenaline pumping moments to be found in a theater this year. It even ends on a funny note that actually adds to the tension.
The film's climax takes place in Fenway park, off the field. As a long time Red Sox fan, I imagine Affleck was thrilled to film those scenes. It is another great heart pounding moment, but it also contains the movies only questionable plot hole. Doug and his boys are all just working class Joes, yet they pull off very detailed jobs not seen outside of a Mission Impossible plot. Luckily, Affleck has the directorial skills to keep the film from going over the top.
The action scenes are well balanced by some good drama and dialogue. Pay attention when Claire tells Doug about her sunny day. It comes into play later on. One of my favorite moments is when Doug asks his temperamental best friend James for help, "We gotta do somethin'. I can't tell you what it is, you can never ask me about it after we're done, and we're gonna hurt some people." James merely looks at Doug with a blank expression and asks, "Whose car we takin'?"
Like in Gone Baby Gone, Affleck directs with an eye for "real" characters, that look real. So often in films you have actors that look like models that are pretending to be average folks. See Takers (2010) or Public Enemies (2009) for good examples. The cast of The Town all seem very authentic as average folks. Other than a pointless scene where a shirtless Affleck shows off his toned body, the only one who looks like they climbed out of a catalogue is Jon Hamm, but he plays an FBI agent, so it works. His most memorable scene is with Krista when they discuss his 6 inches.
Krista is the sister of Doug's best friend, and Doug's sometimes sex partner. She is very reminiscent of Helene in Gone Baby Gone. Both women are drug using single mothers with the judgement of a 5 year old. Under Affleck's direction, they both come across as sympathetic characters, even though they can so easily be viewed as pathetic.
In fact, that is the key to The Town. Doug is a criminal, who has hurt many people in his life and by the time the movie is over he has killed people as well. However, you come to like Doug as you see him as a man not wanting to be who he has become. He had dreams that were destroyed, leaving him to go along with a life laid out before him by unfortunate circumstances. After he falls for Claire he again starts to think of a different life, and we root for him to fulfill that goal.
Reviewed on:
December 15th, 2010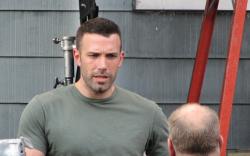 Ben Affleck stars in, co-writes and directs The Town
When Ben Affleck and Matt Damon burst on the scene with 1997's Good Will Hunting, it was Ben Affleck whose career skyrocketed while Damon took the more subdued route. You could say that Affleck became a star while Damon became an actor. Certainly, Affleck provided the tabloids with plenty of celebrity fodder with his relationship with Jennifer Lopez. Finally, in recent years, Affleck seems to be getting his career back on track. Perhaps as you say Eric, his real legacy will be behind the camera. If he can continue to churn out movies such as this one, he certainly has a good chance at it.
I think you hit the secret to this movie's success Eric when you say that it combines action with solid drama and dialogue. I would add believable characters to that as well. The action while extreme in some cases, never goes beyond the plausible and remains firmly rooted in reality, which only adds to the tension. And because this is a drama and not just an action movie, you can never be certain if a character will live or die. It's the action that keeps the story moving and the drama that makes you care about the action.
Along with Fenway Park, Affleck shows his love of Boston in other ways as well. He puts his city on display in a way you normally only see in movies set in New York City. With Gone Baby Gone and now this one, Boston is quickly becoming his trademark.
Eric, you complain about the complexity of the robbery plans, but they don't seem that complex. Certainly not Mission Impossible complex anyway. I assumed that the Fergie character was supplying them with the details of the heists. They could have shown the crew planning the operations in more detail, but that really wouldn't have accomplished much more than increasing the running time.
The cast is universally good, including Affleck in the lead role. Hopefully it wasn't released too soon and won't be overlooked come award season. Jeremy Renner scored the film's only Golden Globe nomination, but I'd have no problem putting The Town in the Best Picture conversation.
I wonder if Affleck offered Damon the part of James? If he had, almost certainly it would have been expanded as currently it's Damon who is now the bigger name while Affleck has gone back to his roots. Hopefully he'll stick with it.
Reviewed on:
February 11th, 2011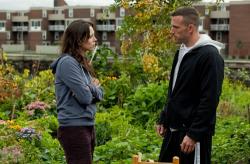 Rebecca Hall and Ben Affleck in The Town.
The Town provides solid entertainment from start to finish. As my brothers already pointed out it combines nail-biting action with well-crafted drama as well as moments of levity. The acting is spot on across the board. Like Bonnie & Clyde and The Godfather movies you root for the bad guy(s) to succeed even though they are selfish criminals.
I've never been a huge fan of Affleck's but he gives a great performance here and Doug MacRay may just become his signature role. It's easy to see why Claire falls for him. Despite his less than ideal upbringing he is a gentleman at heart, or as the title of the book implies, truly a prince among thieves.
When he hears the truth about his mother's disappearance you can see the visceral emotional gut punch he feels. At that moment I wasn't sure how the movie was going to end, but clearly this was a game changing moment for Doug. Facing the truth would either send him over the edge completely or get him out of the underworld for good; or he would die trying.
I enjoyed seeing Jon Hamm in a part other than swinging sixties ad man Don Draper from AMC's Mad Men. Even though he is playing the good guy he is not a sympathetic character as he seems to take his job a bit too personally.
Sure some of the heist action is a bit over-the-top but compared to the ridiculous CGI shit that happens in action movies these days it is completely believable. With The Town Ben Affleck makes me reevaluate my opinion of his talents.

Photos © Copyright Warner Bros. Pictures (2010)