Movie Review
Town and Country
They're going from the wilds of New York to the wilds of the country.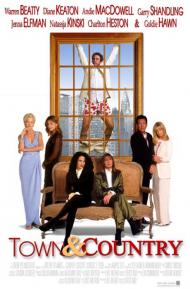 US Release Date: 04-27-2001
Directed by: Peter Chelsom
Starring
▸
▾
Warren Beatty

,

as

Porter Stoddard
Diane Keaton

,

as

Ellie Stoddard
Goldie Hawn

,

as

Mona Miller
Garry Shandling

,

as

Griffin Miller
Andie MacDowell

,

as

Eugenie Claybourne
Jenna Elfman

,

as

Auburn
Nastassja Kinski

,

as

Alex
Charlton Heston

,

as

Eugenie's Father
Josh Hartnett

,

as

Tom Stoddard
Ian McNeice

,

as

Peter Principal
Buck Henry

,

as

Suttler
Holland Taylor

as

Mistress of Ceremonies

Reviewed on:
April 29th, 2001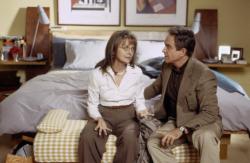 Diane Keaton and Warren Beatty in Town and Country.
I love watching great stars battle age and who does it better or with more panache than Warren Beatty? Here playing (what else?) a philandering husband married to a rather subdued Diane Keaton. There best friends are Goldie Hawn, herself no slouch in the race to stay eternally young, and her antique's dealing hubby with a secret Garry Shandling. To put it mildly these two couples have a few issues to work through and though Town & Country is supposed to be a modern screwball comedy, as such it is disappointing.
This is almost a great movie. Its failure lies clearly in the script. Buck Henry, who has done some great work including the Barbra Streisand classics What's Up Doc? and The Owl and the Pussycat seems unsure of how to develop a gag or deliver the big payoff. The casting is inspired, the characters are all interesting, the settings are all well-chosen and appropriate; yet none of this can save the movie.
Near the beginning of the movie we discover that Garry Shandling's character is with a drag queen. End of scene. This could have provided a very humorous moment in the movie, instead it is done in the tired old way of the sight gag of a man in women's clothing being the joke itself. The other women in Manhattan architect Porter Stoddard's (Beatty) life include a beautiful cellist played by Nastassja Kinski as well as Andie MacDowell and Jenna Elfman both whom he meets by chance. The scene with Andie MacDowell and her parents could be great but it never goes far enough. Also it is much to short of a scene as well and the final confrontation between her father (played by Charlton Heston proving he at least has a sense of humor) and Porter in the lobby of the New York Institute of Design is ridiculous.
I went to see this movie for the cast and these veterans do an admirable job trying to overcome the script's shortcomings and there are moments where they succeed. Beatty and Hawn have great chemistry together and share the best scenes. Unfortunately things never build to a climax. When all of the women in Porter's life inadvertently come together in the ladies room near the end, it should have been hilarious, instead nothing happens. That can be said of the whole movie really.
Reviewed on:
May 2nd, 2001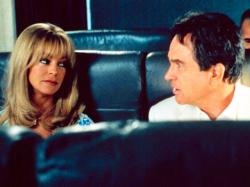 Goldie Hawn and Warren Beatty in Town and Country.
Town & Country reminded me of nothing more than a bad attempt to make a Woody Allen movie, without Woody Allen. A group of quirky upper east side New Yorkers and their romantic foibles, and it even features Woody Allen lead, Diane Keaton. Only, unlike most Woody Allen movies, this movie is neither funny nor thought provoking, just boring.
I agree with Patrick that the best scenes are those between Hawn and Beatty and I also agree that this movie's real problems lie with the script. Although I found the scene with Heston being taking down by the NYPD to be quite funny.
Andie MacDowell and Jenna Elfman are both wasted in silly and unimportant roles and Diane Keaton is reduced to mainly sitting around and being the serious one.
Unlike Patrick, I find no thrill in watching old movie stars try to cling to a career. Better to go out early, leaving behind a legacy of great movies, then make pathetic movies like this in the twilight of your career.

Reviewed on:
October 16th, 2012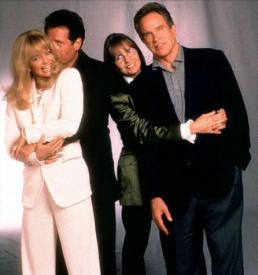 These people were paid to do what exactly?
A father hearing his daughter having loud orgasmic sex with her boyfriend, in his own house and then sitting down at a table with the boyfriend is supposed to be funny? I guess if that scene had been played better, it could have been, but as both my brothers wrote, these film makers wouldn't recognize a joke if it kicked them in the crotch.
This film thinks someone getting caught, or almost getting caught, cheating is enough of a punch line. More than once someone says something to someone else that sounds as if they are about to inform them that they know of the affair only to find out they are talking about something else. No matter how many times it is used, it is not funny.
My biggest complaint is that I liked no one on screen. Almost everyone is having an affair and I cared not if it all ended in a blood bath or an orgy. I do not care how young Beatty acts or how good Hawn's aged ass looks, these people are not worth my time. The best scene is when Keaton yells at Beatty, "When you realize how much work it took to make you the completely successful man you are, instead of this sneaky, pussy craved slob you were genetically programmed to become."
The budget for Town and Country was around $90 million. It took in a dismal $6.7 million at the domestic box office. It is considered one of the biggest Hollywood bombs of all time.
Town and Country can be blamed for the end of Warren Beatty's career. He has not made a film since. Goldie Hawn only made one afterwards, but it was filmed before Town and Country was released, three years after filming started. Tricia Vessey, who plays Alice, has only worked in a couple of films in the last dozen years since this came out. Even the guy who Goldie Hawn dances with at the dive never worked in film again. Everyone involved in making this film should be embarrassed.
Photos © Copyright New Line Cinema (2001)