Movie Review
Tower Heist
Ordinary guys. An extraordinary robbery.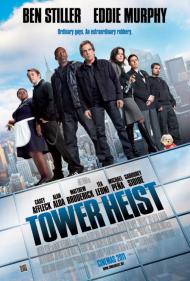 US Release Date: 11-04-2011
Directed by: Brett Ratner
Starring
▸
▾
Ben Stiller

,

as

Josh Kovacs
Eddie Murphy

,

as

Slide
Casey Affleck

,

as

Charlie
Alan Alda

,

as

Arthur Shaw
Matthew Broderick

,

as

Mr. Fitzhugh
Stephen Henderson

,

as

Lester
Judd Hirsch

,

as

Mr. Simon
Tea Leoni

,

as

Special Agent Claire Denham
Michael Pena

,

as

Enrique Devreaux
Gabourey Sidibe

,

as

Odessa
Nina Arianda

as

Miss Iovenko

Reviewed on:
November 5th, 2011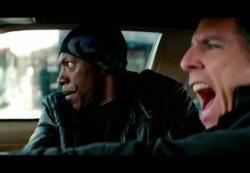 Eddie Murphy and Ben Stiller in Tower Heist.
Tower Heist is an enjoyable ensemble comedy that gets off to a bit of a slow start, but is kicked into a higher gear by Eddie Murphy. This is a big return to form for Murphy following years of too many unfunny family films. His interactions with the rest of the cast are the comic highlights and I wish his part had been expanded. Don't let the previews fool you, while he's heavily featured in the trailer, he doesn't appear for the first 20 minutes of the actual film and his role is reduced again for the finale. The rest of the cast is good, but when they're playing off of Murphy, they're even better.
Stiller plays Josh Kovacs, the building manager of a high-rise apartment building on Columbus Circle. The building is Trump Tower in reality, but in the film it is referred to simply as The Tower. When Josh learns that the Tower's wealthiest resident, Arthur Shaw (Alda) has been arrested for running a Ponzi scheme and has lost the Tower's employee pension fund, he decides to get revenge and their money back by stealing $20 million that he believes Shaw has stashed in his apartment. He recruits several of the Tower's employees, one former resident and Slide (Murphy), an actual thief, to help him with the heist.
Josh's crew is a motley group. Casey Affleck plays the building's concierge who's not very good at his job. Michael Pena is the Tower's newest employee, the rather dimwitted elevator operator. Gabourey Sidibe plays a Jamaican maid facing deportation who joins the group as the safecracker. Mathew Broderick is a bankrupt building resident who is evicted from his home when he loses his job. And lastly, the only professional criminal is Slide, a neighbor of Josh's whom he knows from his childhood. The film's best and funniest scenes are the group of them planning and preparing for the robbery.
I'm a fan of Ben Stiller and he does a decent enough job in the lead, but he's playing the straight man here. There's a romance angle between him and Tea Leoni's FBI Agent character and she does a funny drunk scene, but his best moments are with Murphy. And speaking of comic chemistry, it is another star of the 80s who really generates a spark with Murphy and that is Mathew Broderick. They only get a couple of moments together, but they make the most of them. Broderick's middle-aged, nerdy accountant character is the perfect foil for Murphy's streetwise thief persona. Someone should write a script for the two of them.
While the comedy is first-rate, the heist itself isn't as satisfying. There's lots of of build-up and some sound and fury to get it going, but it never amounts to very much. I don't want to give away the details, but it ends up with a car being dangled along the side of the building, followed by Josh and his crew being able to hide the car without witnesses despite the heist taking place during the Macy's Thanksgiving Day Parade, one of the most crowded and most filmed gatherings in the world. Alda does play the slimy fraudster quite well and you do want to see him get his comeuppance.
From start to finish the movie is enjoyable and the cast is likable. For the middle forty minutes or so though, when Murphy is heavily featured, it raises itself up several notches. Not featuring him in more of it, seems like a mistake. If Murphy wants to revive his career even further he should definitely consider making more comedies like this one.

Reviewed on:
November 5th, 2011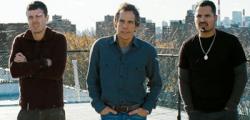 Casey Affleck, Ben Stiller and Michael Pena in Tower Heist
Yes, yes, yes. Eddie Murphy is the funniest one in Tower Heist. In one of his first scenes, Stiller walks by him on the street as he is arguing with his girlfriend, who is yelling at him in a foreign language. Murphy responds in a way not heard in one of his films in a long time, "Bitch, I don't understand a word you're saying." Old school Eddie Murphy, where have you been?
The rest of the cast has a few moments that induce a smile or chuckle. Precious is looking for a husband. Ben's brother is not as smart as he thinks he is. As Scott wrote, Ferris Bueller gets one of the biggest laughs when he loses it in an exchange with Murphy. Another funny, and offensive, line is when Stiller is discussing The Tower with Pena, "The average apartment in the Tower costs 5.6 million dollars. We have the best views, the most advanced security systems, but you know what these people are really buying?" Pena responds, "White neighbors?" Too often though, the humor becomes situation comedy, when I would have preferred more juicy dialogue. Or at least some more "R" rated outbursts from Murphy.
One of the most fascinating characters to me was Arthur Shaw, played to perfection by Alan Alda. In the same sentence he can be both polite and insulting. He constantly reminds everyone that he came from humble beginnings, as if that some how connects him to the hotel staff. Only near the end does he start to lose it, "You people are working stiffs, clock-punchers. Easily replaced." Shaw is obviously based on Bernie Madoff, who committed fraud that bilked millions from would be investors. Clearly banks, Wall Street and investors are the villains of the moment.
Tower Heist is a fun film with enough going on to keep your interest. Like Scott, I felt it all got a little ridiculous during the actual heist. With spectators already looking up at the giant parade balloons going by, would not someone have seen the dangling car? The end is intended to be a happy one, but how exactly are the staff supposed to recoup their money by the means given them? It would be confiscated when they tried to sell them? You will know what I am talking about when you see it. Just check your mind at the door and go with this likable group of unlikely criminals and heroes.
Reviewed on:
November 6th, 2011

Gabby Sidibe attempts to seduce Eddie Murphy in Tower Heist.
The car dangling from the side of the building during the Macy's Parade and the manner in which the players are paid off aren't the only silly aspects of the script. How about the fact that the authorities never even bothered to look inside the car's glove compartment where Shaw kept incriminating papers? Checking your mind at the door will definitely enhance the enjoyment of this mostly entertaining caper.
I must join the chorus celebrating the return of the old Eddie Murphy. Still lean and mean at 50, now is the perfect time for a cinematic return to bad boy form. No one in the history of film has ever said, "punk-ass bitch" better than him. Matthew Broderick, not so lean and looking a bit droopy these days, has as recognizable a persona as Murphy and as such is a great foil for him. I agree with Scott that they should make a buddy comedy together.
Alan Alda shines as the Madoff inspired Wall Street villain. Michael Pena plays the bumbling halfwit to perfection and Casey Affleck is great as the average guy. Ben Stiller (looking a bit grey around the edges) is content to let his orbiting cast mates get all the laughs while Stephen Henderson as the doorman Lester provides the movie with heart as its most sympathetic financial victim.
But the comic find of the movie is Gabourey Sidibe. She gets two of the funniest moments. First when she flirts with Murphy while teaching him to open a safe in a scene that was completely improvised; and later when she offers a drugged piece of cake to the agent guarding Shaw's penthouse. "He was allergic to chocolate so I had to beat him."
They did a pretty good job of disguising the fact that they used the real Trump Tower for exterior shots except in one scene you can clearly read the iconic sign outside the building. Tower Heist is flawed but not in any ways big enough to ruin it. In fact, due entirely to the wonderful cast, I would call it one of the most purely enjoyable times I've had at the movies this year.

Photos © Copyright Universal Pictures (2011)