Movie Review
Touch of Pink
Playing it straight...is about to get very complicated.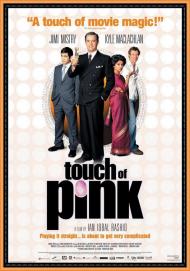 US Release Date: 07-16-2004
Directed by: Ian Iqbal Rashid
Starring
▸
▾
Jimi Mistry

,

as

Alim
Kyle MacLachlan

,

as

Spirit of Cary Grant
Suleka Mathew

,

as

Nuru Jahan
Kristen Holden-Ried

,

as

Giles
Veena Sood

,

as

Dolly
Brian George

,

as

Hassan
Liisa Repo-Martell

,

as

Delia
Raoul Bhaneja

,

as

Khaled
Dean McDermott

as

Alisdair Keith

Reviewed on:
January 19th, 2010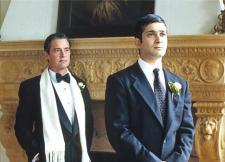 Kyle MacLachlan as Cary Grant and Jimi Mistry as Alim.
Writer/director Ian Iqbal Rashid created this charming little comedy. The title is a play on the Cary Grant, Doris Day chestnut That Touch of Mink from 1962. The plot is a variation on the Woody Allen comedy Play It Again, Sam. In that picture Allen played a man who gets relationship advice from the ghost of Humphrey Bogart. In this movie Alim, a gay Muslim Indian living with his boyfriend in London, gets advice from the spirit of Cary Grant. Kyle MacLachlan is wonderful as the always debonair Grant. He looks quite a bit like Grant, has his speaking voice down and moves with Grant's easy elegance.
The gist of the plot concerns Alim's mother coming to London for a visit and to hopefully see her son get engaged. Of course Alim has never come out to his conservative, religious family. He and his boyfriend try to hide the fact that they are lovers while Cary Grant pops in and out with advice (only Alim can see him).
The mother/son relationship is at the center of the story. Nuru (the beautiful Suleka Mathew) is at first the bad guy. She is domineering, opinionated and downright rude. Of course this being a lighthearted comedy she eventually thaws and begins to accept her son for who he really is. She gets many of the laughs, especially in her scenes with Alim's boyfriend Giles.
Touch of Pink is a funny gay coming-of-age story and a charming Bollywood homage to classic Hollywood. The plot may not be the most original but the characters, the acting and the dialogue all shine. Touch of Pink has the most important ingredient for any movie to have and that's Entertainment Value.

Reviewed on:
February 23rd, 2013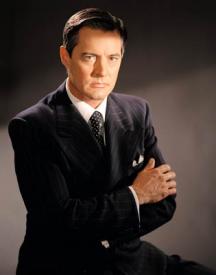 Kyle MacLachlan as Cary Grant in Touch of Pink
I enjoyed Kyle MacLachlan as Cary Grant. His voice and mannerisms are wonderful. He must have spent hours watching Cary Grant films. MacLachlan steals every scene he appears. His references to his movies and basic anecdotes about them, such as telling Alim that Katharine Hepburn did all her own stunts, are some of the films better moments.
MacLachlan as Grant is the most unique, and Patrick already wrote that it is not that unique, aspect of the film. Take MacLachlan out of the film and all you have is a very light comedy about a man scared to tell his mother he is gay. There is barely enough of a plot here for a single half hour episode of New Normal, let alone an entire film.
Jimi Mistry as Alim is likable enough, but just enough. I was never too concerned with his secret being revealed. So what if his mother found out? He has his own income and lives in another country. I also did not like his boyfriend Giles. He actively flirts with his ex boyfriend, that his thoughtless sister invited to their party. He flirts with Tori Spelling's husband and goes to bed with him as soon as Alim goes back to Canada, for his cousin's wedding.
There are a couple of minor reveals near the end of the film that add a bit of fun. There is a vulgar comment from a parent about hearing their child having sex. Alim finally comes out of the closet. Come on, we know it's going to happen. None of it though, was enough to actually raise this film above its ho-hum level of entertainment.
Reviewed on:
February 24th, 2013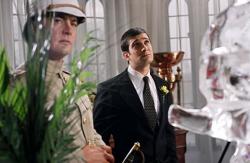 Kyle MacLachlan and Jimi Mistry in Touch of Pink.
I agree with Eric somewhat, although I enjoyed the end result more than he did. The plot does feel a little sitcom-ish. Also, in a sign of just how much things have changed in the past 9 years, it feels a little dated. In this age of same-sex marriage, simply coming out of the closet seems rather tame, especially, as Eric mentioned, when Alim lives in another country and apparently rarely sees his family.
The other thing that Eric wrote, which I agree with, is that Giles isn't particularly likeable. He's charming, but he enjoys flirting too much and sleeps with another man at the first opportunity. His and Alim's relationship isn't one that feels very secure. Perhaps a happier ending would have been if Alim had met someone else at his cousin's wedding.
As both my brothers wrote, Kyle MacLachlan is a scene stealer as Cary Grant. His costume changes and quips really make the movie, such as when he dons pith helmet and khakis ala Gunga Din at the wedding and sits astride the ice sculpture. His imitation isn't perfect, but he captures the spirit of Grant nicely and you accept him as the great star. For the sake of the story, his role is kept fairly small, but I would have enjoyed seeing more of him.
Sure, the plot isn't all that original, but it is fast paced, lighthearted and amusing enough that it flies right by. Perhaps not a classic, but enjoyable enough.
Photos © Copyright Sony Pictures Classics (2004)
Related Review